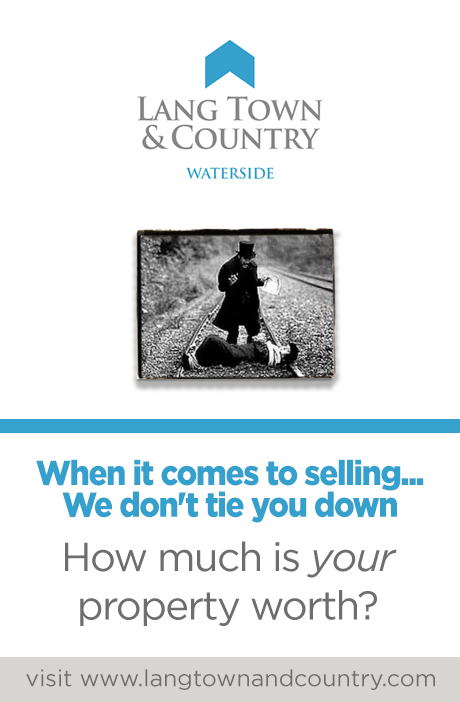 paragraph

Want to know what your home is really worth?

This is a free, no obligation service we have been offering home owners in the area and is part of a successful programme we started last year.

Given the recent mixed messages regarding current house prices we have witnessed across the country, this is perfect opportunity for you to understand the value of your home should you wish to sell, or just out of interest.

All this is done without the potential pressure of an agent trying to gain an instruction.

Lang Town & Country is an estate agent with a reputation built on total commitment to customer service and expert local knowledge, helping people secure the best price in the shortest time for their home.

Should you wish to take advantage of our expertise, please call us on 01752 200909, to book your appointment.

There's no hard sell, its' free and it only takes 30 minutes.

With Lang Town & Country, you can be confident that your flat or house for sale will be shown to all the right buyers. We manage the sale of your property with the care it deserves, ensuring each decision maximises its value and ensures a smooth process, from start to finish. Talk to your Lang Town & Country agent to access a host of potential buyers interested in property for sale.




Our Specialist Waterside department has been open since November 2015 and is located on a prominent position in Plymouth's historic Barbican.



Gareth Forrest, who has more than 15 years' experience in the property market, has been involved in the sale of many of Plymouth's waterfront and new home developments during their initial construction and has handled scores of after sales within each development. He will be joined at the new office by Becky Ford who will be the Sales Manager.


Gareth explained "The waterside property market in Plymouth and Surrounding Areas is extremely buoyant and there is continuing demand for good quality houses, flats and apartments on or near the water - whether coastal, river or estuary."


MARKETING TOOLS

Our exclusive membership of the WATERSIDE HOMES NETWORK, which has offices in the 14 Counties in the UK and overseas, ensures a high level of awareness of waterside properties in the Plymouth area among potential buyers.

As a member of the network, Lang Town & Country is represented at the prestigious LONDON and SOUTHAMPTON BOAT SHOWS providing an important showcase for Plymouth properties among the yachting and sailing community.

Another asset to our marketing is the MAYFAIR OFFICE with its LONDON office and strong connections with the national media. The Mayfair Group, based in London, brings together all the very best local independent estate agency experience to create a global force in property. With over 320 UK offices plus over 150 offices throughout the USA, Canada, Barbados, Ireland and other prime locations in Europe there is one clear and overriding aim - to provide the best possible property advice and service for wherever you live or want to live.

OUR WEBSITE

Lang Town & Country are always looking for ways to improve marketing our clients properties and have launched our latest update which offers an easy to use platform with the latest improvements in searching for a property based on street address, suburb, post code of even the a developments name. Visit www.langtownandcountry.com for more information.

KNOWLEDGE

Gareth said that an in-depth knowledge of the waterside property market was essential to ensure that vendors achieved the best price for their property.

"Over the last 15 to 20 years we have seen a number of new developments in and around Sutton Harbour, while more recently the Millbay, Mount Wise and Royal William Yard have come on stream, stimulating further sales.

"A lot of people are downsizing and choosing apartments or a Period home for retirement, first time buy or and Plymouth certainly has plenty to offer to this market."

He said that the market for waterside rental property also remained strong and he was confident that the new office will provide a further boost to this side of the business for Lang Town & Country.

"Being right in the heart of the Barbican gives us the opportunity to provide landlords with an even stronger service than we currently offer. We certainly expect to see our portfolio of rental properties grow in the future."

For more information visit www.langtownandcountry.com or Telephone 01752 200909

Our Business

Lang Town & Country was created in 2015 following the merger of Town & Country Estate Agents & Letting Agents and Lang & Co Estate Agents- two of the best-known and most respected property businesses in Plymouth.

The merged business already has offices in Mannamead, North Hill and Plymstock - as well as Mayfair in London - and the opening of the new office near Plymouth's waterfront underlines the success of the company.

Around a fifth of Lang Town & Country's current business comes from the waterside market. The new high profile office, is located in Notte Street and will be the base for Lang Town & Country's waterside property team, which is headed up by director Gareth Forrest.



Contact us
Check out our available properties
You can see the properties we're currently marketing for sale by clicking the button below:
View properties