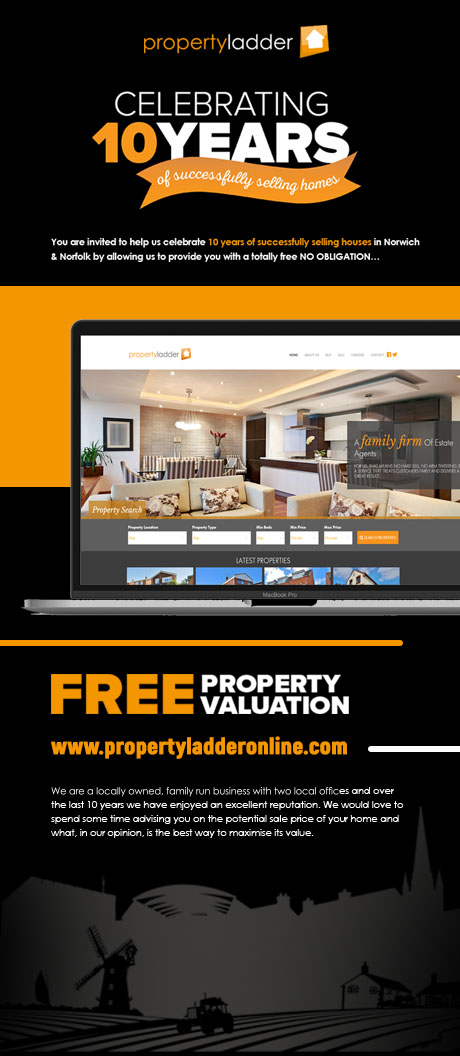 paragraph

Property Ladder is a modern, forward thinking estate agency formed in the turbulent property market of 2008! So we are made of strong stuff!

We are a family business that is run and operated by the directors, so you will always be dealt with by an experienced team member! We have in excess of 70 Years combined experience of the local property market. Good times and bad, so we know just what it takes to get you moving, whatever the financial climate.

paragraph

IT ALL STARTS WITH A VALUATION - Call 01603 666006

When we first visit you, you'll receive an individual property marketing review from James Brooks, who will show you what steps you need to take to get your property sold.

You'll also receive a carefully researched, honest valuation of your property based on comparable to let or for sale properties. Your review shows how we have determined the right marketing price for your home. You will not be given an over inflated valuation to attract your business.

Any fees will be discussed with you right at the beginning so you will know precisely how much you will pay for our high class service.

If you have any problems at any time, call JAMES. He's the boss and lives in NORWICH. It's his business so problems will be resolved quickly.




paragraph

Years of experience, coupled with some new thinking, means nobody will market your property like Property Ladder...

HOW DO YOU SELL YOUR PROPERTY QUICKLY & FOR A GREAT PRICE?

New to market properties are highly sought after which is why we have developed property preview - a marketing programme designed to ensure that your property receives maximum exposure the day it goes on the market.

Why it works The first day your property comes onto the market is the time when it is at its most attractive to buyers. propertyladder has designed a specific programme to launch properties onto the market, in a way to create maximum impact.

Maximum impact for your home A suitable date is chosen for the launch when the property is presented at its best.

We then contact only the most suitable buyers and start booking appointment times throughout the dedicated launch period (90 minutes).

Getting buyers through your door We have a register of hundreds of active buyers. We only invite the most serious buyers to your preview event.

"This is an excellent way to achieve a great price for your property quickly and is a more convenient and modern way of selling your home."

paragraph

QUALITY BROCHURES & INTERESTING WRITE UP'S

Best | Marketing Dull, formulaic property descriptions, loved by agents, loathed by buyers are forbidden here! We believe our job is to write bright, engaging narratives which bring your property to life so buyers can better visualise themselves living there. We also write a two-word headline to grab the reader's attention in press ads and online!

Expert | Photography

We offer really good photography, which is so important in marketing a property. So we take the time to choose the best angles, use lighting well, and even come back to catch a blue sky for the image if nature falls short that day!

Straight | Talking

Here's a clever thing that only we do. Imagine your property is, say, on a busy road, which might put off some buyers before they've even viewed it. So to avoid this, we mention this 'downside' on the property details, giving us a chance to 'handle their objection' and put forward some positives - that the property is less expensive as a result, for example, than it would be if not on the busy road.

Clear | Planning

These days, no property brochure is complete without a floorplan, to give buyers a clear picture of the shape, layout and size of the rooms -helping them imagine how they would live there. London buyers especially like to know the square footage, which we provide on all our details.

Our floorplans come in 3D to really give your idea buyer a clear idea of how they could live in your property.

Professional| Printing

No other agent's brochure comes close to the stunning four-page one that we'll compile for your property, presenting it to bring out its very best.

Online| Searching

We'll promote your home on all the biggest property websites, and email full downloadable details to all buyers on our database who are looking for a property like yours - usually around 1000 people - and telephone the really'hot' ones.

paragraph

A PERSONAL SERVICE FROM A FAMILY BUSINESS!

The biggest criticism of estate agents is lack of feedback. Here at property ladder we believe customer care is the single most important factor. We have addressed this particular concern and as a result of this we will give you regular updates. This will include comments made by prospective purchasers, when your property is next to be advertised and an overview of the property market. We will discuss the proactive approach that we will be undertaking in the forthcoming weeks in order to generate further viewings to secure a sale on your behalf.

As a family business it's very important to us that you are happy with the service we provide and we are very proud that many of our clients are happy to reccommend our service to their friends and family.

We'll make sure you're properly updated all the way. We'll email you after each viewing to pass on the applicants' feedback, and we'll call you regularly to discuss progress. You'll also have James or Edward Brooks' mobile numbers should there be anything you wish to discuss.
Contact us
Check out our available properties
You can see the properties we're currently marketing for sale by clicking the button below:
View properties