Help for First Time Buyers
It can be difficult for first time buyers to get their feet onto the property ladder. With high house prices, unachievable deposits and lenders looking for low risk investments, the prospect of buying your own home can seem very daunting.
However, there are a number of other options to consider if you can't afford to buy your own home outright. The most recent of these is a Government backed Equity Loan scheme called Help to Buy. Visit our Help to Buy microsite to see all the information and properties available with this scheme.
To find out more about these schemes, contact your local HomeBuy agent
There are other low-cost ownership options available in England.
The most common schemes include:
Shared Ownership (sometimes known as Part Buy Part Rent) is a common term referring to all low-cost ownership schemes available in England.
HomeBuy
HomeBuy Direct
Shared equity
Rent to HomeBuy
Search for Shared ownership properties in your area now
Rightmove have now made it even easier to see more perfect Shared ownership property in your area.
When you carry out any For Sale search on Rightmove, the search results page will present an "In your search" box with a series of options to choose from on the right hand side.
If any Shared ownership properties are available in your search criteria, you can click on the "Shared ownership" link to refine your search and see only those properties: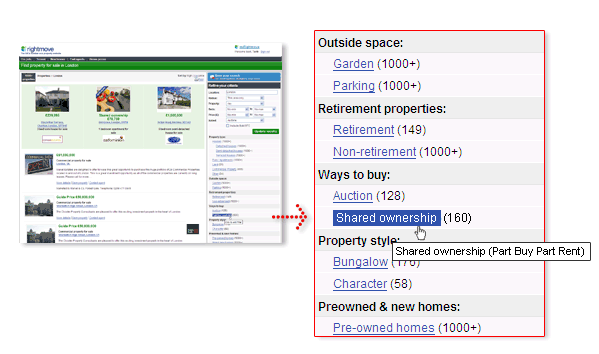 search for Shared ownership properties in your area now.
*Housing laws vary between England and Scotland. This page refers to England only.