With many homes forgetting about the bath altogether, the shower is taking centre stage in the bathroom. The days of anonymous cubicles are coming to an end, with feature showers becoming the new normal in 2020, but what options are there for making a wow-er shower? Let's dip into some trends and stand-out styles in the world of showers.
Brass is in
A trend that's been coming for some time has finally broken into the mainstream. Yes, it's out with the chrome and in with the brass (and when you see the lustre of the finish, you'll fall in love with it too!). Your shower taps can have a brass makeover for an inexpensive design refresh, but if you have exposed piping, it looks unbelievable when it's made of this sandy-coloured metal.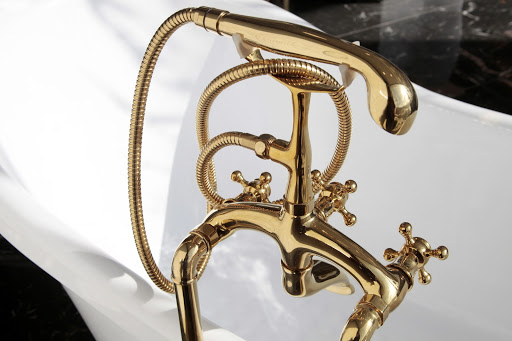 The classic look is for brass with white porcelain, but it isn't that restrictive. It looks opulent with black or dark colours, complementary against a turquoise blue, and classical when paired with marble. There's even room for a bit of fun, too – try some over-the-top brass pipework and you've got the perfect steampunk shower.
Make a statement
When you're trying to wake yourself up in the morning, the last thing you need is a yawnsome shower. Like most people, you've probably got a shower that's tiled from ceiling to floor in a single colour, and you never ask yourself why. Well, now's your chance to think outside the cubicle and try a bold style.
First up, there are now plenty of waterproof wallpapers that you can put up. Many of them are self-adhesive and can be fitted right onto the tiles, so you don't have to worry about underlays. Or perhaps you could install a painting or mural? Safely hidden behind glass, it'll really give you something to look at when you're soaking yourself down.
Virtual wet room
There's nothing new about the wet room, but they're still something of a minority luxury in most British homes. Sure, most people don't have a whole room to spare and would rather not have a toilet in their shower room. However, with a little imagination, you can partition a normal bathroom into a half-and-half traditional room and wet room without much fuss.
A glass partition keeps the space feeling fresh and open, while an opaque wall will give the room more of a wet room feel. All it needs is a raised floor that subtly slopes towards the drain, some slip-resistant waterproof floor covering and you're done.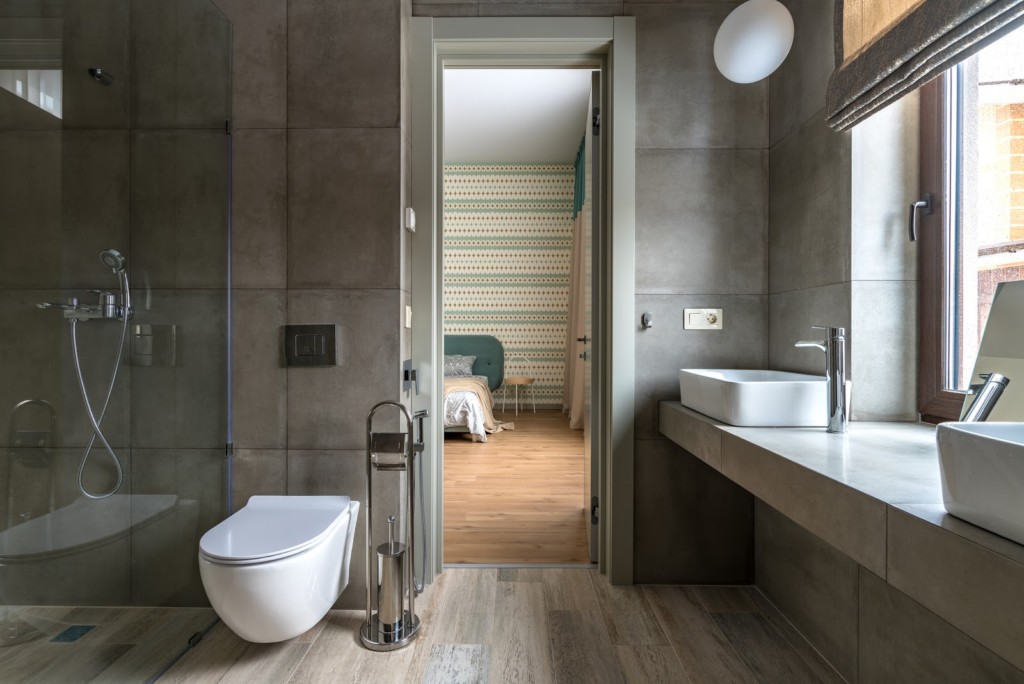 Tiles: go big or go bigger
Big tiles are a definite style story from the past few seasons and it looks like the trend is only going to continue. But how big is big? The 600mm tiles that have been surrounding showers have almost started to look normal, so some enterprising manufacturers have started making 800mm square tiles, and they look unbelievable. The marble or other stone effects really work well in this context, giving a classical feel to the foom, the scarcity of grout making it feel like genuine stone. If you decide to do a bit of DIY tiling, make sure you read our article on How To Tile A Bathroom In 13 Steps to get professional results on the first try.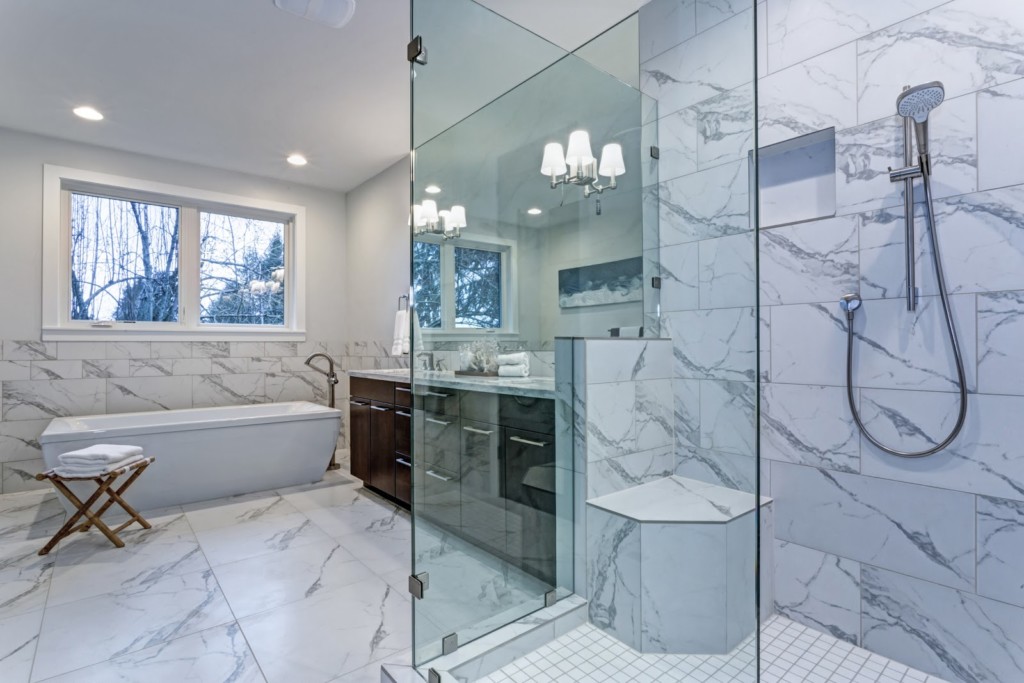 Over the bath
A shower over the bath is quite often an afterthought, but it really can be made into a feature if you have interesting fittings. If your bath is in the centre of the room, plumb the shower into the ceiling and fit a 360° hanging curtain, or treat yourself to a wet room floor. A shower works particularly well over a corner bath, as the proportions are similar to a normal shower unit – a perfect solution If you really want a shower and a bath but are pressed for space.
Plants breathe new life
People are bringing more plants into the bathroom, and they really do give it an Eastern spa retreat vibe. Try bamboo, spathiphyllum, aloe vera or spider plants, potted and dotted all around the shower. They'll thrive in the humidity and can even slightly reduce condensation. If you want the whole effect, bring some naked wood into the room. Pine or bamboo is lovely, especially on slatted shelving, bathroom furniture and duckboard.
If you're ready to swap the old for the new, why not read our article on budget bathroom ideas?