A day in the life of a London Lettings Agency
Written by Tracy Kellett www.bdihomefinders.co.uk>
Follow her on twitter: @buyingagent
It is a fine summery day, as I arrive at W. A. Ellis in Knightsbridge.  I am to spend the day watching the lettings department at work.
I am of course dressed for Winter.
Dave, the über-charming Antipodean contingent of the office gets the pleasure of taking me on a little viewing tour, we set off but I am intrigued by the cry from the floor 'Colin's in the kitchen'.  I shall investigate later.
Three flats in Cadogan Square – no change out of £4k per week each. There'll be no laminate floors and glossed over woodchip for me today.
The prospective tenant is meeting us at the first one. We wait and we wait. Phone calls are made and eventually a young lady, clad in tiny Lycra cycling shorts and Chanel accessories breezes up to us nonchalantly. There is no hello, simply a 'Which way does it face?'  This flat is a penthouse with the largest terrace I have seen in Central London.  The view is breathtaking.  However this elicits merely a blank expression from our viewer.  'Let's move on' she says – 'it just doesn't have enough 'volume''.  Volume?  Dave hides his 'You what?' expression somewhat better than I do.  The other two apartments don't cut the mustard either.  'It must face south, it must be cheaper and it must be bigger.  Call me when you get it'.   A little expert property tip: If it's bigger and better, it isn't cheaper.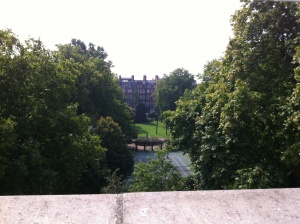 She finishes with the final cherry on any Agent's cake.  'There is no rush, we don't have to move'.
Well at least she had a pert bottom I say to Dave.  'Hadn't noticed' he says, almost convincingly.
Back to the office for an Espresso, no Mellow Birds here apart from in Property Management.  Then off to the launch of a £5000 per week fab-pad.  A mews house which has been refurbished with not a bell or whistle missing.  The launch is for other London Agents, a quirk of the London market that Agents very often 'share' the properties thus opening up a property to many more potential tenants – a bonus to Landlords and Tenants.  I wish it was commonplace outside the smoke.
There is elderflower juice and wine on offer.  I plump for wine. This will be a mistake.
Lucy Morton, darling of the industry and supreme commander of W. A. Ellis gives me a tour.  Basement with plasma and bar?  Tick.  Dark wood and pewter kitchen?  Tick.  Polished cement feature wall in the reception?  Absolutely.  It is beautifully presented and if I had an Argentinian polo player client I would be marching him straight in.  Sadly for me, on a number of levels, I don't.  However I am hoping for some extra wow factor.  I get it in the toilet.  As Lucy wafts past the toilet in the en-suite, the lid opens.  We take a closer look.   A control panel worthy of Star Trek 7 and stomach churning warnings of low-grade burn risks if misused, you've got to love the Japanese.  This W.C. offers far more than a loo really should in polite company.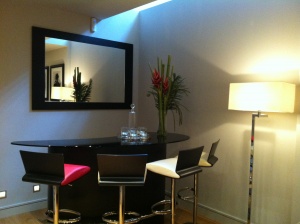 Charlie, lettings negotiator extraordinaire, plies me with another glass, another large glass.  Charlie is 'trouble'.  The winter outfit is now making me rather pink in the face.  'Take your jacket off' they say. I can't, the zip on my dress is broken. I get pinker but finally escape back to the office, wandering in a wavy line.
'D'ya want a drink?' twinkles Charlie when I get back.  Great, reputation of respectable lady buying agent in tatters and now I have to have a serious chat about Lettings with the Guru herself, Lucy Morton.   Another cry of 'Colin's in the kitchen' but too late to investigate, I make an executive decision.  I decide to come back tomorrow.
I arrive back the next day to see Lucy and get down to some nitty gritty lettings talk at her desk in the centre of the Lettings department.  Lucy is a past president of ARLA, a Board member of NfoPP, CLEA and Lonres and a trustee of EAF.  She set up W. A. Ellis lettings department in 1990 after setting up Savills' Lettings department in 1985.  Her role within ARLA means that she is often acting as arbitrator for Tenants, Landlords and Agents, being called for advice from anywhere in the UK so she is not shielded from the huge issues on the ground in say Liverpool and fully appreciates how lucky she is to be working in the buoyant Central London market.
I start…
'What are the biggest issues facing the lettings world?'
'Lack of Regulation of Agents' is the immediate response.  'Despite massive attempts to have the Government regulate lettings agents, it simply isn't on the Government's agenda. It is crazy because the Lettings industry is actually larger and potentially more valuable to the country than the car industry.  More importantly, the lack of regulation means that Tenants, an ever increasing demographic and Landlords are at real risk from dishonest, incompetent or honest but financially failing Agents running off with their money.'
What's happening in the market? A good time to be a Landlord?
'The prime Central London market is going from strength to strength and in other major cities too, especially good University towns. Yields are increasing, voids are at an all-time low and tenants are renewing rather than moving.
We are seeing more UK people renting than ever before with the average age of a first time buyer creeping up to the late 30's and we are well into generation rent.  However, the prime Central London market is still dominated by overseas corporate tenants and high net worth students.'
What would you tell prospective Landlords to buy?
'Location is key, concentrate on major cities.  New developments are very popular; close to local transport and amenities, light, modern with good storage and not a basement are key factors.'
Your advice to tenants?
'It's a landlord's market so be ready to act quickly when you have found your chosen property in order to secure it.  Tenants are well advised to establish 'who' their Landlord is and they should be in the best possible hands if they register with an ARLA agent who then manages the property throughout their tenancy.'
I actually think Lucy enjoyed meeting me as much as I did her!
We are interrupted by a 'Colin's in the kitchen' and this time I seek this Colin out. He must be someone important.  In the kitchen I am greeted by Charlie and Colin.  That will be Colin the Caterpillar chocolate cake.  'Oh' I say.  Charlie responds with a 'Hello you, d'you want a drink?'