A hard climb up the property ladder
Written by Jon Hoar at InvestorBee
At InvestorBee we provide simple facts people need to make smart, informed investment choices.  To do this we gather and analyse huge amounts of saving and investing data, from salaries to financial goals, that lets us shed light onto the financial state of the nation.
Recent economic developments haven't been kind to people saving up for a house, so we've taken a look at how long it would take the average person to save for a 20% house deposit across the UK…
While we all have a romantic idea of property – a place to settle down and raise our children – the truth is that property is also an expensive investment, and for the vast majority of us, becoming a home-owner is an uphill challenge.
While it can be argued that first time buyers may not buy "average" houses, or that they may not be on "average" wages, our research paints a worrying picture: the average time it takes to save enough money to get onto the property ladder without help is over thirteen years.  Staggeringly, in Greater London, it can take almost 19 years to get a foot on the first rung of the property ladder without help.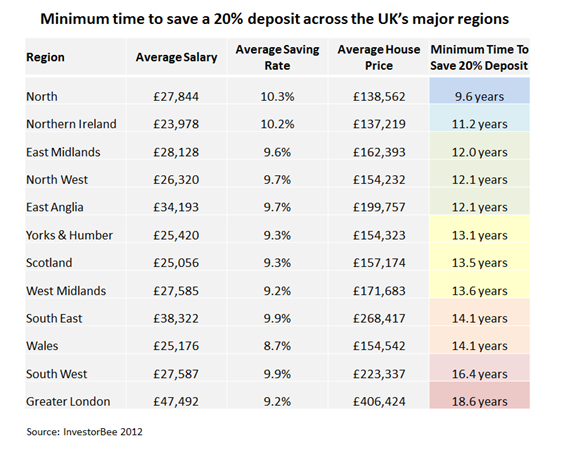 This table takes publicly available average house prices up to December 2011 plus average salary and savings information from our "Hive" of data – gathered from the actual savings and investment habits of over one million UK investors – to produce the time it would take to save up for a 20% deposit.  It assumes that all the savings are earmarked for property, ignoring all of the other demands on investors' finances; from a child's nest egg or rainy day funds to saving for retirement.
As you can see; salaries, house prices and the percentage of their salaries that people save vary across the country.  Even so, there are some startling inequalities across the country: savers in Scotland, for example, can put a deposit on a house roughly 3 years before those living in the South West of England, despite saving and earning proportionally less.  The situation is the most optimistic in the North, the only region where the average saver has less than a decade to wait (and save) until they can get onto the property ladder.
Having a firm goal in mind and regularly putting a little bit extra aside can have a huge effect on how long prospective home owners need to wait to achieve their targets, and how much of advantage over their peers they can give themselves.  And, hopefully they will drive home the fact that we should be making our money work as hard as we can, to get us where we want to be.
Seeing what other people like us are doing, how much they save, where they live, and how well their financial strategies are working for them can be a big boost, inspiring the rest of us to go for our own financial goals.
InvestorBee can help
We aim to make saving and investment simpler and smarter, by providing the information investors need.  From how people with similar goals save to understanding and choosing which investment products deliver fair value, InvestorBee gives you the facts.
About InvestorBee
InvestorBee is a UK website that helps you make informed, fact-based investment decisions.  We analyse investment data from over one million UK investors, over 30,000 financial products and over 1,000 sources of professional advice to show what real investors are doing and their results.  For more information, visit www.investorbee.com