At Home – Colour in your kitchen
Many people shy away from colour in their homes – especially their kitchens, instead opting for a medley of creams and beiges. But, by being brave and injecting some colour into your cooking HQ, your kitchen could soon become a deliciously decorated diner.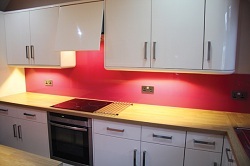 Paint the town red
If you want to bring some bold shades into your kitchen, but are feeling nervy about jumping in feet-first, consider introducing a fun wall of colour into the room. This will instantly transform the heart of your home into a fun family focus – you may even want to get the kids involved with the painting itself.
A fresh lick of paint in a room which is often overlooked in the hubbub of home life, can help rework a muted colour scheme and create a focal point of the kitchen. What's more, paying your walls some much-needed attention can be a quick-fix for a kitchen in need of a cheap and cheerful facelift.
A splash of colour
For a bright idea to reinvent your kitchen, it's worth considering installing a coloured glass splashback. Again, this is only a small detail but can make a nice change from traditional tiles. Think acidic citrus yellow or a vibrant fuchsia to guard your walls against the hands of messy chefs (they're wipe-clean surfaces!). This simple addition can transform your kitchen from drab to fab, and create a feature wall if you're not keen on getting handy with a paintbrush.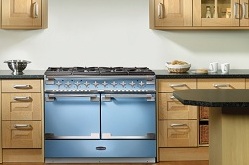 Go retro
Whilst a full kitchen revamp may not be on the cards, investing in a statement piece of kitchen furniture such as a stove, fridge or oven in a bold colour (think ruby red or a pastel shade) can add some va-va-voom to an otherwise bland room. This is especially wise if you've been meaning to replace your fridge for a while now.
There's a variety of coloured retro-style kitchen appliances on the market to tickle your decorating taste buds. To really finish off the look, purchase a set of pots and pans in a matching hue.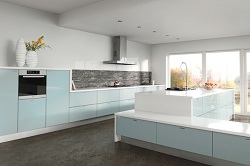 As cold as ice
Blue used to be seen as a no-go colour when decorating a kitchen, believed to make food look less appetising; but times have changed, and now a plethora of icy and aqua blues have crept into the palette of kitchen chic.
To introduce icy hues into your kitchen, it needn't be dramatic. Simply adding some cool-blue crockery, tiles or splashback to the room could help freshen up a tired interior. But if you're feeling a little more adventurous try fitting ice blue cabinets and cupboards and sit them alongside glossy white worktops for the ultimate in subtle kitchen elegance.
For more like this, check out the online edition of At Home with Sarah Beeny: http://athomemagazine.co.uk/digital/sarahbeeny-summer2012/