The Dragon is selling his Den!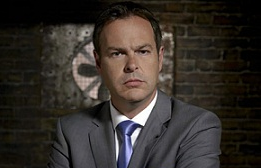 Peter Jones, the youngest of the Dragons on the popular Dragon's Den, is saying 'I'm out' and selling his £3.25 million mansion. The six-bedroom family home is situated in Beaconsfield in what is known as the 'golden triangle' due to all of the luxurious homes in the area.
---
Have a look around the den now!
---
Built in 2002, Mountbatten House comes complete with deluxe interiors including a 'Belgravia' hand painted kitchen, fully programmable mood lighting system in each room and a triple garage to house Peter's fleet of cars. And because it's a multi-millionaire's pad, there has to be something a little bit special… an enormous 'bathing chamber' in the master bedroom – a totally pimped out bathroom to you and me!
The telecoms entrepreneur, known for his straight-talking, is believed to have initially moved to the area to be closer to his business 'Phones International' so he could spend more time with his wife and five children.
Forty-four year old Peter has a property portfolio of an estimated £10 million including various investments in Spain and Portugal so while he may be 'out' of this Buckinghamshire beauty he's sure to snap something else up soon.
Here's what he could afford in the area: