What's occurring? Barry house from Gavin and Stacey for sale!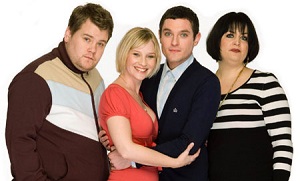 What's occurring? The modest terraced house in Barry made famous by award-winning comedy, Gavin and Stacey, is up for sale.

The 2 bedroom property is on the market for £125,000 and is best known for being Stacey's mum Gwen's house and her famous omelettes!


The house on Trinity Street which appeared in all 3 series of the programme has reportedly had over 13,000 fans visit the piece of TV history over the years; current own Glenda is known to happily show enthusiasts around free of charge. Worth noting however that the new owner has full control of whether any future filming would be permitted should there be a further series or one-off special (fingers crossed!) – could be a nice little earner!


Tours to the property are currently a weekly occurrence whereby fans are carted around the seaside resort stopping at hotspots from the series using Dave's coaches (the actual one used in Gavin and Stacey!).


The property itself boasts sea views across the Old Docks and Barry Island and comes complete with a pleasant rear garden/courtyard.


Tidy!