A tourist attraction with a spiritual past is up for sale!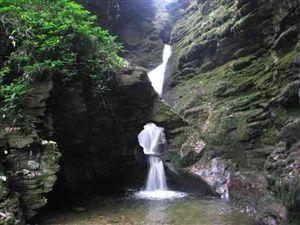 If there was ever a place to discover elves in your back garden, St Nectans Glen would be the place! It could have come straight out a fairy-tale, and now this stunning tourist attraction has been put on the market.
Reduced from £1.25million, St Nectans Glen is now up for sale for £800,000 and includes a stunning 60ft waterfall.
Have a look around St Nectans Glen now!
The beautiful estate in Tintagel, nestled in the Cornish countryside is said to be one of the most spiritual sites in the UK.
The estate has been named after the mysterious St Nectan and while some believe that St Nectan himself once lived there and is buried under the stones of the basin others dispute that he existed at all! In the 'garden' footpaths lead to a majestic waterfall where messages and small offerings can often be found around the cliff's edge because by many, the location is seen as a place of worship and healing.
Situated in the midst of the mystical area is 'The Hermitage', a private residence build from chapel remains. The 14 acre site is currently open to public and boasts very attractive tea gardens for visitors to relax and marvel at the breathtaking scenery.
If bumping in to elves in while you're mowing the lawn isn't on your list of priorities when looking for a new house, but you do fancy something a bit special in your back garden, have a look at some of these properties with striking outside spaces.
Whether it be spectacular landscaping, an outdoor swimming pool or a humble pond, Rightmove lists some of Britain's best…
| | |
| --- | --- |
| Wiltshire – £7,500,500 | Buckinghamshire – £945,000 |
| Suffolk – £850,000 | Nottingham – £350,000 |