Explore one of the best 'fixer-upper' homes on Rightmove
This 'beautifully derelict' mews house in West London is on the market for £2.5 million despite makeshift gutters tipping rainwater into buckets in the living room.
The house is on Pindock Mews, a part-cobbled street in Maida Vale that was used as a filming location for Sixties TV series The Avengers and was once home to late Sex Pistols bassist Sid Vicious.
It's little more than a shell of a home and offers just 1,484 sq ft of floor space, with features at the dilapidated property including un-plastered walls, a leaky roof and very dated décor.
A spokesperson for estate agent Lurot Brand said: "The chap who owns this place has been there for decades, but he's selling it to go and live the good life.
"He still actually lives there and he's an absolute gentleman. Despite the leaky roof and the buckets of rain water in the living room, he keeps the house orderly and incredibly tidy.
"There's not been much remedial work done to it and the new owners will have a proper renovation job on their hands."
Pindock Mews has had many famous past residents, including punk icon and Sex Pistols bassist Sid Vicious and his girlfriend Nancy Spungen.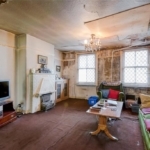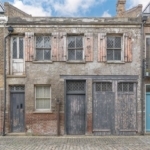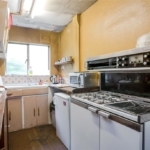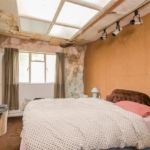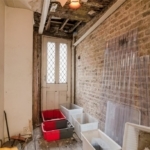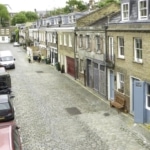 Boy George, Janet Street Porter and Tony James of Sigue Sigue Sputnik also used to call the street home.
Mews houses were mainly inhabited by household staff and horses but have risen in popularity over the past four decades.
The closest Tube station to Pindock Mews is Warwick Avenue on the Bakerloo line, which is no more than a five-minute walk away.
This property is listed for sale with Lurot Brand.