Explore the mansion Justin Bieber stayed at when touring the UK
This is the ultra-modern Cheshire mansion where pop royalty Justin Bieber based himself when he was gigging around the UK.
It's easy to see why one of the biggest names in music would want to temporarily call this six-bedroom property home.
Set in two acres of beautifully manicured lawns, the sprawling home is listed for sale for £3.95 million and boasts a 3G-surfaced five-a-side football pitch, a zip wire and even a private helipad.
The huge house, which is separated across multiple floors, also comes complete with its own indoor sports bar, swimming pool and hot tub.
As if that isn't enough, the plush pad also boasts a spacious open hall that is used for indoor games such as cricket, badminton and football.
A substantial section of the house lies beneath the original ground level, and the light, air quality and rural views are exceptional, while the state-of-the-art security system ensures all doors are lockable via fingerprint technology.
Alastair Summerfield, Senior Associate Director of Strutt & Parker Chester, said: "Steppingstone has all the requirements for a pop star, including indoor and outdoor football pitches, indoor basketball court, sports bar, sauna, gym, indoor pool, underground cave network, zipwire, climbing frame and a cinema, making it an ideal base while Justin Bieber toured Britain to relax in.
"It's also a superb house for hosting a BBQ, with the outside space blending seamlessly with the indoors via bi-folding doors, huge internal entertaining space with glass walls to make the most of the outdoor scenery, outdoor play area, helipad, football pitch and so much more! Justin Bieber, who stayed  at Steppingstone with his guests, seemed to enjoy the playful nature of the house, particularly the indoor basketball court, soccer pitch and the maze of caves and cellars surrounding the property."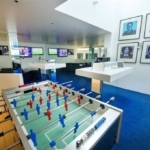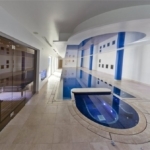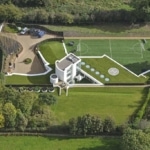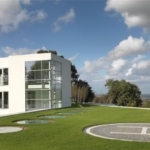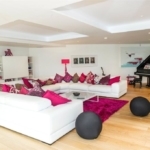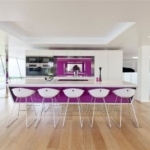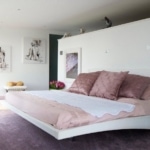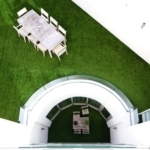 The extensive, fully integrated technology includes keyless doors, some with fingerprint recognition, an audio-visual system supporting various satellite feeds, Lutron lighting and natural climate control.
Rightmove's property expert Miles Shipside said: "This property is the result of a superb feat of design; it embraces the functional aspects of neomodern architecture and key attributes of modern technology to provide a flexible and luxurious living environment. It's awash with glitzy gizmos and features you'd see in Hollywood Hills, so it's no surprise an A lister like Justin Bieber wanted to stay here."
This property is listed for sale with Strutt & Parker.