Inspiration Wednesday – Isle of Wight
This week's #InspirationWednesday is the Isle of Wight. Technically classed as a county, the island sits four miles away from the mainland, where it links to Hampshire. With an interesting history dating back to the Bronze and the Iron Age, the island is now more famous as a tourist destination.
With just over half of the island designated as an 'Area of Outstanding Natural Beauty', it is a beautiful setting to explore. Spots such as Culver Down, Carisbrooke Castle, the Needles and Osbourne House (former holiday residence of Queen Victoria and Prince Albert) are well worth a visit.
Being such a peaceful and picturesque location, the Isle of Wight's bustle centres around Newport, in the centre of the island, which is the main shopping area and has a busy port. And, who wouldn't want to live there when it has more sunshine hours than any other UK resort on average (more than some areas of northern Spain!).
If you want more fresh air and serenity in your life, this is the place to be (!)
The island hosts 'The Isle of Wight Festival' and 'Bestival' annually if you're into your music!
They were part of the county of Southampton until 1890, when they became an independent administrative county.
If you like exploring on two wheels, the Isle of Wight is well known as an ideal area for cycling, once reaching the top ten for cycling locations, awarded by Lonely Planet.
Proof of existence of over 20 species of dinosaur have been found on the island. Dinosaur footprints are visible at Compton Bay, near Freshwater, at low tide.
Bear Grylls, Ellen MacArthur and Jeremy Irons are from Isle of Wight!
This ideally located two bedroom apartment sits right on the estuary in Cowes. With a view out over the river, this spacious flat is the perfect spot from which to watch the town's comings and goings!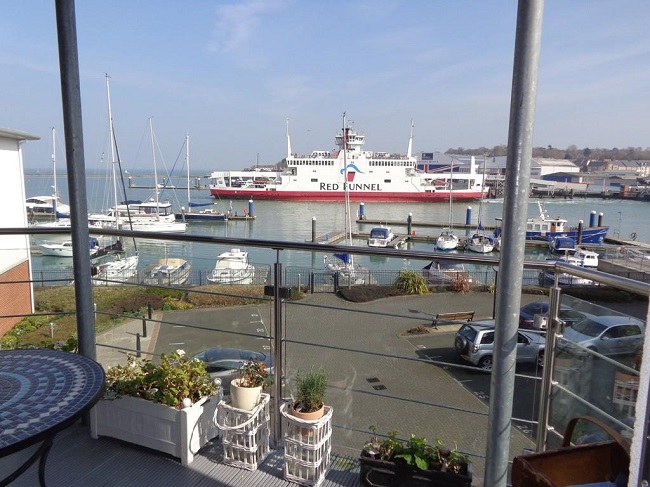 This stunning six bedroom home is in a serene location. With a large and private garden space and the jetty and river passing by, you'd feel like you're on holiday every day! The house itself is gorgeous too, light and large, with a great balcony space for eating dinner out in the summer.
This incredible Grade II Listed six bedroom home sits in 10.77 acres of fantastic grounds. With a 16th century origin and a variety of stunning rooms with original features, this really is breath-taking. And then there's the conservatory and the pool… that did it for us, we're in!