Inspiration Wednesday – Sheffield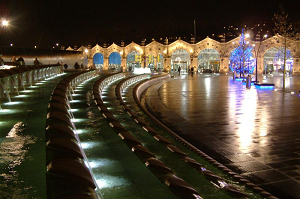 Our Inspiration Wednesday location this week is Sheffield. Sat in South Yorkshire, the city gets its name from the River Sheaf which runs through it. With two popular universities and the UK's ninth largest shopping centre, Meadowhall, Sheffield is a thriving hub.

With a past of steel production, Sheffield is now popular for new businesses, with many new redevelopments in the last few year and the largest growth of office space having taken place here in 2004.


The city has a thriving nightlife with plenty of gigs, clubs and bars, which has probably played a part in the amount of musical artists to come out of the area! But if you're after more peace and quiet, the Pennine Hills and Peak District sit just to the west.
Sheffield has 2.5 million trees, giving it the highest ratio of trees to people of any city in Europe.
Jessica Ennis and Sean Bean are famous names from the city and Arctic Monkeys, Pulp and Reverend and the Makers are amongst bands which have come out of the city.
Sheffield boasts the world's oldest football club – Sheffield F.C – which was formed in 1857.
Apparently the Hallam area of Sheffield is the highest ranking area outside of London for overall wealth.
The Lyceum Theatre, the Crucible Theatre and the Studio Theatre in the city make up the largest theatre complex outside of London.
Check out this homely one bedroom flat in Sheffield – perfect for young professionals working in the city or for students travelling to the nearby university. With a spacious lounge and dining area and a lovely view from the balcony, it is not only in the perfect location, but offers a pleasantly large amount of space for the price too.


This quirky three bedroom house is a steel, having lost £600 off its price due to stamp duty changes! Sat outside of the city centre, in a quiet area, this home is comfortable, great for a couple or a small family and has been decorated to a high standard.


Sheffield offers you a lot for your money, which you can definitely see in this five bedroom detached house! Beautifully laid-out with spacious rooms and areas and tasteful décor, this is a gorgeous family home. And the second floor bedroom even has an en suite and a walk-in wardrobe – what a treat!