Manchester is named top vegan hotspot for renters
Rightmove and Deliveroo have partnered to reveal the best places for renters looking to live near the biggest selection of vegan restaurants
The top three outside London are Manchester, Bristol and Brighton, while Shoreditch and Notting Hill take the top two spots in London
There is a difference of more than £600 per month between the most expensive place to rent, Brighton, and the cheapest place, Liverpool
The cheapest place in the London top ten is Stoke Newington where it costs £1,758 per month to rent a two-bed home and the most expensive is South Kensington at £3,388
Manchester has been crowned the most vegan-friendly hotspot outside of London for renters to consider moving to, according to new research from property website Rightmove and online food delivery company Deliveroo.
The analysis is based on the number of vegan restaurants in each area along with the asking rents of two bed properties in each of the hotspots.
The cheapest place in the top ten is Liverpool where asking rents for a two bed home are £637 per month, and the most expensive is Brighton at £1,247 per month, a difference of more than £600.
It may come as no surprise that Shoreditch topped the list in London, though with average asking rents for two beds now hitting £2,871 per month it will be out of reach for many renters.
The cheapest place in the London top ten is Stoke Newington where asking rents are £1,758 per month, compared to the most expensive area of South Kensington where a two bed home is £3,388 per month.
In six of the top ten places outside London the average asking rent over the past year has increased by more than the national average of 2.4%. Manchester has seen the biggest rise, up from £817 per month this time last year to £855 this year, an increase well above inflation of 4.7%.
In London, asking rents have gone up by 4.2% over the past year, with six of the top ten beating that rise. Shepherds Bush has seen asking rents jump nearly £150 per month over the past year, up 8.3%.
Rightmove's housing expert Miles Shipside said: "Renters often tell us that having access to restaurants, takeaways and pubs is really important when they're trying to find somewhere to live, and now that more people are choosing a vegan diet it's natural that more will be looking for places that can offer more of these options.
 "Those sticking with a meat diet may also find the analysis interesting if they are considering a move to a different city in 2020. Renters who want to live in the hustle and bustle of a bigger town or city or who need to because of their job or family will always find costs are at a premium, but it's interesting to see just how big some of the price differences are across the areas."
Tom Peters from Deliveroo said: "We're continuing to see a massive increase in demand from our customers for Vegan dishes and so many of our restaurant partners have created exciting new dishes to kick-off Veganuary 2020. Vegan and Plant-based food is a growth area we are really excited by at Deliveroo so we're super happy to be supporting Veganuary this year."
Top vegan hotspots outside London: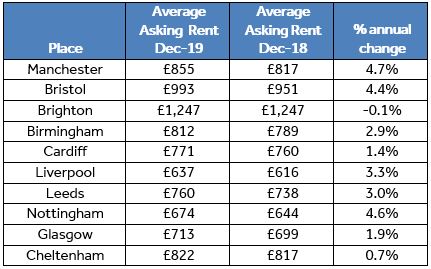 Top vegan hotspots in London: