These quirky homes have pirate ships and could earn you money
This country manor is a dream for car lovers
At first glance there seems to be nothing unusual about this charming farmhouse but tucked away on the estate is a money-maker for car lovers.
That's because included in the sale of Grade II-listed Old Deaks, a 17th Century barn conversion on the market for £3.95 million, is an outbuilding which houses a classic car restoration company.
The home itself is a former hall house and as such is a beautifully timber-framed property set over three floors, boasting exposed beams and oak doors, open fireplaces and leaded light windows.
One of the best features of the home is the main bedroom balcony, which encompasses stunning views over the garden and grounds and on to the South Downs in the far distance.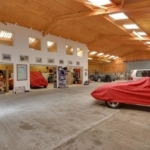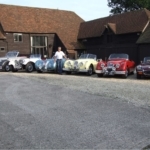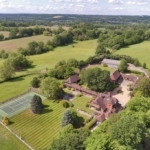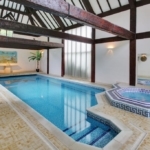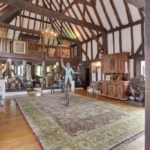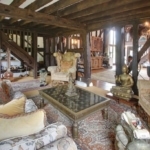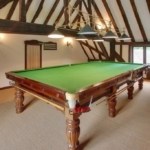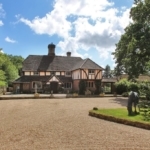 The property, which won an award from The Sussex Heritage Trust in 1998, also doubles up as a brilliant place to party, as it benefits from spacious entertaining areas, a music room, a heated indoor swimming pool and a tennis court.
But we'll save the best for last for car lovers. Old Deaks has its own massive seven-car garage port as well as the automobile workshop which is where the car restoration firm is based.
Rightmove's property expert Miles Shipside said: "This is a great proposition for a lucky buyer out there – we all want our homes to grow in value over time. This house is absolutely stunning, and I'd go as far as to say that it's one of the most characterful properties we have on Rightmove right now."
This property is listed for sale with RH & RW Clutton.
The clifftop outpost which helped make D-Day happen
An abandoned military outpost which played a major role in the D-Day landings is on the market for £3.5 million despite now resembling an 'evil lair'.
Gin Head in East Lothian, which is precariously perched on one of the most dramatic coastlines in the country, also overlooks the stunning 14th Century Tantallon Castle.
Truly a diamond in the rough, the remarkable clifftop property was originally founded as an Admiralty signals base in 1943, with dozens of scientists working there to intercept communication between German U-boats during the Second World War.
Gin Head was decommissioned in the 1950s before being used as a research facility until the mid-1990s. But it has since fallen into ruin.
Although the facility is derelict, the sale includes planning permission to transform it into a 26,000 sq ft house, which would offer some of the most incredible views in all of the UK.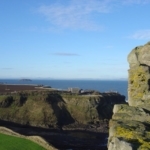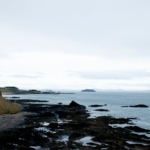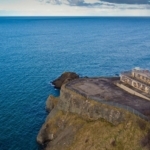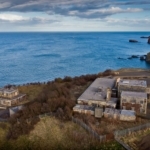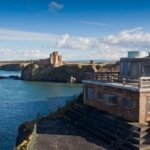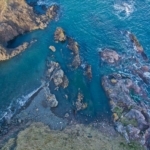 The property is surrounded by sensational rock formations, emerald cliffs and mesmerising seas – not to mention vistas across the Firth of Forth.
The sale also includes full planning permission to create an iconic, visionary living space. But other possibilities, such as a family retreat, a work space, recording studio, artist's studio or even a commercial enterprise like a boutique hotel, art gallery, health facility or luxury spa, are also options.
Rightmove's property expert Miles Shipside said: "Not only will the buyer of Gin Head become the owner of a major site of British history, this property is located in one of the most mesmerising locations in the country. It's a tremendously exciting opportunity to transform an extremely significant building into a vibrant hive of activity that will hopefully stand the test of time. I'm delighted that Rightmove can play a part in making this become a reality."
This property is listed for sale with Domus Nova.
Inside the mansion with a pirate ship in the back garden
Unwelcome visitors at this sprawling country pile could be made to walk the plank as the five-bedroom barn conversion has its own pirate ship in the back garden.
The incredibly fun property in Gloucestershire, which is on the market for £1.25 million, boasts a massive 12 acres of land as well as 11 stables and a classy floodlit ménage.
But the real jewel in the crown is the giant shipwreck in the back garden which comes complete with a treasure island – the perfect place to host children's parties and Halloween events.
Set over two decks, the hand-built pirate ship is half sunken in a man-made pond and half moored on land, and it's even equipped with its very own watchtower and cabin.
The unique and quirky feature also boasts its own built-in bar and barbecue, making it the ultimate place to party.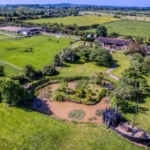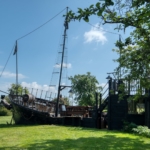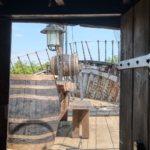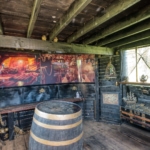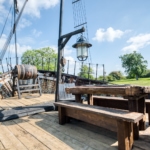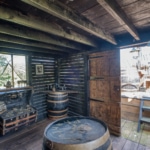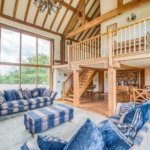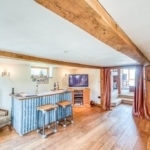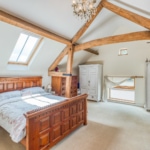 Inside, the ship is strewn with treasure, tankards, skeletons, old barrels, bird cages and many other wonderful decorations that would make Long John Silver proud.
The recently refurbished and charming Phelps Farm Barn is a classic yet contemporary home with wonderful open-plan living spaces, while its wooden-beamed interiors make it a country gem.
Rightmove's property expert Miles Shipside said: "Forget Pirates of the Caribbean, Rightmove is the place to be if you're looking for Pirates of the UK. I've seen plenty of novel features over the years, but this quirky extra probably tops the lot. The 'fun factor' of this property is off the charts and I'd be willing to bet a few doubloons that adults will enjoy this pirate ship as much as the kids."
Close to local towns of Upton-upon-Severn, Malvern and Tewkesbury, the property has great transport links and is well connected to Birmingham and London.
This property is listed for sale with Andrew Grant Country Homes.