Top 10 ways to make your garden more exciting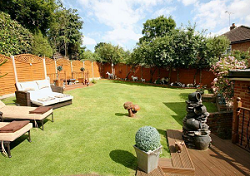 Now that the British summer time seems fully upon us, it's time to whip out the shorts, sunglasses, sandals, and sun cream, and head into the great outdoors to make the most of the sunshine (whilst trying not to get burnt immediately).

For lots of us, our gardens are the ideal places to relax and get some sunshine without leaving the comfort of our homes – no one else will have to see our pasty pins! So, we've decided to put together a list of our top 10 things to add to gardens to make outside more exciting!
1. Add a zip wire
Thinking back to childhood, one of our most fun memories is going to the park and fighting off all the other children to have a go on the zip wire – what could be more fun than soaring through the trees at top speed above everyone else? So, you could purchase one for yourself from a number of companies, or alternatively make one yourself. Get yourself a slackline (basically a big piece of elastic – sold on Amazon pretty cheaply!) and tie it securely to trees/the highest points in your garden. Then, take the handlebars off your bike and thread them through the elastic, then away you go!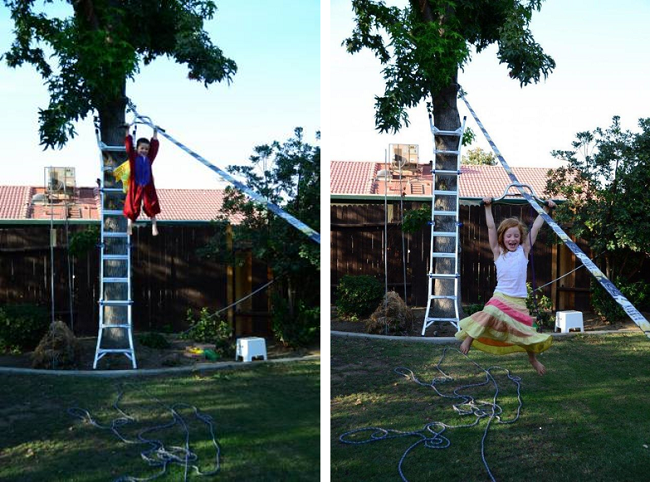 2. Sink your trampoline

If you have children, you may already have a trampoline. So, to make bouncing around even more fun, dig a hole in the grass and put the trampoline in the ground! Alternatively, if you do not have a trampoline, we strongly recommend getting one – it provides hours of fun and great exercise, and you can learn fun tricks such as somersaults and backdrops. Your friends will be amazed!

3. Make your own swimming pool
What could be more annoying than having your fun in the sun being interrupted by getting too hot and having to retreat indoors? So, to prevent this, make a better way to cool off; a swimming pool! Simply get some hay bales and a massive sheet of plastic, then arrange the bales in a pool shape, throw the plastic over, and fill the hole with water from the hose! Perfect.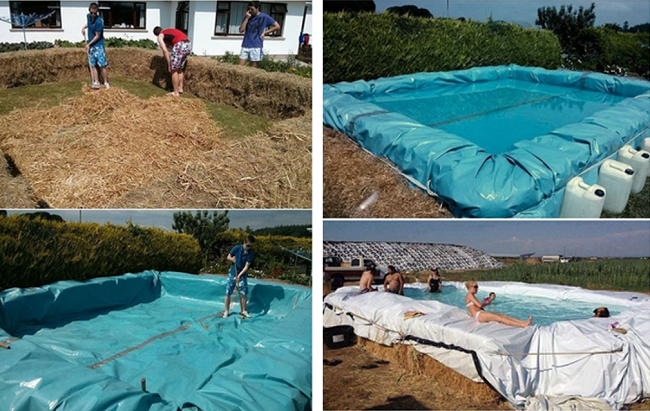 4. Make your own Twister
Playing games in the sun always seems more fun than playing them inside. However, it can be annoying having to bring indoor games outside – the parts could blow away or become damaged by the sun. So, make Twister transferable by buying some cheap cans of coloured spray paint and creating your own game board on the grass. This way, you can make it as big as you want so more players can get involved. Double win!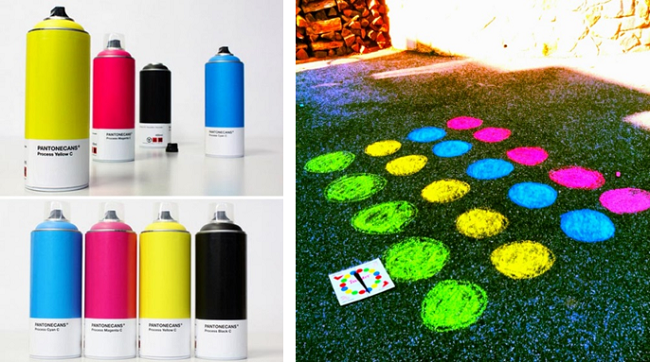 5. Construct a treehouse
If your garden has trees, what better way to make these more interesting than by turning them into a fun treehouse; a place to relax, read your book, have a snack, watch some TV, or have a nap. Simple treehouses can be built pretty easily as long as you make sure that you create a sturdy platform out of timber to avoid the house tumbling down! Alternatively, if your garden is lacking in the tree department, then you could create a willow house on ground level by investing in some willow and planting it around in a circle – almost like an igloo without the ice!

6. DIY beer cooler
What could be better than not having to leave your seat to get your next drink? If this appeals to you, then you can make your own drinks cooling stations in your own garden. Simply get a wooden patio table/picnic table, and some plant pots with rimmed edges. Then, measure the size of the plant pot, and then saw a hole in the table of the appropriate size. Next, simply drop your plant pot in, fill with ice and drinks, and away you go!

7. Toilet roll speakers
Sometimes, all you need to create the perfect summery atmosphere are some top tunes blasted out at top volume. So, create the perfect soundtrack to your summer without buying any speakers! Simply get a loo roll, cut a hole in the middle that your phone/iPod will be able to fit in, put 2 pins  in the back so that it will stand up, and then pop your phone in and press play!

8. Time to chill
Sometimes the summer sun can make us feel very sleepy, and what better way to combat this than with a quick garden power nap. So, why not invest in a bean bag hammock for those summer snoozes? The best thing about this fun contraption is that it can be used both inside and outside, so you can use it all year round!

9. Outside fireplace
In the typical British way, sometimes the temperature outside can dramatically drop without warning, especially during the evenings. In order to continue enjoying your garden for the longest time possible, you can build a fire pit to light for a bit of extra heat. Simply dig a shallow circle in the grass, fill it with gravel, and line the circumference with bricks or large stones. Then build and light your fire and feel the warmth!

10. Magical canopy
Another way that you could shelter from the evening breezes is by creating your own tepee style tent. Simply get some rope, or even a washing line, and hang a large sheet or blanket over the top, and then fill the inside with cushions and more blankets.  You could even have a summer sleepover in there! Dreamy.

We hope that these ideas have inspired you to make the most of your garden this summer. Happy sun loving!