The UK's 'most haunted' house is up for sale on Rightmove! Take a look inside if you dare!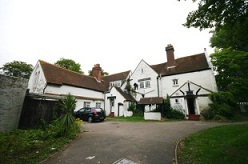 Don't let the plain exterior fool you… this grade two listed building is known to be one of the UK's most haunted properties.
Wymering Manor is said to have around twenty spooky spirits living within its 17th century walls, attracting a lot of attention from ghost hunters and those looking for a fright. The Hampshire property has a reputation of high levels of paranormal activity including eerie sightings, children laughing and sudden drops of temperature. It's so scary in fact that the ghostly goings-on have appeared on Youtube and TV's Most Haunted.
Along with being the scariest, the manor is also the oldest house in Portsmouth; the site was even mentioned in the Domesday Book back in 1086. Reportedly King Edward the Confessor and William the Conqueror have both called these foundations home at some point, and it's thought that Roman and Medieval treasures can be found underneath the property.
The ten-bedroom manor, which has been used as a youth hostel, monastery and vicarage, is up for sale for £375,000 (a bargain if you don't mind some rather creepy housemates) and is up for auction later this month. This frightening property could also have great potential as a hotel because of its scare factor and is likely to entertain thrill-seekers for many centuries to come.
If the thought of ghosts makes you come out in a cold sweat then fear not! Check out some of these properties in the UK for the same budget – ghoul free we promise!
| | | |
| --- | --- | --- |
| Hertfordshire | Cheshire | Yorkshire |
| Sussex | South Wales | Suffolk |