Welsh tourist attraction up for grabs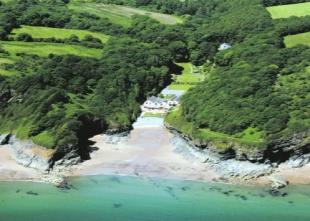 Boasting breath-taking views of the crystal clear sea and flanked by acres of woodland, Waterwynch house is a cash-rich buyers paradise. And the stunning  estate in Pembrokeshire that has played a major role in Welsh tourism for the past 200 years is now officially on the market!
Look inside Waterwynch house here.
The property situated in Tenby has been used to entertain overseas guests for decades. The beachside house was first built by Charles Norris in the early 19th century when he was given the land in recognition of his work promoting the seaside town. It was later owned by Lord and Lady Ridsdale whose son-in-law Conservative Prime Minister, Stanley Baldwin was often a guest, adding to the town's popularity.
What once was a rundown hotel, has now been converted into a beautiful family home with an asking price of £3.5million. Philip Evans, the present owner of the property, used to be the chairman of the Welsh Tourist board and credits the lovingly restored house with helping to keep Wales a popular holidaying destination.
The eleven bedroom house can be accessed down a quiet country lane and has its own beach front and a deep-water mooring (one needs a place to keep the yachts!). The property also includes a separate four bedroom lodge which is currently set up for short-term holiday rentals. Waterwynch house and all of its glory is set in 30 acres of land and stunningly laid formal gardens and it's clear to see why so many tourists have flocked to area to marvel in its beauty.
If you fancy living in this stunning tourist spot but can't afford the price tag then check out these more affordable options all in Tenby, Pembrokeshire.
| | |
| --- | --- |
| 9 bedroom house - £799,950 | 4 bedroom house - £499,950 |
| 5 bedroom house - £395,000 | 2 bedroom house - £199,950 |