Richard Branson has Necker… so why not buy your own Island?

Ever wanted to get away from it all and maroon yourself on your very own island? Does the thought of 'doing a Tom Hanks' (spending your days talking to a painted volley ball) appeal to your adventurous side?
Well, your dream could be a lot closer than you think; with a recent Times article revealing a handful of small islands across the globe on sale for as little as £51,000!
Check out our ten favourite islands still up for grabs and make your dream a reality!
At 10… Lille Ramsø and Reipholmen, near Kristiansund, Norway, 17 acres, £1,191,400
At over 1 million this Norwegian retreat is the most expensive on our list but does actually include 2 islands, one of which comes with a renovated house, boathouse, storehouse, wash-house and a landing stage and it's only a 2 minute boat ride from Lgoy harbour, where you can buy fresh fish or you can catch your own with a permit. It's a real sun spot and in summer water temperatures reach up to 25°C, perfect for a spot of skinny dipping!
At 9…Canary Island, St Lawrence River, New York State, USA, 1 acre, £648,200
Canary island is a much smaller option than Lille Ramsø and Reipholmen but comes with a lower price tag and is much better equipped, with a furnished 1930's 6 bed house, a three-slip boathouse, manicured lawns, a granite seawall on all sides and a large deck as part of the deal, as well as 4 motorboats, a canoe and kayaks, tools and a garden tractor. Your very own self contained paradise and only a third of a mile from the mainland.
At 8… Komariyama Island, Bay of Shirahama, Japan, 0.83 acres, £553,800
A white sandy beach and crystal-clear waters greet you at this Japanese treasure, which is only 5 minutes by boat from the mainland, once there you are only a 15 minute by train ride to Shirahama, which links to Osaka in just 2.5 hours, from there where flights to Tokyo can be boarded and the rest of the world easily returned to!
At 7… Buena Vista, next to Isla del Rey, Panama, 17 acres, £488,600
This subtropical island off Panama features a white-yellow sand beach adjoins the larger Isla del Rey in the Pearl Islands, forming part of a dramatic and sweeping coastline and with beach access via the northern tip of San Miguel or via the nearby resort island of Contadora this is a beautiful but accessible get away.
At 6… Quay Island, Bunratty, Co. Clare, Ireland, 24 acres, £349,000
If it's something a little closer to the UK you fancy, how about this island in the Shannon Estuary? During low tide it can be accessed by foot from Moy Point or otherwise by boat. Most of the island is good farmland, with a small proportion of lower-lying land which is subject to flooding at high tide. Other features on the island include old ruins in the middle and a small lighthouse on its shore.
At 5… Løksøya Island, Nordland, Norway, 45 acres, £305,200
This island is 30 minutes by boat from Bodø, a beautiful harbour town with daily flights to and from Oslo. The property consists of a Main Island and smaller satellite island. On the main island there is already a cottage plus three cabins, all with excellent sea views. From the island's highest point you can see mountains on the mainland, as well as the vast Atlantic Ocean stretching off into the horizon.
At 4… Partridge Island, Nova Scotia, Canada, 20 acres, £178,000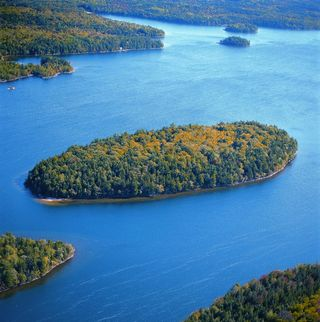 This wooded island in Big Mushamush Lake is somewhat of a rarity, featuring a white sandy beach at its southern end. It is only one-and-a-half hours from Halifax and its international airport, and 15 minutes from Bridgewater. The lake is also a popular swimming and vacation spot, and planning permission is currently available for construction of a log cabin or timber-framed property on the island giving you a base within the lake to swim, fish and relax from.
At 3… Isla Mongon, Valdivia, Chile, 2.7 acres, £127,000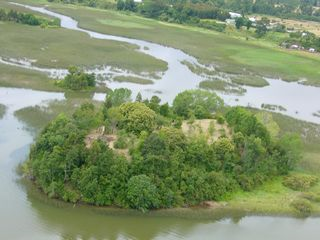 This island is 2.5 miles downriver of Valdivia city centre and 5 miles from the Pacific Ocean. There is deep water suitable for mooring on the property's south side and the fishing here is also good. The top of the island is a flat plateau of 110m x 40m, where fragments of an old homestead still remain. Vegetation consists mainly of 100-year-old chestnut trees. There are also old plum, cherry and apple trees covering the majority of the island.
2. Naomi Island, New York State, USA, 5 acres, £86,700
This wooded island with some clear areas is in the Hudson River region, halfway between New York City and Albany. It can easily be reached by boat from the mainland, which is only 1,000ft away. Old camp facilities exist, but are in need of replacement, why not just go the whole hog and get a few log cabins built across the island!
1. Raspberry Island, Nova Scotia, Canada, 8 acres, £51,200
This crescent-shaped island in Gulf Stream-warmed waters lies close (1.2 miles) to the mainland and the Lower Woods fishing harbour. Once ashore, Yarmouth International Airport is 20 minutes away. The island has a long beach and is covered by trees and wildflowers. It also features an elevation suitable for building on, meaning provided that you have enough left over to build a home after the purchase of the island, this is the cheapest option on our list!