Evaluate yourself when selling
When you're in the early stages of selling a property, taking yourself through a self-evaluation can be an effective exercise, albeit a tough one that requires you to put yourself in the shoes of a buyer.
Raz Ahmed from Daniels Estate Agents advises that anyone thinking about selling their home does this as soon as possible. "We always encourage our customers to think of it as a bit of a house audit" the Senior Branch Manager comments. "Though it's hard to detach ourselves emotionally from our homes and to see how others might view them, it can be done and it really pays off as a seller."


Check the competition
Selling a property is not something we, as home-owners, do very often and so it can be hard to know where to start, however one thing always stays the same; knowing what the competition's like.
Start with a fairly broad search on Rightmove for your local area to understand what else is currently on the market and how it compares to yours in terms of location and size/number of bedrooms, but do not pay any attention to price at this point, but play with location and size until you've honed your search slightly.
Once you've refined this list, start to build an idea of what properties look like at each end of the pricing scale, paying particular attention to any special features that could make a difference, for example a conservatory, large garden or utility room. It is also at this point that you'll want to start paying particular attention to the photos of these properties, making a note of interior styles and décor.
Now's the hard bit: where would your property sit on this scale?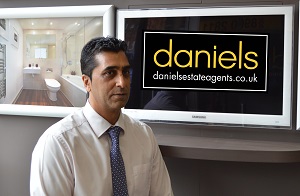 Our top tips for conducting a self-evaluation on your property:
Start outside the front door, just as a potential buyer would, and think about every room or space as an opportunity
Take photos of each room and then use these for evaluation. It sounds silly, but photos can help to detach you emotionally from the property, providing for a more balanced view
Ask the people you trust, like friends and family, to help you out and share their feedback
Raz Ahmed is Senior Branch Manager from Daniels estate agents, Wembley.