Flooding: How to avoid buying a house in a flood area
While buying a home in an area prone to flooding isn't for everyone, there are those who are willing to put up with the risk of flooding and damage to live in a location close to water. With houses continuing to be built in areas reclaimed from the sea, old marshland and even on flood plains, it's always worth doing a full investigation before committing to buying any property.
According to a 2011 report released by the Committee on Climate Change, in the last decade in England, 12,000 – 16,000 new homes have been built in areas with a high risk of flooding. As the demand for new affordable homes continues, the numbers being built in flood areas look set to increase, but as is well documented, flood damage is costly to repair for those affected.
The cost of flooding
Despite developments in flood defence and early warning systems, flooding remains a real danger for many homeowners. A report released by The Environment agency estimates the flooding experienced in the UK during the summer of 2007 affected 48,000 homes and cost an average of £20,000 – £30,000 to repair. With such high repair costs involved, those who live in an area at risk from flooding could struggle to find home insurance that covers their property and their belongings as many insurers charge high premiums or refuse cover all together.
If you are concerned about the cost of insuring your home and possessions, it's worthwhile running a couple of home insurance quotes to see what sort of price you can expect to pay and as some mortgage lenders insist on buildings insurance being in place as part of the mortgage agreement, you will want to have done your research to know you're paying the best price for cover, before you buy your dream home.
Apart from looking for obvious signals of potential flooding such as location to streams, rivers, lakes and other waterways, there are a couple of ways to judge the risk of flooding.
Checking for flood risks
One resource that you should definitely use is the flood risk map created by the Environment agency to display whether an area has a low, moderate or high risk of flooding.
The map enables you to search for a property by postcode or place name and then using the dropdown selection the map overlays the flood risk type posed (flooding from rivers and sea, flooding from reservoirs, flood risk areas and even things like the bathing quality of the water in the area) to display the extent of potential flooding in your chosen area.
Although the map isn't as technical as other mapping software such as Google or Bing maps, it's a simple and straightforward way of determining the risk of flooding. The map is updated quarterly with new information relating to flooding, potential risks and new measures to combat flooding (new flood defences), so you can be sure the information reflects existing and new flood issues across the country.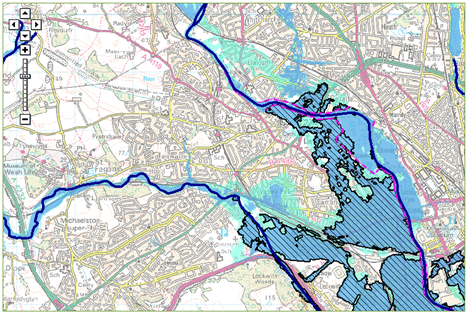 Areas highlighted in dark blue show the extent of potential flooding from rivers or sea without defences, whilst the light blue section show the extent of extreme flooding. The map does also include exact locations where flood defences have been installed and the areas benefitting from these defences.
If you want more detailed information, another option is to visit the Land Registry website and use their flood risk indicator to perform a property search. Unlike the Environment Agency, to view the data you must buy the report at a cost of £9.
Combining data from the Land Registry and Environment Agency, the report returns results for an exact property rather than just a postcode or larger area which is useful even if you're only at the planning stage and want to see whether the potential development site is at risk from flooding.
As the name suggests, the flood risk indicator report details the likelihood of flooding for the specified property or plot. Where a property of piece of land falls outside of a flood plain, the report details the proximity to the nearest floodplain.
Early warning
Since the destruction caused by the floods in the summer of 2007, the Environment Agency have been working to build a system of early flood warning information to alert home owners and businesses so that they can prepare flood defences, protect possessions or in more serious cases, evacuate the area.
By monitoring rainfall, river levels and sea conditions 24 hours a day, Environment Agency staff forecast the possibility of flooding and where necessary issue three different warning types:
Flood alerts
Flood warnings
Severe flood warnings
With the information captured by Environment Agency technology and staff across the country, warnings are then shared using Floodline Warnings Direct, a free flood warning system using phone, email, SMS text or fax to send warnings to those registered on the system.
As well as the Floodline Warnings Direct system, the Environment Agency also issue warnings via their website, through their floodline phone system, via the media, using flood wardens in certain areas to alert communities of flood warnings in place, sirens and loudhailers in some areas to give warning when a flood warning has been issued and finally the RSS feed from their website that updates every 15 minutes to summarise and link to live warnings on the Environment Agency website.
With the increasing occurrence of heavy flooding in the UK, areas that may not have been affected by flooding could find themselves at risk. Remember, it always pays to be prepared, and regardless of whether you have already bought your home or are searching for a new home, it's worth taking the time to check the Environment Agency regularly for their quarterly updates and how the new information affects the immediate and local area around your home.
Chris Stillwell writes for flood home insurance provider Confused.com. Chris took the leap to becoming a homeowner in late 2012 and looks likely to be spending most of 2013 on DIY duty.