5 Expert Tips for Protecting Your New Home
There's a lot to think about when moving home and it can feel a bit overwhelming. One aspect you shouldn't overlook is locks and security.
In a recent survey, buying or selling a property was found to be more stressful than divorce and redundancy *. While you may have a lot on your mind, ensuring your property is safe and secure should be made a top priority.
Here, Dr Steffan George, development director of the Master Locksmiths Association (MLA), the leading trade association for the locksmithing profession provides us with 5 expert tips on protecting your new home.
Change your locks
This should be a top priority as previous residents, their friends and family, or even tradesmen may still have keys to the property. Yet statistics show that over two thirds of new home owners* do not change the locks on their property when moving in.
We would advise contacting your local MLA-approved locksmith to install a patented lock system. These systems prevent keys being copied without proof of ownership, therefore restrict the number of people with access to your property.
Carry out a security assessment
This will ensure no stone is left unturned with regards to potential entry points. An MLA-approved locksmith can carry out a fully comprehensive security assessment, ensuring you have the correct locks on windows and doors.
Not only will this keep your property safe, it also ensures you meet your specified insurance requirements. Your locksmith may also identify any vulnerable areas that require maintenance.
Many MLA licensed locksmiths will complete a security assessment free of charge.
Invest in deterrents
It probably comes as no surprise to learn that burglars prefer the cover of darkness – so, installing dusk till dawn lights on your property can act as a deterrent to potential thieves.
Consider installing an alarm system, as they can act as a deterrent and stop your home becoming a target for thieves. Regularly changing your alarm code, and only give the details of this to trusted friends and family.
If you don't intend on moving into your property right away – consider using a number of inexpensive, yet effective tools to give the illusion that the property is occupied. Using fake TV's and timed lighting can be an effective deterrent to those who may have identified your home as a target.
Pay attention to the exterior
Just like darkness, bushes and trees can also entice burglars by providing coverage from neighbours, passers-by and cameras, which is why reviewing external security is crucial.
Greenery should be well trimmed and you should take care to avoid it being near entry points. Holes or damage to any fences and gates could be seen as opportunities to gain access to your home too so ensure damage is immediately repaired.
Finally, consider installing fences with trellis at the top around your property as a cost effective way of safeguarding your home.
Don't scrimp on security
Of course, moving into a new property is an expensive time for all new home buyers and you may want to (or need to!) make savings where you can, but don't make those cuts on security. In the long term it could end up costing you far more than you bargained for.
Always ensure you buy high quality security systems that will last and, most importantly, work. We would recommend items that have been independently tested and approved by a certification body such as Sold Secure.
---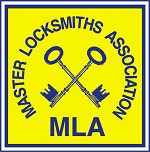 To find a locksmith in your area visit the MLA website at www.locksmiths.co.uk. To review a list of independently tested and approved security products visit the Sold Secure website at www.soldsecure.com Security guidelines for domestic properties can also be downloaded free of charge from the MLA's website.
*Information obtained from an article in The Express from April 2015 where 61% of 2,000 adults voted moving home as the most stressful life experience.
*Statistics from a survey conducted by the Neighbourhood and Home Watch Network found that 86.2% of 6,000 respondents do not even consider changing their locks when they move house.