Quick fire questions with estate agents – cats, marriage, quick sales and clean cars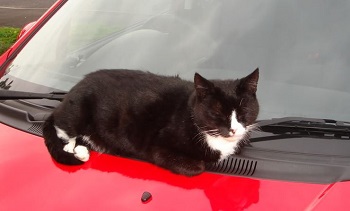 We asked some of the UK's top estate agents five quick questions about the UK's house-buying habits.
It appears people are in a big hurry to move, agents like to spend a decent amount of the time pruning and pouting, and some sellers are in such a hurry to move they will even leave their cat and car behind!
1. How fast was your quickest viewing when you knew they loved the property and couldn't take it fast enough?
James Laurence Estate Agents: A lady cried in the hallway as she loved the house so much, in and out in five minutes in tears, purchased shortly after!
Complete 247: Offered full asking before going round. I wouldn't accept the offer until they went round at least once.
Newman Estate Agents: Didn't even get through the front door before the lady asked "How much do we have to offer to get this house"?!
Pymm & Co: Same day of taking the property on the market I had an applicant view it within the hour and sold it an hour later.
2. How quickly do you think a landlord or seller expects their property to appear on Rightmove?
James Laurence Estate Agents: A seller and local landlord expect this straight away.
Complete 247: I think most would say 24 hours.
Newman Estate Agents: I always set an expectation and explain the benefits of a controlled launch rather than "sneezing" their listing online.
Pymm & Co: It varies between customers but usually within 24 hours of talking the instruction to market.
Reel Estates: Within 24 hours of instruction or signed terms of business.
3. Who in the office spends the longest in the mirror before a viewing or valuation?
James Laurence Estate Agents: Our chief negotiator, although I would expect a valuer to be the most polished with their car gleaming and clean.
Complete 247: Luke Bayliss without a doubt.
Newman Estate Agents: One of our girls Annelli or Hannah.
Pymm & Co: Has to be our company owner Mr Pymm, he's all about the brand and he loves his hair gel and coloured trousers.
Reel Estates: Barry Mitchell without a shadow of a doubt!
4. What's the fastest sale you've ever had?
Websters of Norwich: About 5 minutes. I valued a house, walked back to the office where there was a client registering their details for a house just like the one I'd just come back from. I gave the owner a call and the applicant went round straight away and agreed a sale!
James Laurence Estate Agents: Same day as the owner signed the paperwork on a flat in St Pauls Square, two viewings within 2 hours, it went at asking price.
Newman Estate Agents: 14 days with a £50k non-returnable deposit. £107k over guide price, 456 viewings and 26 offers in two hours!
Pymm & Co: The fastest sale I have ever had was a cash buyer who completed the sale in 4 days! He had the contract drawn up from the seller's solicitor and soon as his solicitor received it he exchanged the contracts!
5. Strangest request from a seller or buyer?
James Laurence Estate Agents: Not sure if one vendor was serious when they said they would leave the cat and car for the right price as they were relocating!
Pymm & Co: A seller wanted to take all flooring, carpets, light fittings and kitchen units as they felt the offer which was their asking price didn't value their high expectations!
Websters of Norwich: Could they pay their fee with a Rolex watch?
Reel Estates: Marriage, sadly the love story didn't make it past a couple of dates.

It's important to act quickly in this fast-moving market, that's why Rightmove has helped house movers find their next home first with instant property alerts. Sign up to instant alerts today!