Interior design tips for using natural stone
Natural stone makes for a timeless flooring that is durable and beautiful.  From the earthy colours and rustic texture of natural slate through to the ultra-smooth honed and polished limestone more and more properties are using stone floors in spaces such as kitchens, bathrooms, living spaces and outdoor areas.
As the popularity of underfloor heating continues as well as the design trend of laying the same type of flooring throughout, natural stone is becoming more and more widely used for most projects.
With colour palettes ranging from the softest, creamiest white limestone through to the deep inky black of brushed slate there are endless design possibilities for using natural stone.
There are things to bear in mind and consider though to make sure any project goes smoothly:
Natural stone is formed, not produced and therefore no two pieces are exactly the same. Tiles will vary slightly in colour, shading, veining and the amount of fossil deposits; this is what attracts many home owners to using natural stone as it gives a distinctive finish that adds real character to a project.
Using natural stone can add value to a property but it is essential that it is installed well and maintained properly using the correct cleaning and maintenance products.  Using the wrong products can be detrimental to your tiles and ultimately cause damage to them. If you have allergy sufferers in your house then natural stone is ideal as it doesn't harbour dust particles unlike carpet.
Natural stone tiles offer affordable luxury.  Whilst it is true that some rare stones can be costly it is possible to get purse friendly tiles.  The beautiful brushed Moleanos Classic Beige tile starts from as little as £24.00 per m2, its creamy undertones brushed finish and tiny fossils brings a crispness and texture to walls and floors.
Don't just focus on the floor, natural stone can also be used on walls and split face cladding panels offer a bold design option with which to create a feature wall or a dramatic ambience within a room.  Using the light neutral tones of the oyster split face slate can make an entrance area appear a warm and welcoming.
Be mindful of the different types of finishes available and where you can use them.  Limestone tiles that are polished have an almost glass like appearance and can be slippery when wet so are not best suited to a bathroom environment.   Black calibrated slate however, is incredibly hardwearing, is perfect for both indoor and outdoor use and has fantastic anti-slip properties.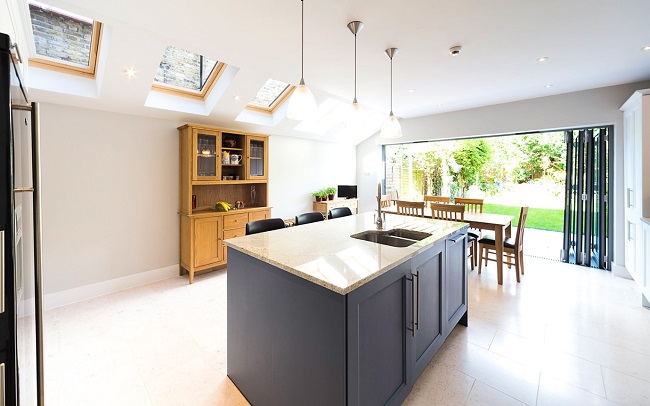 Working with natural stone is no more difficult than working with porcelain or ceramic.  It just takes a little more thought and consideration, but the end result is one of timeless beauty that gets better with age.