Where is the happiest place to live?
Royal

 

Leamington Spa in Warwickshire has earned the crown of the happiest place to live in Great Britain in Rightmove's 2017 Happy at Home Index

In second place is last year's winner, Leigh-On-Sea, followed by Wirral in third

Richmond upon Thames named the happiest place to live in London, Dumfries came top for Scotland and Llandrindod Wells took the title for Wales

Over 17,000 people across 159 areas in Great Britain took part in the Rightmove study

The study asks residents how happy they are where they live and also to rank 12 happiness factors
There must be something in the water in Great Britain's spa towns, as four of them feature in the top ten happiest places to live in Rightmove's Happy at Home Index.
The town of Royal Leamington Spa has come out top and Harrogate, a winner three times in a row between 2013-2015, is in fourth. Royal Tunbridge Wells is ranked fifth and Epsom is seventh. Other spa towns also did fairly well, with Llandrindod Wells named the happiest place to live in Wales and 12th overall in Great Britain, whilst Cheltenham came 29th and Bath 38th.
Leamington Spa scored particularly high for friendly neighbours, a strong sense of belonging, a place where locals feel they can be themselves and good access to nature and green spaces.
The average asking price of a home in Leamington Spa is £330,848, which is almost £20,000 higher than a year ago. The national average asking price is currently £310,003.
Rightmove's Research Manager Abiola Oni comments: "We've looked at the connection between each of the factors and what contributes to how happy people say they are overall, and it's the people in an area and how someone feels about living there that makes the biggest difference.  So the strength of community spirit, people feeling like they belong and that they can be themselves are all more important than the services and money that they have, though these do still contribute to overall happiness."
 Caroline Evetts, The Mayor of Royal Leamington Spa said: "It is a tribute to the town's community spirit that has lead Royal Leamington Spa to be voted the happiest place to live in Great Britain.  Royal Leamington Spa has it all, from our wonderful Regency buildings, impressive parks and gardens as well as a unique mix of high street shops and independent boutiques.  Leamington people are welcoming with an impressive cultural community diversity that adds to the whole happy attitude that has no doubt put the town as the happiest place to live in Great Britain."
Clive Thompson, Office Manager at EhB Residential in Leamington Spa said: "Leamington Spa continues to remain a highly desirable and popular place to live and it seems all residents would agree. Many people are choosing to move to Leamington, as it offers great access to the towns around, and excellent commuting using the road and rail network to some of the larger towns and city's surrounding, with the train station offering good access to both Birmingham and London. Local employment remains strong, with Jaguar Landrover continuing to expand, and other large names in the area including Aston Martin, National Grid, Tata, Warwick University and the computer games industry having chosen Leamington as a base. We simply see lots of buyers move to the area and stay. Having found a town which offers many cultural and leisure facilities with easy access to and from you can see why many are proud to call Leamington Spa home."
Last year Leigh-On-Sea was named the happiest place to live, and this year it takes the runner-up spot. The seaside town scored extremely well for essential local services such as schools and doctors, a strong community spirit, good pubs and restaurants and friendly neighbours.
Wirral followed in third place, and was also named the happiest place to live in the North West, scoring highly for residents feeling a sense of belonging and a place they can be themselves as well as having good local amenities.
Councillor George Davies, Cabinet Member for Housing and Community Safety in Wirral said: "We're delighted this study has confirmed what we have all known for a long time – Wirral is a fantastic place to live. Our residents enjoy great schools, unrivalled leisure opportunities and stunning scenery. Urban, executive homes sit side by side with picturesque and quaint rural villages in Wirral; there genuinely is something for everyone. We have the only Blue Flag beach in the North West, more Green Flag parks than anywhere in the region, and we're minutes away from major cities such as Liverpool, Manchester and Chester. It's no wonder there is such a demand to live, visit and work in Wirral. It is a unique, thriving and happy place!"
This year's results indicate that the South is happier, as seven out of the top ten happiest areas are in the South (Leigh on Sea, Tunbridge Wells, King's Lynn, Epsom, Richmond upon Thames, Poole and Chichester).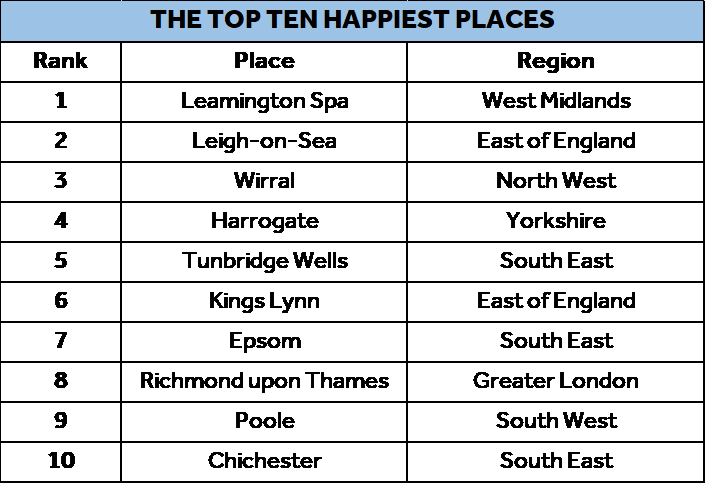 To find out how your local area scored click here