New research reveals the cleaning secrets behind how to make selling your house easier
Leading home cleaning brand Vileda has released new research* unveiling some interesting facts on what cleaning tasks are really essential when trying to sell your home.
While the smell of freshly baked bread and brewed coffee may add to the ambience for potential buyers, the reality is that they are looking for a house they can see themselves living in. So, rather than digging out your bread maker and cafetiere every time you have a viewing, a few easy yet effective cleaning tips may prove a more practical way to sell your home.
Ensuring your house is squeaky clean and sparkling before endless house viewings is one of the more onerous tasks of putting your house on the market.  The average house now takes 65 days to sell which is hours of painstaking floor scrubbing and surface polishing to entice potential buyers.
However the research, commissioned by Vileda, saw house viewers wear specialist eye tracking goggles to record what they looked at the most. The results found that there were areas of specific importance to focus on whilst cleaning to show your house at its best. They discovered that instead of spending hours preparing before each viewing your efforts should be spent on making the most of views, height and space.
First things first, you want potential buyers to imagine living in your house and that includes fitting in their own possessions, so decluttering before you put your house on the market to make the most of space makes it easier for buyers to visualise themselves living there.
If you've got an under-stairs cupboard, tidy it out. The study showed 80% of respondents looked in cupboards to see how big the storage space was, so tidying it out to make it look bigger is definitely a beneficial cleaning task. Decluttering other areas of the house will also create a more spacious appearance, so be sure to clear worktops and surfaces of unnecessary items and remove pet beds and litter trays as some viewers may be put off by pets.
With 95% of participants looking out of windows to check out the view and neighbourhood (having blinds up was no deterrent), quickly wiping away any window smears is a better use of time than cleaning the oven, which 0% of participants looked inside. That said, you don't want to put off buyers, so a fresh smelling kitchen has to be a priority; source and tackle any bad smells coming from drains or bins then open the windows for added freshness.
75% of participants took notice and recalled features such as original fireplaces, which can be great selling points to help you seal the deal. Make sure they aren't covered by furniture and are displayed at their best to help catch the eye of discerning house viewers. It might just be the thing behind the chest of drawers to you, but it could be somebody else's dream.
Home sellers often tend to focus their attention on surfaces and floors, however the research proved that only 15% of respondents gave work surfaces and floors more than a quick glance. Have a swift dash around with a cloth and a vacuum if you have time, but take a look upwards too and check for ceiling cobwebs as 70% of participants looked up to check out room heights and cornicing.
---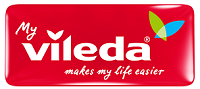 *Research was conducted in February 2015 by leading eye tracking researchers eyetracker™.
For further information about leading home cleaning brand Vileda visit vileda.com/uk