2013 property trends: Tuesday lunchtimes, posh and purple houses and the rise of mobile devices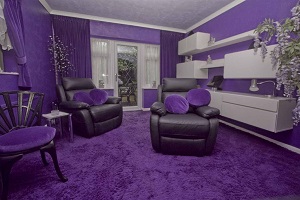 The busiest day on Rightmove was Tuesday, 13th August this year, with over 36 million views on the site, and July was the busiest month
Tuesday between 12-1pm is the busiest time for property searching, changing to Sunday at 8pm on mobile devices
As interest and activity in property has returned, Rightmove has climbed from 10th in the list of the UK's busiest websites a year ago to number seven1
The most viewed property on Rightmove was the 'purple house' in Middlesex, followed by multi-million pound properties in and around the capital and in Newcastle
Over one third (37%) of all online views on Rightmove are now through mobile devices

As the year draws to a close, online property website Rightmove reveals a snapshot of 2013's property browsing trends, with Tuesday lunchtime revealed as the most popular time for people to look for their dream home. The number of pages viewed on Rightmove has topped 13 billion so far in 2013, an increase of more than 20% on 2012.
Most popular times and properties
Tuesday's desk-side lunch break is the most common time to visit Rightmove, which includes people actively house hunting, checking out asking and sold prices of houses in their street before they think about selling, or simply having a look at what is on offer.


The 'purple house' became an online phenomenon in November resulting in over 3 million views to its unusual interior, and topping the list of most viewed properties in 2013.  Other popular houses reveal Rightmove users are a nation of desk-dreamers, eager to get a glimpse inside the multi-million pound properties in and around the capital, though Newcastle flies the flag for the north in the top five.
Rightmove's top five most viewed properties
Rise of mobile devices
Searching for properties on mobile has been growing steadily in the past few years, and it now accounts for over one third (37%) of all page views to Rightmove.  Mobile browsing peaks in the evenings at 8pm, perhaps as people look for properties on their tablets and phones after dinner while watching TV.  Email enquiries by house hunters to estate agents and developers via mobile increased to three in 10 in 2013, up from one in 10 in 2011.
Tis' the season to find a home
Whether trying out the app on their new tablet or mobile, waiting for Santa to come, or even as an alternative to watching the Queen's Speech, 3.2 million people logged on to Rightmove to look for a property between Christmas Eve and Boxing Day in 2012 (main site and mobile).  More mobile browsing and the increased interest and activity in the property market will lift traffic even further this Christmas.

Commenting on the trends, Matthew James, Head of Communications at Rightmove, says:

"It's been quite a surprising year in many ways. We've seen new records in traffic, enquiries, asking prices and consumer confidence this year and I don't think too many people saw that coming back in January. You could describe 2013 as a year of two halves as the market really picked up momentum in the summer.  All five of the busiest days on Rightmove were in August as confidence returned and people took advantage of the holidays to plan a move for the second half of the year.

"With the number of first-time buyers looking to move in 2014 at a three year high, lending on the up and more lenders expected to join Help to Buy in January, we're predicting an even busier 2014 as more people make new year decisions to move."
10 busiest websites in UK by Page Views – Experian Hitwise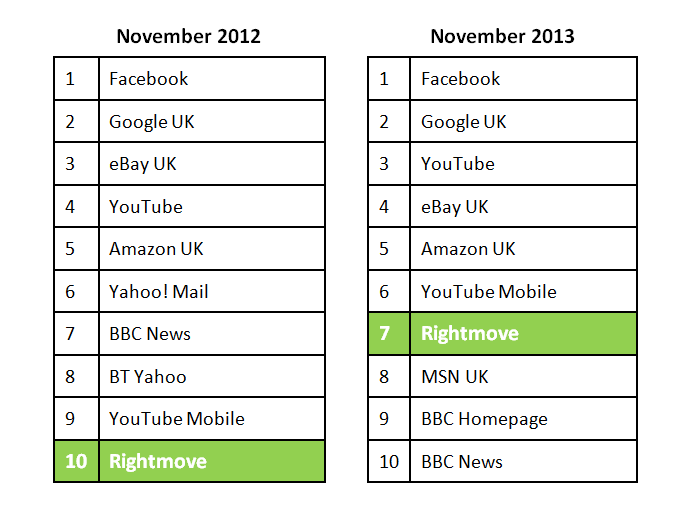 ---
[1] Experian Hitwise, Market share of page views, 'All categories', Nov 2013 compared with Nov 2012