Asking prices in Wales buck the national trend by increasing 0.9% in July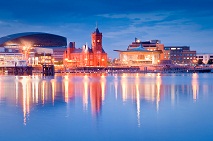 New sellers coming to the market this month in Wales have increased their average asking prices by 0.9%. This bucked a trend across the UK where fresh property stock came onto the market at 0.6% less than the previous month.
Miles Shipside, commercial director of Rightmove comments: "We are seeing new-to-the-market asking prices see-saw in Wales over the last few months, with a 0.9% rise this month making up ground following a fall of 0.4% the previous month. This month the principality has performed better than England, though market watchers should note that the number of new sellers in Wales has increased dramatically too".
The number of properties recorded coming to market by Rightmove this month is a massive 76% up on the same month last year. In July 2009 there were 3,390 new sellers advertised on Rightmove compared to 6,308 this July. The suspension of Home Information Packs has removed some of the red tape and costs of marketing a property, and the percentage increase of new sellers in Wales is higher than any of the rises seen in England.
Shipside adds: "It's great for the fluidity of the market to have more sellers being able to market more easily, though it does mean more property to compete against. This is good news for buyers as they can strike a harder bargain".
Lllanelli (2.5%), Neath (0.9%)and Cardiff (0.8%) saw the largest average asking price increases. However there were price falls in some area, the most dramatic being in Swansea where average asking prices dropped by -4.2%.