Asking prices hit record highs in all regions across Britain
The autumn property market is showing no signs of slowing down. Huge levels of demand from buyers continues to outstrip the number of homes there are for sale, which is pushing up prices.
The average national asking price has jumped up by £6,000 this month to £344,445, which is the biggest rise at this time of year since October 2015.
In fact, we've seen record asking price rises across every region of Britain and for every property type, from first-time buyer homes to family houses. Take a closer look below.
National average asking price by market sector (excluding inner London)
| Property type | Average asking price (Oct 2021) | Annual change |
| --- | --- | --- |
| First-time buyers (two-beds or smaller) | £210,672 | +4.5% |
| Second-steppers (3-4 bed homes, excluding 4-bed houses) | £315,486 | +7.5% |
| Top of the ladder (4-bed houses and bigger) | £630,819 | +9.6% |
| | | |
"Although more properties are coming to market, the level is still not enough to replenish the stock that's being snapped up. Consequently, new price records have been set across the board," says our property expert Tim Bannister.
The stock shortages started after the first lockdown, and they look set to continue as buyers have the additional incentive to move and fix their mortgage interest rate before a widely expected rate rise.
"Mortgage interest rates are lower than they have ever been before and lenders are keen to lend in a competitive market. The number of sales agreed continue to be strong despite the end of the stamp duty incentives," he says.
Mapped: asking prices in every region
Here at Rightmove, we track what's happening with asking prices every month, and in every region. You can read our house price report for October here, and also check the average asking price of a home where you live – or take a look at our map below.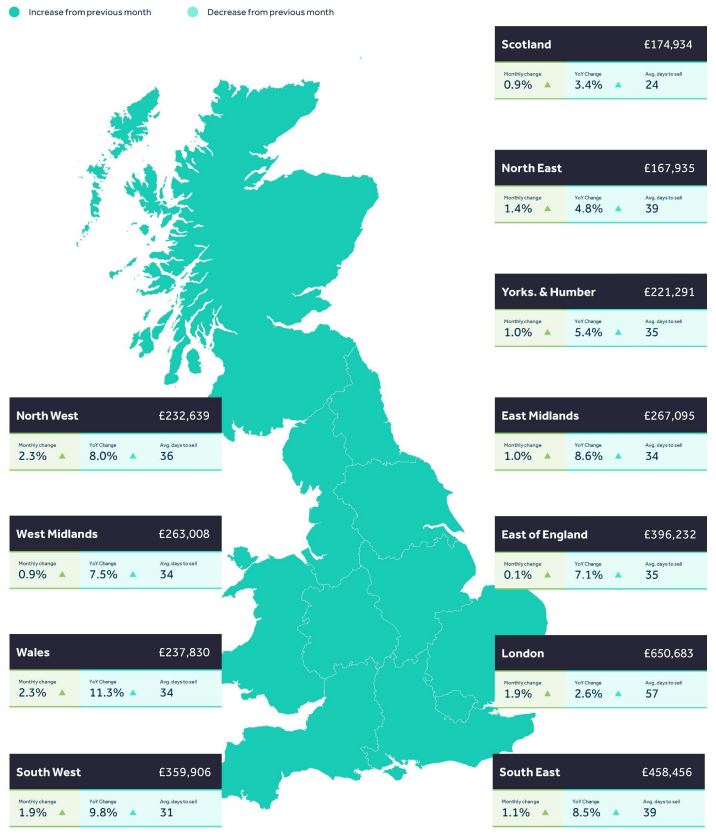 READ MORE: Five reasons why you should sell your home before you buy