Congratulations Harrogate!

For the second year in a row, Harrogate has been crowned the happiest place to live in Great Britain. Rightmove's Happy at Home index, which asks residents to rate their local area, found that Harrogate's combination of neighbourliness, safety and sense of community certainly make it an attractive place live.

We asked a few local experts to share their thoughts on why Harrogate is so happy…


Councillor Michael Newby, the Mayor of the Harrogate Borough said:

"Harrogate offers a wonderful environment for residents. With a thriving arts and culture scene, as well as many sporting opportunities, there is always a lot to do. There are restaurants, cafes and bars to cater for virtually every taste, and a retail sector second to none. The district has some of the most beautiful countryside in the UK, if not in Europe and beyond. There is also a great community feel which certainly make life a lot happier for many people."

Director of residential sales and letting agency, Linley & Simpson, Will Linley, has lived in Harrogate all his life. He said:

"For many, the town will always be associated with Agatha Christie and her 'disappearance' but for those of us who have spent our lives here, there is no real mystery to why it is again the UK's happiest. Harrogate has a strong community feel and sense of 'belonging' and people here have a good quality of life, with low unemployment, low crime rates, a sought-after range of schools from which to choose and an abundance of green space in the heart of the town as well as on its rural outskirts."

Paul Baxter, Area Manager from Harrogate estate agent Dacre Son & Hartley says:

"Having operated in the spa town for almost 40 years, we have first-hand experience of Harrogate's popularity and can definitely understand why its residents have voted it the happiest place to live in the UK. The town's nationally recognised eateries, high-end shops, cultural offerings and outstanding schools all combine to make life here incredibly attractive. Property is at a premium with prices exceeding the national average and this summer even more people will be sampling all that Harrogate has to offer as Le Tour De France races through its attractive streets."

Wallace Sampson, Harrogate Borough Council's Chief Executive said:

"It is fantastic to have topped the Happy at Home Index for the second year running and confirms what we already know, that Harrogate is a fantastic place to live. The town is nestled in one of the most beautiful parts of the country, we have a wonderful sense of community with residents taking great pride in where they live, and the amenities and recreational opportunities on offer means that you never have to venture far from your doorstep to find all that you need."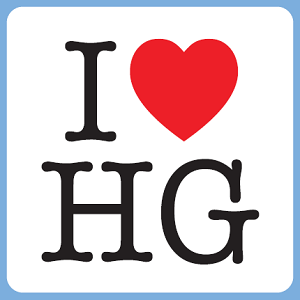 Sibh Megson from Visit Harrogate said:

"If you love great food, wonderful shopping and fantastic entertainment Harrogate really is the place to be. Within minutes you can be out into the stunning Yorkshire Dales countryside – it is no wonder the area has been chosen to host the Tour de France Grand Depart. With this spectacular sporting event almost upon us, soon even more visitors from around the world will be able to experience our friendly hospitality and discover why Harrogate is such a happy place to live."

We have created some limited edition 'We Love Harrogate' stickers so you can show your support for your town's win. If you would like to request one please fill in the form here.
The Index
The 12 measures which contribute to the overall level of happiness we feel with where we live cover a broad range of factors and are divided into three categories: your property, your home and your community. Responses for each of the 12 measures are averaged to provide both a category score and an overall score – the 'Happy at Home Index'.


In total 47,463 people responded to Rightmove's Happy At Home Index survey.