Costly waiting game as nine out of 10 buyers not willing to compromise on first choice location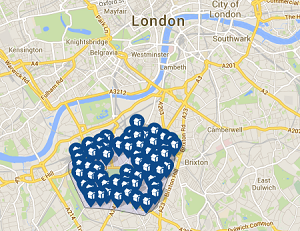 Despite rising prices and highest ever consumer confidence – 79% expect prices to be higher in 12 months – only one in 10 prospective buyers are willing to compromise on their chosen location
Finding their dream home is a challenge – while a third (32%) say they have found a home in their ideal location, 58% are still looking or waiting
Downsizers are the least willing to settle for second best (92%) and while first-time buyers are more willing to compromise, 85% still wouldn't look elsewhere
As national asking prices hit the biggest annual rise in over six years, looking a little further afield could give buyers a better chance of finding their dream home at a more affordable price

Despite more people than ever expecting rises in asking prices over the next 12 months, the vast majority of potential buyers (90%) say they are not willing to compromise on their chosen location.


Rightmove's Quarter 1 2014 Consumer Confidence Survey of over 45,000 respondents found that nearly eight out of 10 (79%) expect house prices to be higher in one year's time. However, against this backdrop of rising prices, only one in 10 is willing to look beyond their first choice location for a suitable home.


Miles Shipside, Rightmove director and housing market analyst comments:

"There's a real mismatch between buyers' no-compromise stance on their most favoured place to live and the rising tide of prices.  Playing a waiting game and holding out for the right property in the right location could prove risky as, with prices in some locations rising by the month, buyers may discover that the one they've been waiting for is over their budget."


With buyer demand exceeding available property supply in some areas, and the market momentum gathering pace in most locations, buyers are faced with limited choice.  Achieving the goal of the right property in the right location, and at an affordable price, is a considerable challenge.  Some success is being achieved, but currently for only around one third of buyers. While 32% say they have found a home in their ideal location, 58% are still looking or waiting.


Shipside adds:

"It's still early in the year, so there is some encouragement that one third say they have found their first or next home where they wanted it to be. There needs to be more property coming to market however, to make sure that the needs of those still looking are met. People who want to sell and buy again are sometimes nervous of putting their house on the market if they cannot see much for them to buy.


"However, once you have a buyer lined up for yours, you are in a much better position to pounce and close the deal on the property you want.  If it takes time for you to find your next dream home, your buyer will often wait. There is no legal obligation to move out, so just keep the buyer warm and it will put you in a much better negotiating position when you find somewhere, as you can then offer your sellers a quick move."


Perhaps unsurprisingly, downsizers are the least willing to settle for second best (92%). While first-time buyers are more willing to compromise, 85% still wouldn't look elsewhere. These are still startlingly high percentages, given the challenges of raising finance and rising prices.


Shipside observes:

"The by-product of the credit-crunch years is that fewer are willing to compromise on location, and are staying put until a property in their chosen area comes along.  Yet if people were willing to widen their location criteria even within a few miles, they might find they can find the type of property they want, but at a more affordable price.  Furthermore, the down-sizers who are least willing to compromise might run the risk of leaving moving too late and have less energy to fully embrace the freedoms of moving into a smaller home and a new community."