Debate to reduce Help to Buy limit to £300,000 is 'futile sideshow', says Rightmove
Cutting the maximum purchase price under Help to Buy phase two to £300,000 from £600,000 would have very little impact on the scheme, according to new Rightmove research out today.

There has been debate, particularly from those suggesting Help to Buy will over-inflate property prices, that a reduction in the upper limit is required to reduce buyer demand, especially in the London market.


The survey from the UK's busiest property website shows that 78% of Londoners expecting to buy in the next year plan to put down a deposit of 10% or more to help their affordability of the mortgage repayment.  This effectively means the scheme will be of no assistance to them.


And outside of London, only 9% of buyers with a 5% deposit said they were aiming to buy at over £300,000.


Miles Shipside, Rightmove director and housing market analyst comments:

"The scare-mongers about who cite phase two of Help to Buy as a potential factor in fuelling price rises should note our research shows it is of very little help to the majority of buyers in the higher end of the price brackets. Estate agents report the take up of Help to Buy backed traditional high loan to value mortgages is mainly outside London and the South East, with the  benefits being felt further north where frustrated first-time buyers, trapped sellers and the wider market requires aid most.  On average so far, people have been looking to buy homes worth £160,000 under the scheme.


"This means that a call to reduce the price limit to try and help lessen buyer demand, especially in London, wouldn't really make a difference. London attracts more than its fair share of cash-rich and overseas buyers, and in the grand scheme of its structural housing supply shortage, the debate on Help to Buy's influence is a futile sideshow."


The research also shows that confusion continues to surround the government's Help to Buy scheme.  A third of existing home owners mistakenly think phase two of Help to Buy could provide them with an interest-free equity loan from the government to buy a 'second-hand' home.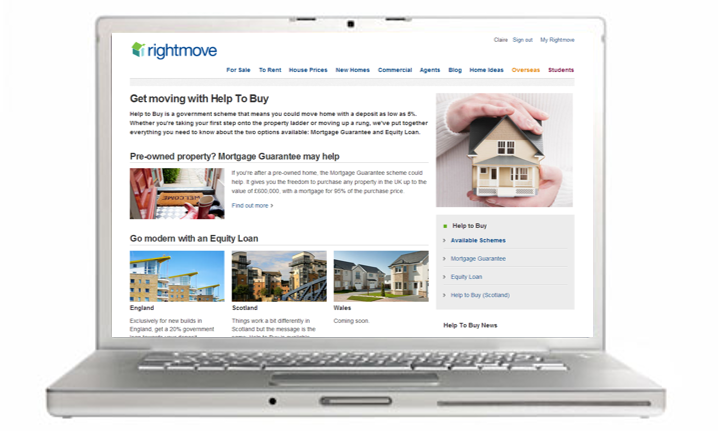 Rightmove's Help to Buy section has now had over three million page views as people look for clarity and help to understand the difference between the two phases of the scheme.


The equity-loan element of the Help to Buy scheme – commonly referred to as phase one – is available only on new-build properties bought directly from the developer. Buyers can use phase two of the scheme to purchase an existing (or 'second-hand') home but the scheme offers assistance only in the form of a traditional mortgage from a lender with a loan to value of up to 95%. To encourage participation from lenders, the government underwrites a percentage of the lenders' risk.


With more lenders lining up to join early in 2014, mainly targeted at existing homes, Rightmove is calling for clearer definition from Government that the equity loan scheme only applies to new build property.


Shipside continues:

"The new build equity loan is a wholly different proposition but both are confusingly lumped together under the Help to Buy banner. It is a trap that many politicians and commentators must be careful not to fall into as well, as the two schemes are chalk and cheese. Buyers of existing homes that are borrowing up to 95% of a property's value will have their ability to repay stress-tested to a far greater degree than in previous far less responsible lending eras. Government, lenders and estate agents need to absolutely clear in their communications to the public to put any misunderstanding about the facts of the scheme to bed to stop misinformed bubble speculation, which in turn could help more supply come to market.


"Those fearing the aftermath of another debt-fuelled bubble should be reassured by two facts. Firstly, the equity loan element of the scheme only applies to new build properties and, secondly, the Mortgage Market Review will come into effect in April and will place much tighter controls on lenders to establish a borrowers' ability to repay. Phase two of Help to Buy is only supported behind the scenes by a Government guarantee to the lender, and to all intents and purposes is a traditional high loan to value mortgage for those buying with a minimum 5% deposit."