First-time buyer prices surge nearly 10% in a year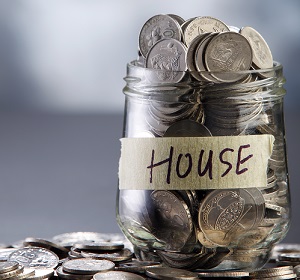 Highest ever national average price of property coming to market, up by 0.6% (+£1,715) this month to £296,549 – and 5.6% more expensive than a year ago
New record fuelled by high demand for first-time-buyer properties, with prices up 4.9% on last month and  9.6% (+£16,105) over the past 12 months
Vicious circle as high tenant demand leads buy-to-let investors to go head-to-head with first-time buyers:
– Many letting agents report 'same-day' rentals and little or no property to rent

– Number of first-time-buyer properties (two bedrooms or fewer) coming to market down by 8% on same period a year ago, exacerbated by first-time sellers struggling with second-step price gap
Rightmove advises first-time buyers how to get on a level playing field versus landlords by winning over the hearts, minds and pockets of sellers

While this month sees a new all-time high of £296,549 for the price of property coming to market, it is a relatively modest monthly increase for the time of year, at 0.6% (+£1,715). This is the lowest October increase since 2010 (+0.2%) and should be compared with an average October rise of 1.8% over the previous five years. However, while new seller asking prices in the middle (+0.4%) and upper (-0.1%) market sectors have under-performed against the national average this month, high demand combined with a supply shortage at the lower end of the market have pushed up prices for typical first-time-buyer properties by 4.9%. These two bedrooms or fewer properties are now at their highest price ever, an average of 9.6% (+£16,105) more expensive than a year ago, far outstripping the overall annual rise of 5.6% for all property types.


Miles Shipside, Rightmove director and housing market analyst comments:

"There are signs of a slowing pace of price rises in some sectors of the market, with the overall October rise the lowest we've recorded at this time of year for five years. We still have another national average record however, as prices continue their upward trend. This is mainly being fuelled by the heady price rises of typical first-time-buyer homes. A near 10% price surge in this category in the last year proves that despite tighter lending criteria in last year's Mortgage Market Review, some first-time buyers can still afford the higher prices being asked for by sellers in this sector. It's also symptomatic of a shortage of properties coming to market with two bedrooms or fewer, combined with demand from both first-time buyers and landlords investing in reaction to the huge rental demand for smaller properties."


Letting agents report extraordinary demand from tenants in many parts of the country, with new or existing households looking to the rental sector to fulfil their need for quick and flexible housing arrangements. A growing number of people like the transience of renting, without the complications, commitments and costs of buying and then selling. With inadequate supply from housing associations and the public sector, private landlords are one of the few active providers of smaller homes for rent. However, when this need is combined with first-time buyer demand, boosted by the return of low-deposit mortgages and lenders competing to reduce their rates, it creates a vicious circle due to the limited supply of suitable properties for sale in this most active sector. The number of first-time-buyer properties (two bedrooms or fewer) coming to market is down by over 8% on the same period a year ago.


Shipside observes:

"With local authorities, housing associations and developers no longer satisfying the country's housing needs, those in particular looking to rent or buy smaller homes must hope for the cavalry to come to their rescue, in the form of government action or large-scale institutional investment. Initiatives such as continued relaxation of planning rules to boost building, 200,000 new affordable homes available to buy over the next five years, or American-style institutional investment in the rented sector will take time to come over the hill, as the sound of bugles is still in the distance. In the meantime, it seems the army of privateer buy-to-let investors remains the only short to medium term way to scale up our rental capacity.


"Tenant demand is such that many letting agents are reporting viewings and tenancy applications on the same day as marketing properties. In some cases they've nothing left to rent until tenants move out or a new influx of investor landlords gives some short-lived respite to tenants-in-waiting. Both investor landlords and first-time buyers looking to buy smaller homes are finding them in short supply. As they're typically owned by potential first-time sellers, the price gap and costs of moving to the second step on the housing ladder deter them from coming to market. Competition is most fierce in this sector, with first-time buyers and buy-to-let investors going head-to-head for the same properties."


So what can first-time-buyers do to get on a level playing field versus buy-to-let investors?

This is a tough battle, as there are lots of logical reasons why a seller would prefer to sell their property to a landlord investor. Their funding is often a safer bet as they typically have larger deposits or cash, and it could be said that they are less likely than less experienced first-time-buyers to pull out before exchange as their business mind-set lessens the risk of an emotionally inspired U-turn that sometimes scuppers a sale.


Rightmove's Miles Shipside, who practised in estate agency for over 20 years, shares some tactics and suggestions:

"Win over the heart, mind and pocket of the seller. Buy-to-let investors will give sellers logical reasons for accepting their offer over a first-time-buyer, so do whatever you can to be not only among the first to view, but also to meet or communicate with the owner and make sure they know how much you would love to own, occupy and cherish their property. Most owners have sweated hard to create a home and become very attached to it, so emotionally would prefer to pass on their property legacy to your caring hands rather than those of an absentee landlord.


"While the agent will advise on the best and least risky offer to accept, the ultimate decision is the seller's. You can mitigate the seller's concerns by getting your financial affairs in good order and ensuring you have an agreement in principle for a mortgage, giving sellers and agents peace of mind in this area. Finally, landlord investors are in business to make a return, so may habitually try lower offers as they're less emotionally attached to the properties on which they are bidding as it's not their future home. If you can find out what fair price the seller is ideally looking for, and you can afford it, then your bid for their home may well be better for their pocket than a landlord's and also give them a feel-good glow for helping you onto the property ladder."