Happiness is a town called Harrogate
Harrogate comes first once again as the happiest place to live in Great Britain, with residents feeling safe, proud of their home and happy with the area's general upkeep

Shrewsbury takes second place, and Ipswich flies the flag for the East of England in third

Inverness tops the Scottish survey, Llandrindod Wells comes first in Wales and Richmond wins London's happiness crown

Rightmove's annual Happy at Home Index asks residents to rate their local area on 12 factors which are combined to create the happiness factor of 130 areas across the country
Harrogate may soon be changing its name to 'Happygate', as it has been named the happiest place to live for the third year in a row.
Rightmove's annual Happy at Home Index asks residents to rank a number of factors both in their home and in their local community, with Harrogate residents ranking the place high for safety, being proud of their home, and being happy with the general upkeep of the area.
The twelve factors range from neighbourliness and how much there is to do in the area, to how happy people are with their home's décor, value, and costs to run it.
The top five happiest towns in the Rightmove survey of more than 24,000 people include the northern locations of York and Chester, just after second-placed Shrewsbury and third-ranked Ipswich.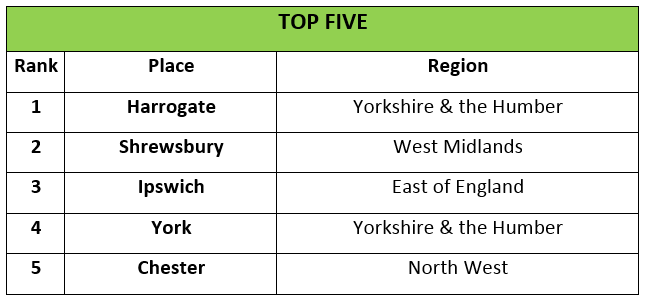 You can find out how happy residents say they are in their local area by using the Happy at Home microsite available at: www.rightmove.co.uk/viz/happy-at-home
Home is where the happy is
The findings reveal that the people of Dundee are happiest with how their home is furnished, Blackpool residents say they have plenty of space, and those in Hemel Hempstead feel most 'at home' in their property.
The seaside town of Torquay comes top for people saying they're never stuck for things to do, compared to the Scottish town of Paisley which comes bottom.  If you're looking for a friendly neighbour Llandrindod Wells would be a good place to start, as the residents say that's where the most polite people live.
Calculating the costs
Residents in Falkirk say they find the costs of running their home most manageable, compared to those in the London Borough of Hounslow who find it hardest to cope.  When it comes to the price of property, Newport residents worry least about their home's value, whereas those in Luton worry the most.  This is despite the fact that over the past year asking prices have gone up 8.6% in Luton and only 1.8% in Newport.
Rightmove's Housing Expert Miles Shipside comments:
"To come top of our Happy at Home Index three years in a row is no mean feat, and we'll be expecting a spike in people having a look on Rightmove to see what they might be able to afford to buy or rent in the Harrogate area.  How people define happiness obviously varies, which is why we've come up with a number of factors both inside the home and in the community, to reveal the most contented towns and cities in the UK.
"So what's so great about Harrogate?  Maybe it's the quaint tea-rooms or perhaps it's the beautiful countryside. Anyone who is thinking of making a move there should bear in mind that property asking prices are higher than the national average, so perhaps it's well-worth a look at the below national average places of Shrewsbury and Ipswich, that make it in to second and third place."
Click here to view the full report.
Quotes from Harrogate
Michael Newby, Director of Visit Harrogate said:
"This is fantastic news – to come top two years running was great, but to be named the happiest place for a third time is just amazing. This is no flash in the pan and shows why visitors rate us so highly. According to Visit England the number of visitors who rate the cleanliness and tidiness of our environment as very good or excellent greatly exceeds the national average, as does the number who think we are friendly and welcoming. This is a great place to live and great place to visit – let's just keep smiling!"
Councillor Richard Cooper, Leader of Harrogate Borough Council said:
"Harrogate is a fantastic part of the world in which to live. We are surrounded by some of the UK's most beautiful scenery, have fantastic shopping, a wide variety of restaurants and cafes, and great entertainment and leisure opportunities – including some unique experiences such as the elegant Turkish Baths.  As a floral town, we are also extremely lucky to have a significant number of parks and gardens in the immediate vicinity – which are a joy to discover. Resident's benefit from a great quality of life with low unemployment, low crime, excellent local services, on-going investment, highly regarded schooling and a great community spirit. People are proud of their homes and proud of their town. When these elements are brought together it really does make Harrogate a desirable place to live."
Simon Myring, Director of Myrings Estate Agents in Harrogate comments:
"It is no surprise to the residents and visitors to our town that Harrogate has been voted the happiest place live in the UK for the third year running. Harrogate really does have it all with its wonderful Georgian architecture, wide open green spaces, band concerts in the Valley Gardens, its Theatre, Restaurants and Shops – and of course Betty's Tearooms for a real Yorkshire cream tea. There is the romance of walking in the footsteps of Lord Byron and William Wordsworth, the Royalty of Europe and Agatha Christie, but it's the thriving businesses, superb schools and proximity to the major roads/ railway network and International Airport at Leeds Bradford which underpins the prosperity and happiness of the town. This prosperity is reflected in the cost of buying and renting in the town where demand often exceeds supply as quite understandably who wouldn't want to live in the place we are all happy and very pleased to call home?"