Rightmove reveals the Happy At Home Index for 2013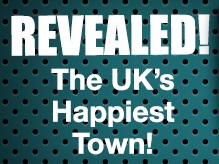 Rightmove's Happy At Home Index is a unique, nationwide insight into the emotive relationship we have with the place we call home. Rightmove surveyed nearly 40,000 people asking them to rank 12 distinct factors about where they live, covering feelings towards our 'property', our 'home' and our 'community'.
Rightmove director Miles Shipside comments:


"As a nation obsessed with property, our homes represent far more than simple bricks and mortar. Rightmove's Happy At Home Index looks to capture how the British public truly feels about 'home' and gives us a view of the happiest places in the UK as rated by those who know best – the people who live there"


The Happy At Home Index for 2013 found that Harrogate is the UK's happiest place to call home, and that Northerners are overall happier where they live than Southerners. However, beyond these headlines, the HAHI also reveals individual stories for the 110 locations and 11 regions covered by the survey, as well as the 12 separate categories that the public were asked to rate.

Use our interactive tool below to see how your town or city compares on all 12 categories. The 'national' ranking column on the right shows where your town/city was ranked compared to the 110 locations covered by the survey nationwide. The 'regional' ranking on the left shows where your location was ranked for each category within your own region.
var regions = [ {"id":"0","name":"East Anglia","values":[{"id":"11","name":"Cambridge"},{"id":"12","name":"Colchester"},{"id":"13","name":"Norwich"},{"id":"14","name":"Ipswich"},{"id":"15","name":"Peterborough"}]},{"id":"1","name":"East Midlands","values":[{"id":"16","name":"Leicester"},{"id":"17","name":"Nottingham"},{"id":"18","name":"Derby"},{"id":"19","name":"Lincoln"}]},{"id":"2","name":"Greater London","values":[{"id":"20","name":"Romford"},{"id":"21","name":"London - East"},{"id":"22","name":"London - West"},{"id":"23","name":"Harrow"},{"id":"24","name":"London - West Central"},{"id":"25","name":"London - South West"},{"id":"26","name":"London - East Central"},{"id":"27","name":"London - North"},{"id":"28","name":"London - South East"},{"id":"29","name":"Kingston upon Thames"},{"id":"30","name":"London - North West"},{"id":"31","name":"Bromley"},{"id":"32","name":"Twickenham"},{"id":"33","name":"Enfield"},{"id":"34","name":"Ilford"},{"id":"35","name":"Croydon"},{"id":"36","name":"Sutton"}]},{"id":"3","name":"North East","values":[{"id":"37","name":"Newcastle upon Tyne"},{"id":"38","name":"Middlesbrough"},{"id":"39","name":"Sunderland"},{"id":"40","name":"Durham"},{"id":"41","name":"Cleveland"},{"id":"42","name":"Hull"},{"id":"43","name":"Darlington"}]},{"id":"4","name":"North West","values":[{"id":"44","name":"Preston"},{"id":"45","name":"Carlisle"},{"id":"46","name":"Chester"},{"id":"47","name":"Manchester"},{"id":"48","name":"Lancaster"},{"id":"49","name":"Crewe"},{"id":"50","name":"Warrington"},{"id":"51","name":"Wigan"},{"id":"52","name":"Liverpool"},{"id":"53","name":"Stockport"},{"id":"54","name":"Blackpool"},{"id":"55","name":"Bolton"},{"id":"56","name":"Blackburn"},{"id":"57","name":"Oldham"}]},{"id":"5","name":"Scotland","values":[{"id":"58","name":"Paisley"},{"id":"59","name":"Glasgow"},{"id":"60","name":"Edinburgh"},{"id":"61","name":"Inverness"},{"id":"62","name":"Kilmarnock"},{"id":"63","name":"Falkirk"},{"id":"64","name":"Aberdeen"}]},{"id":"6","name":"South East","values":[{"id":"65","name":"Chelmsford"},{"id":"66","name":"Watford"},{"id":"67","name":"Reading"},{"id":"68","name":"Brighton"},{"id":"69","name":"Slough"},{"id":"70","name":"Oxford"},{"id":"71","name":"Southampton"},{"id":"72","name":"Canterbury"},{"id":"73","name":"St Albans"},{"id":"74","name":"Guildford"},{"id":"75","name":"Dartford"},{"id":"76","name":"Tonbridge"},{"id":"77","name":"Redhill"},{"id":"78","name":"Luton"},{"id":"79","name":"Hemel Hempstead"},{"id":"80","name":"Southend on Sea"},{"id":"81","name":"Stevenage"},{"id":"82","name":"Milton Keynes"},{"id":"83","name":"Rochester"},{"id":"84","name":"Portsmouth"}]},{"id":"7","name":"South West","values":[{"id":"85","name":"Bath"},{"id":"86","name":"Taunton"},{"id":"87","name":"Swindon"},{"id":"88","name":"Bournemouth"},{"id":"89","name":"Truro"},{"id":"90","name":"Bristol"},{"id":"91","name":"Dorchester"},{"id":"92","name":"Gloucester"},{"id":"93","name":"Exeter"},{"id":"94","name":"Salisbury"},{"id":"95","name":"Plymouth"},{"id":"96","name":"Torquay"}]},{"id":"8","name":"Wales","values":[{"id":"97","name":"Cardiff"},{"id":"98","name":"Newport"},{"id":"99","name":"Llandudno"},{"id":"100","name":"Swansea"}]},{"id":"9","name":"West Midlands","values":[{"id":"101","name":"Coventry"},{"id":"102","name":"Birmingham"},{"id":"103","name":"Shrewsbury"},{"id":"104","name":"Worcester"},{"id":"105","name":"Wolverhampton"},{"id":"106","name":"Stoke-on-Trent"},{"id":"107","name":"Northampton"},{"id":"108","name":"Hereford"},{"id":"109","name":"Dudley"},{"id":"110","name":"Telford"},{"id":"111","name":"Walsall"}]},{"id":"10","name":"Yorkshire","values":[{"id":"112","name":"Harrogate"},{"id":"113","name":"Leeds"},{"id":"114","name":"Doncaster"},{"id":"115","name":"Wakefield"},{"id":"116","name":"York"},{"id":"117","name":"Huddersfield"},{"id":"118","name":"Sheffield"},{"id":"119","name":"Halifax"},{"id":"120","name":"Bradford"}]} ]; var tables = [ {"id":"11","uProperty":[{"name":"Décor","regional":"65 / 110","national":"5 / 5"},{"name":"Space","regional":"55 / 110","national":"5 / 5"},{"name":"Contentment","regional":"6 / 110","national":"3 / 5"},{"name":"Value","regional":"53 / 110","national":"1 / 5"}],"uHome":[{"name":"Investment","regional":"68 / 110","national":"5 / 5"},{"name":"Well-being","regional":"42 / 110","national":"5 / 5"},{"name":"Pride","regional":"73 / 110","national":"5 / 5"},{"name":"Costs","regional":"11 / 110","national":"1 / 5"}],"uCommunity":[{"name":"Safety","regional":"33 / 110","national":"3 / 5"},{"name":"Amenities","regional":"73 / 110","national":"3 / 5"},{"name":"Recreation","regional":"45 / 110","national":"4 / 5"},{"name":"Neighbourliness","regional":"33 / 110","national":"4 / 5"}],"overall":[{"name":"OVERALL RANK","regional":"34 / 110","national":"5 / 5"}]}, {"id":"12","uProperty":[{"name":"Décor","regional":"51 / 110","national":"4 / 5"},{"name":"Space","regional":"40 / 110","national":"4 / 5"},{"name":"Contentment","regional":"21 / 110","national":"5 / 5"},{"name":"Value","regional":"90 / 110","national":"5 / 5"}],"uHome":[{"name":"Investment","regional":"2 / 110","national":"1 / 5"},{"name":"Well-being","regional":"8 / 110","national":"1 / 5"},{"name":"Pride","regional":"21 / 110","national":"2 / 5"},{"name":"Costs","regional":"73 / 110","national":"5 / 5"}],"uCommunity":[{"name":"Safety","regional":"59 / 110","national":"5 / 5"},{"name":"Amenities","regional":"77 / 110","national":"4 / 5"},{"name":"Recreation","regional":"32 / 110","national":"3 / 5"},{"name":"Neighbourliness","regional":"12 / 110","national":"1 / 5"}],"overall":[{"name":"OVERALL RANK","regional":"24 / 110","national":"3 / 5"}]}, {"id":"13","uProperty":[{"name":"Décor","regional":"38 / 110","national":"3 / 5"},{"name":"Space","regional":"20 / 110","national":"1 / 5"},{"name":"Contentment","regional":"5 / 110","national":"2 / 5"},{"name":"Value","regional":"76 / 110","national":"4 / 5"}],"uHome":[{"name":"Investment","regional":"19 / 110","national":"2 / 5"},{"name":"Well-being","regional":"23 / 110","national":"3 / 5"},{"name":"Pride","regional":"53 / 110","national":"4 / 5"},{"name":"Costs","regional":"51 / 110","national":"3 / 5"}],"uCommunity":[{"name":"Safety","regional":"17 / 110","national":"2 / 5"},{"name":"Amenities","regional":"66 / 110","national":"2 / 5"},{"name":"Recreation","regional":"16 / 110","national":"2 / 5"},{"name":"Neighbourliness","regional":"23 / 110","national":"3 / 5"}],"overall":[{"name":"OVERALL RANK","regional":"15 / 110","national":"2 / 5"}]}, {"id":"14","uProperty":[{"name":"Décor","regional":"12 / 110","national":"1 / 5"},{"name":"Space","regional":"35 / 110","national":"3 / 5"},{"name":"Contentment","regional":"1 / 110","national":"1 / 5"},{"name":"Value","regional":"63 / 110","national":"3 / 5"}],"uHome":[{"name":"Investment","regional":"46 / 110","national":"4 / 5"},{"name":"Well-being","regional":"9 / 110","national":"2 / 5"},{"name":"Pride","regional":"6 / 110","national":"1 / 5"},{"name":"Costs","regional":"63 / 110","national":"4 / 5"}],"uCommunity":[{"name":"Safety","regional":"16 / 110","national":"1 / 5"},{"name":"Amenities","regional":"26 / 110","national":"1 / 5"},{"name":"Recreation","regional":"10 / 110","national":"1 / 5"},{"name":"Neighbourliness","regional":"13 / 110","national":"2 / 5"}],"overall":[{"name":"OVERALL RANK","regional":"3 / 110","national":"1 / 5"}]}, {"id":"15","uProperty":[{"name":"Décor","regional":"13 / 110","national":"2 / 5"},{"name":"Space","regional":"28 / 110","national":"2 / 5"},{"name":"Contentment","regional":"18 / 110","national":"4 / 5"},{"name":"Value","regional":"62 / 110","national":"2 / 5"}],"uHome":[{"name":"Investment","regional":"37 / 110","national":"3 / 5"},{"name":"Well-being","regional":"26 / 110","national":"4 / 5"},{"name":"Pride","regional":"22 / 110","national":"3 / 5"},{"name":"Costs","regional":"28 / 110","national":"2 / 5"}],"uCommunity":[{"name":"Safety","regional":"45 / 110","national":"4 / 5"},{"name":"Amenities","regional":"88 / 110","national":"5 / 5"},{"name":"Recreation","regional":"56 / 110","national":"5 / 5"},{"name":"Neighbourliness","regional":"36 / 110","national":"5 / 5"}],"overall":[{"name":"OVERALL RANK","regional":"31 / 110","national":"4 / 5"}]},
{"id":"16","uProperty":[{"name":"Décor","regional":"35 / 110","national":"3 / 4"},{"name":"Space","regional":"44 / 110","national":"3 / 4"},{"name":"Contentment","regional":"25 / 110","national":"1 / 4"},{"name":"Value","regional":"67 / 110","national":"4 / 4"}],"uHome":[{"name":"Investment","regional":"75 / 110","national":"4 / 4"},{"name":"Well-being","regional":"16 / 110","national":"1 / 4"},{"name":"Pride","regional":"55 / 110","national":"3 / 4"},{"name":"Costs","regional":"93 / 110","national":"4 / 4"}],"uCommunity":[{"name":"Safety","regional":"61 / 110","national":"3 / 4"},{"name":"Amenities","regional":"51 / 110","national":"2 / 4"},{"name":"Recreation","regional":"70 / 110","national":"2 / 4"},{"name":"Neighbourliness","regional":"32 / 110","national":"2 / 4"}],"overall":[{"name":"OVERALL RANK","regional":"50 / 110","national":"3 / 4"}]}, {"id":"17","uProperty":[{"name":"Décor","regional":"66 / 110","national":"4 / 4"},{"name":"Space","regional":"57 / 110","national":"4 / 4"},{"name":"Contentment","regional":"35 / 110","national":"2 / 4"},{"name":"Value","regional":"42 / 110","national":"2 / 4"}],"uHome":[{"name":"Investment","regional":"61 / 110","national":"3 / 4"},{"name":"Well-being","regional":"87 / 110","national":"4 / 4"},{"name":"Pride","regional":"82 / 110","national":"4 / 4"},{"name":"Costs","regional":"20 / 110","national":"1 / 4"}],"uCommunity":[{"name":"Safety","regional":"85 / 110","national":"4 / 4"},{"name":"Amenities","regional":"57 / 110","national":"3 / 4"},{"name":"Recreation","regional":"83 / 110","national":"4 / 4"},{"name":"Neighbourliness","regional":"76 / 110","national":"4 / 4"}],"overall":[{"name":"OVERALL RANK","regional":"74 / 110","national":"4 / 4"}]}, {"id":"18","uProperty":[{"name":"Décor","regional":"31 / 110","national":"2 / 4"},{"name":"Space","regional":"13 / 110","national":"1 / 4"},{"name":"Contentment","regional":"36 / 110","national":"3 / 4"},{"name":"Value","regional":"14 / 110","national":"1 / 4"}],"uHome":[{"name":"Investment","regional":"16 / 110","national":"1 / 4"},{"name":"Well-being","regional":"31 / 110","national":"2 / 4"},{"name":"Pride","regional":"12 / 110","national":"2 / 4"},{"name":"Costs","regional":"46 / 110","national":"2 / 4"}],"uCommunity":[{"name":"Safety","regional":"30 / 110","national":"1 / 4"},{"name":"Amenities","regional":"34 / 110","national":"1 / 4"},{"name":"Recreation","regional":"47 / 110","national":"1 / 4"},{"name":"Neighbourliness","regional":"24 / 110","national":"1 / 4"}],"overall":[{"name":"OVERALL RANK","regional":"11 / 110","national":"1 / 4"}]}, {"id":"19","uProperty":[{"name":"Décor","regional":"5 / 110","national":"1 / 4"},{"name":"Space","regional":"22 / 110","national":"2 / 4"},{"name":"Contentment","regional":"46 / 110","national":"4 / 4"},{"name":"Value","regional":"55 / 110","national":"3 / 4"}],"uHome":[{"name":"Investment","regional":"27 / 110","national":"2 / 4"},{"name":"Well-being","regional":"34 / 110","national":"3 / 4"},{"name":"Pride","regional":"1 / 110","national":"1 / 4"},{"name":"Costs","regional":"52 / 110","national":"3 / 4"}],"uCommunity":[{"name":"Safety","regional":"49 / 110","national":"2 / 4"},{"name":"Amenities","regional":"105 / 110","national":"4 / 4"},{"name":"Recreation","regional":"76 / 110","national":"3 / 4"},{"name":"Neighbourliness","regional":"61 / 110","national":"3 / 4"}],"overall":[{"name":"OVERALL RANK","regional":"45 / 110","national":"2 / 4"}]},
{"id":"20","uProperty":[{"name":"Décor","regional":"78 / 110","national":"3 / 17"},{"name":"Space","regional":"101 / 110","national":"9 / 17"},{"name":"Contentment","regional":"92 / 110","national":"10 / 17"},{"name":"Value","regional":"36 / 110","national":"6 / 17"}],"uHome":[{"name":"Investment","regional":"95 / 110","national":"8 / 17"},{"name":"Well-being","regional":"65 / 110","national":"5 / 17"},{"name":"Pride","regional":"51 / 110","national":"3 / 17"},{"name":"Costs","regional":"82 / 110","national":"9 / 17"}],"uCommunity":[{"name":"Safety","regional":"103 / 110","national":"11 / 17"},{"name":"Amenities","regional":"59 / 110","national":"11 / 17"},{"name":"Recreation","regional":"101 / 110","national":"12 / 17"},{"name":"Neighbourliness","regional":"101 / 110","national":"8 / 17"}],"overall":[{"name":"OVERALL RANK","regional":"100 / 110","national":"8 / 17"}]}, {"id":"21","uProperty":[{"name":"Décor","regional":"108 / 110","national":"15 / 17"},{"name":"Space","regional":"110 / 110","national":"17 / 17"},{"name":"Contentment","regional":"110 / 110","national":"17 / 17"},{"name":"Value","regional":"78 / 110","national":"13 / 17"}],"uHome":[{"name":"Investment","regional":"110 / 110","national":"17 / 17"},{"name":"Well-being","regional":"107 / 110","national":"16 / 17"},{"name":"Pride","regional":"107 / 110","national":"15 / 17"},{"name":"Costs","regional":"99 / 110","national":"15 / 17"}],"uCommunity":[{"name":"Safety","regional":"110 / 110","national":"17 / 17"},{"name":"Amenities","regional":"108 / 110","national":"16 / 17"},{"name":"Recreation","regional":"107 / 110","national":"15 / 17"},{"name":"Neighbourliness","regional":"109 / 110","national":"16 / 17"}],"overall":[{"name":"OVERALL RANK","regional":"110 / 110","national":"17 / 17"}]}, {"id":"22","uProperty":[{"name":"Décor","regional":"103 / 110","national":"10 / 17"},{"name":"Space","regional":"108 / 110","national":"15 / 17"},{"name":"Contentment","regional":"107 / 110","national":"16 / 17"},{"name":"Value","regional":"52 / 110","national":"9 / 17"}],"uHome":[{"name":"Investment","regional":"89 / 110","national":"7 / 17"},{"name":"Well-being","regional":"68 / 110","national":"6 / 17"},{"name":"Pride","regional":"101 / 110","national":"10 / 17"},{"name":"Costs","regional":"90 / 110","national":"11 / 17"}],"uCommunity":[{"name":"Safety","regional":"97 / 110","national":"8 / 17"},{"name":"Amenities","regional":"53 / 110","national":"9 / 17"},{"name":"Recreation","regional":"69 / 110","national":"8 / 17"},{"name":"Neighbourliness","regional":"98 / 110","national":"6 / 17"}],"overall":[{"name":"OVERALL RANK","regional":"103 / 110","national":"10 / 17"}]}, {"id":"23","uProperty":[{"name":"Décor","regional":"102 / 110","national":"9 / 17"},{"name":"Space","regional":"79 / 110","national":"3 / 17"},{"name":"Contentment","regional":"65 / 110","national":"6 / 17"},{"name":"Value","regional":"81 / 110","national":"15 / 17"}],"uHome":[{"name":"Investment","regional":"51 / 110","national":"3 / 17"},{"name":"Well-being","regional":"61 / 110","national":"4 / 17"},{"name":"Pride","regional":"86 / 110","national":"6 / 17"},{"name":"Costs","regional":"108 / 110","national":"16 / 17"}],"uCommunity":[{"name":"Safety","regional":"99 / 110","national":"10 / 17"},{"name":"Amenities","regional":"49 / 110","national":"8 / 17"},{"name":"Recreation","regional":"99 / 110","national":"11 / 17"},{"name":"Neighbourliness","regional":"103 / 110","national":"10 / 17"}],"overall":[{"name":"OVERALL RANK","regional":"98 / 110","national":"6 / 17"}]}, {"id":"24","uProperty":[{"name":"Décor","regional":"107 / 110","national":"14 / 17"},{"name":"Space","regional":"99 / 110","national":"8 / 17"},{"name":"Contentment","regional":"17 / 110","national":"2 / 17"},{"name":"Value","regional":"23 / 110","national":"5 / 17"}],"uHome":[{"name":"Investment","regional":"81 / 110","national":"5 / 17"},{"name":"Well-being","regional":"99 / 110","national":"14 / 17"},{"name":"Pride","regional":"97 / 110","national":"8 / 17"},{"name":"Costs","regional":"17 / 110","national":"1 / 17"}],"uCommunity":[{"name":"Safety","regional":"81 / 110","national":"3 / 17"},{"name":"Amenities","regional":"2 / 110","national":"2 / 17"},{"name":"Recreation","regional":"3 / 110","national":"2 / 17"},{"name":"Neighbourliness","regional":"107 / 110","national":"14 / 17"}],"overall":[{"name":"OVERALL RANK","regional":"79 / 110","national":"3 / 17"}]}, {"id":"25","uProperty":[{"name":"Décor","regional":"98 / 110","national":"6 / 17"},{"name":"Space","regional":"103 / 110","national":"10 / 17"},{"name":"Contentment","regional":"26 / 110","national":"3 / 17"},{"name":"Value","regional":"44 / 110","national":"7 / 17"}],"uHome":[{"name":"Investment","regional":"100 / 110","national":"9 / 17"},{"name":"Well-being","regional":"59 / 110","national":"3 / 17"},{"name":"Pride","regional":"96 / 110","national":"7 / 17"},{"name":"Costs","regional":"58 / 110","national":"7 / 17"}],"uCommunity":[{"name":"Safety","regional":"84 / 110","national":"4 / 17"},{"name":"Amenities","regional":"8 / 110","national":"4 / 17"},{"name":"Recreation","regional":"14 / 110","national":"4 / 17"},{"name":"Neighbourliness","regional":"97 / 110","national":"5 / 17"}],"overall":[{"name":"OVERALL RANK","regional":"88 / 110","national":"4 / 17"}]}, {"id":"26","uProperty":[{"name":"Décor","regional":"99 / 110","national":"7 / 17"},{"name":"Space","regional":"109 / 110","national":"16 / 17"},{"name":"Contentment","regional":"105 / 110","national":"15 / 17"},{"name":"Value","regional":"1 / 110","national":"1 / 17"}],"uHome":[{"name":"Investment","regional":"109 / 110","national":"16 / 17"},{"name":"Well-being","regional":"95 / 110","national":"12 / 17"},{"name":"Pride","regional":"103 / 110","national":"12 / 17"},{"name":"Costs","regional":"110 / 110","national":"17 / 17"}],"uCommunity":[{"name":"Safety","regional":"109 / 110","national":"16 / 17"},{"name":"Amenities","regional":"106 / 110","national":"14 / 17"},{"name":"Recreation","regional":"63 / 110","national":"7 / 17"},{"name":"Neighbourliness","regional":"108 / 110","national":"15 / 17"}],"overall":[{"name":"OVERALL RANK","regional":"108 / 110","national":"15 / 17"}]}, {"id":"27","uProperty":[{"name":"Décor","regional":"105 / 110","national":"12 / 17"},{"name":"Space","regional":"106 / 110","national":"13 / 17"},{"name":"Contentment","regional":"83 / 110","national":"8 / 17"},{"name":"Value","regional":"61 / 110","national":"11 / 17"}],"uHome":[{"name":"Investment","regional":"104 / 110","national":"11 / 17"},{"name":"Well-being","regional":"78 / 110","national":"8 / 17"},{"name":"Pride","regional":"105 / 110","national":"13 / 17"},{"name":"Costs","regional":"41 / 110","national":"6 / 17"}],"uCommunity":[{"name":"Safety","regional":"94 / 110","national":"6 / 17"},{"name":"Amenities","regional":"18 / 110","national":"5 / 17"},{"name":"Recreation","regional":"46 / 110","national":"5 / 17"},{"name":"Neighbourliness","regional":"99 / 110","national":"7 / 17"}],"overall":[{"name":"OVERALL RANK","regional":"101 / 110","national":"9 / 17"}]}, {"id":"28","uProperty":[{"name":"Décor","regional":"106 / 110","national":"13 / 17"},{"name":"Space","regional":"105 / 110","national":"12 / 17"},{"name":"Contentment","regional":"90 / 110","national":"9 / 17"},{"name":"Value","regional":"88 / 110","national":"16 / 17"}],"uHome":[{"name":"Investment","regional":"105 / 110","national":"12 / 17"},{"name":"Well-being","regional":"90 / 110","national":"10 / 17"},{"name":"Pride","regional":"102 / 110","national":"11 / 17"},{"name":"Costs","regional":"92 / 110","national":"12 / 17"}],"uCommunity":[{"name":"Safety","regional":"105 / 110","national":"12 / 17"},{"name":"Amenities","regional":"99 / 110","national":"12 / 17"},{"name":"Recreation","regional":"96 / 110","national":"10 / 17"},{"name":"Neighbourliness","regional":"104 / 110","national":"11 / 17"}],"overall":[{"name":"OVERALL RANK","regional":"106 / 110","national":"13 / 17"}]}, {"id":"29","uProperty":[{"name":"Décor","regional":"104 / 110","national":"11 / 17"},{"name":"Space","regional":"66 / 110","national":"2 / 17"},{"name":"Contentment","regional":"9 / 110","national":"1 / 17"},{"name":"Value","regional":"3 / 110","national":"3 / 17"}],"uHome":[{"name":"Investment","regional":"84 / 110","national":"6 / 17"},{"name":"Well-being","regional":"19 / 110","national":"2 / 17"},{"name":"Pride","regional":"26 / 110","national":"2 / 17"},{"name":"Costs","regional":"34 / 110","national":"4 / 17"}],"uCommunity":[{"name":"Safety","regional":"44 / 110","national":"1 / 17"},{"name":"Amenities","regional":"1 / 110","national":"1 / 17"},{"name":"Recreation","regional":"1 / 110","national":"1 / 17"},{"name":"Neighbourliness","regional":"25 / 110","national":"1 / 17"}],"overall":[{"name":"OVERALL RANK","regional":"6 / 110","national":"1 / 17"}]}, {"id":"30","uProperty":[{"name":"Décor","regional":"109 / 110","national":"16 / 17"},{"name":"Space","regional":"104 / 110","national":"11 / 17"},{"name":"Contentment","regional":"99 / 110","national":"12 / 17"},{"name":"Value","regional":"20 / 110","national":"4 / 17"}],"uHome":[{"name":"Investment","regional":"106 / 110","national":"13 / 17"},{"name":"Well-being","regional":"102 / 110","national":"15 / 17"},{"name":"Pride","regional":"108 / 110","national":"16 / 17"},{"name":"Costs","regional":"83 / 110","national":"10 / 17"}],"uCommunity":[{"name":"Safety","regional":"98 / 110","national":"9 / 17"},{"name":"Amenities","regional":"58 / 110","national":"10 / 17"},{"name":"Recreation","regional":"94 / 110","national":"9 / 17"},{"name":"Neighbourliness","regional":"96 / 110","national":"4 / 17"}],"overall":[{"name":"OVERALL RANK","regional":"104 / 110","national":"11 / 17"}]}, {"id":"31","uProperty":[{"name":"Décor","regional":"70 / 110","national":"2 / 17"},{"name":"Space","regional":"89 / 110","national":"4 / 17"},{"name":"Contentment","regional":"27 / 110","national":"4 / 17"},{"name":"Value","regional":"2 / 110","national":"2 / 17"}],"uHome":[{"name":"Investment","regional":"48 / 110","national":"1 / 17"},{"name":"Well-being","regional":"1 / 110","national":"1 / 17"},{"name":"Pride","regional":"2 / 110","national":"1 / 17"},{"name":"Costs","regional":"36 / 110","national":"5 / 17"}],"uCommunity":[{"name":"Safety","regional":"68 / 110","national":"2 / 17"},{"name":"Amenities","regional":"5 / 110","national":"3 / 17"},{"name":"Recreation","regional":"11 / 110","national":"3 / 17"},{"name":"Neighbourliness","regional":"38 / 110","national":"2 / 17"}],"overall":[{"name":"OVERALL RANK","regional":"9 / 110","national":"2 / 17"}]}, {"id":"32","uProperty":[{"name":"Décor","regional":"96 / 110","national":"5 / 17"},{"name":"Space","regional":"107 / 110","national":"14 / 17"},{"name":"Contentment","regional":"104 / 110","national":"14 / 17"},{"name":"Value","regional":"60 / 110","national":"10 / 17"}],"uHome":[{"name":"Investment","regional":"108 / 110","national":"15 / 17"},{"name":"Well-being","regional":"70 / 110","national":"7 / 17"},{"name":"Pride","regional":"85 / 110","national":"5 / 17"},{"name":"Costs","regional":"96 / 110","national":"14 / 17"}],"uCommunity":[{"name":"Safety","regional":"93 / 110","national":"5 / 17"},{"name":"Amenities","regional":"22 / 110","national":"7 / 17"},{"name":"Recreation","regional":"48 / 110","national":"6 / 17"},{"name":"Neighbourliness","regional":"58 / 110","national":"3 / 17"}],"overall":[{"name":"OVERALL RANK","regional":"99 / 110","national":"7 / 17"}]}, {"id":"33","uProperty":[{"name":"Décor","regional":"100 / 110","national":"8 / 17"},{"name":"Space","regional":"94 / 110","national":"5 / 17"},{"name":"Contentment","regional":"75 / 110","national":"7 / 17"},{"name":"Value","regional":"108 / 110","national":"17 / 17"}],"uHome":[{"name":"Investment","regional":"49 / 110","national":"2 / 17"},{"name":"Well-being","regional":"92 / 110","national":"11 / 17"},{"name":"Pride","regional":"84 / 110","national":"4 / 17"},{"name":"Costs","regional":"69 / 110","national":"8 / 17"}],"uCommunity":[{"name":"Safety","regional":"106 / 110","national":"13 / 17"},{"name":"Amenities","regional":"100 / 110","national":"13 / 17"},{"name":"Recreation","regional":"106 / 110","national":"14 / 17"},{"name":"Neighbourliness","regional":"102 / 110","national":"9 / 17"}],"overall":[{"name":"OVERALL RANK","regional":"105 / 110","national":"12 / 17"}]}, {"id":"34","uProperty":[{"name":"Décor","regional":"110 / 110","national":"17 / 17"},{"name":"Space","regional":"97 / 110","national":"6 / 17"},{"name":"Contentment","regional":"93 / 110","national":"11 / 17"},{"name":"Value","regional":"80 / 110","national":"14 / 17"}],"uHome":[{"name":"Investment","regional":"103 / 110","national":"10 / 17"},{"name":"Well-being","regional":"83 / 110","national":"9 / 17"},{"name":"Pride","regional":"109 / 110","national":"17 / 17"},{"name":"Costs","regional":"32 / 110","national":"3 / 17"}],"uCommunity":[{"name":"Safety","regional":"107 / 110","national":"14 / 17"},{"name":"Amenities","regional":"109 / 110","national":"17 / 17"},{"name":"Recreation","regional":"108 / 110","national":"16 / 17"},{"name":"Neighbourliness","regional":"106 / 110","national":"13 / 17"}],"overall":[{"name":"OVERALL RANK","regional":"107 / 110","national":"14 / 17"}]}, {"id":"35","uProperty":[{"name":"Décor","regional":"58 / 110","national":"1 / 17"},{"name":"Space","regional":"98 / 110","national":"7 / 17"},{"name":"Contentment","regional":"102 / 110","national":"13 / 17"},{"name":"Value","regional":"49 / 110","national":"8 / 17"}],"uHome":[{"name":"Investment","regional":"107 / 110","national":"14 / 17"},{"name":"Well-being","regional":"96 / 110","national":"13 / 17"},{"name":"Pride","regional":"100 / 110","national":"9 / 17"},{"name":"Costs","regional":"95 / 110","national":"13 / 17"}],"uCommunity":[{"name":"Safety","regional":"108 / 110","national":"15 / 17"},{"name":"Amenities","regional":"107 / 110","national":"15 / 17"},{"name":"Recreation","regional":"110 / 110","national":"17 / 17"},{"name":"Neighbourliness","regional":"110 / 110","national":"17 / 17"}],"overall":[{"name":"OVERALL RANK","regional":"109 / 110","national":"16 / 17"}]}, {"id":"36","uProperty":[{"name":"Décor","regional":"90 / 110","national":"4 / 17"},{"name":"Space","regional":"47 / 110","national":"1 / 17"},{"name":"Contentment","regional":"48 / 110","national":"5 / 17"},{"name":"Value","regional":"72 / 110","national":"12 / 17"}],"uHome":[{"name":"Investment","regional":"77 / 110","national":"4 / 17"},{"name":"Well-being","regional":"108 / 110","national":"17 / 17"},{"name":"Pride","regional":"106 / 110","national":"14 / 17"},{"name":"Costs","regional":"26 / 110","national":"2 / 17"}],"uCommunity":[{"name":"Safety","regional":"96 / 110","national":"7 / 17"},{"name":"Amenities","regional":"19 / 110","national":"6 / 17"},{"name":"Recreation","regional":"103 / 110","national":"13 / 17"},{"name":"Neighbourliness","regional":"105 / 110","national":"12 / 17"}],"overall":[{"name":"OVERALL RANK","regional":"97 / 110","national":"5 / 17"}]},
{"id":"37","uProperty":[{"name":"Décor","regional":"45 / 110","national":"7 / 7"},{"name":"Space","regional":"58 / 110","national":"6 / 7"},{"name":"Contentment","regional":"76 / 110","national":"4 / 7"},{"name":"Value","regional":"34 / 110","national":"4 / 7"}],"uHome":[{"name":"Investment","regional":"32 / 110","national":"3 / 7"},{"name":"Well-being","regional":"77 / 110","national":"6 / 7"},{"name":"Pride","regional":"70 / 110","national":"6 / 7"},{"name":"Costs","regional":"59 / 110","national":"6 / 7"}],"uCommunity":[{"name":"Safety","regional":"67 / 110","national":"4 / 7"},{"name":"Amenities","regional":"44 / 110","national":"2 / 7"},{"name":"Recreation","regional":"50 / 110","national":"2 / 7"},{"name":"Neighbourliness","regional":"45 / 110","national":"3 / 7"}],"overall":[{"name":"OVERALL RANK","regional":"60 / 110","national":"4 / 7"}]}, {"id":"38","uProperty":[{"name":"Décor","regional":"19 / 110","national":"4 / 7"},{"name":"Space","regional":"18 / 110","national":"4 / 7"},{"name":"Contentment","regional":"42 / 110","national":"2 / 7"},{"name":"Value","regional":"19 / 110","national":"2 / 7"}],"uHome":[{"name":"Investment","regional":"66 / 110","national":"6 / 7"},{"name":"Well-being","regional":"36 / 110","national":"3 / 7"},{"name":"Pride","regional":"8 / 110","national":"2 / 7"},{"name":"Costs","regional":"40 / 110","national":"3 / 7"}],"uCommunity":[{"name":"Safety","regional":"53 / 110","national":"1 / 7"},{"name":"Amenities","regional":"83 / 110","national":"6 / 7"},{"name":"Recreation","regional":"73 / 110","national":"4 / 7"},{"name":"Neighbourliness","regional":"75 / 110","national":"5 / 7"}],"overall":[{"name":"OVERALL RANK","regional":"35 / 110","national":"2 / 7"}]}, {"id":"39","uProperty":[{"name":"Décor","regional":"37 / 110","national":"6 / 7"},{"name":"Space","regional":"102 / 110","national":"7 / 7"},{"name":"Contentment","regional":"95 / 110","national":"5 / 7"},{"name":"Value","regional":"32 / 110","national":"3 / 7"}],"uHome":[{"name":"Investment","regional":"53 / 110","national":"4 / 7"},{"name":"Well-being","regional":"60 / 110","national":"5 / 7"},{"name":"Pride","regional":"16 / 110","national":"3 / 7"},{"name":"Costs","regional":"88 / 110","national":"7 / 7"}],"uCommunity":[{"name":"Safety","regional":"100 / 110","national":"7 / 7"},{"name":"Amenities","regional":"71 / 110","national":"4 / 7"},{"name":"Recreation","regional":"77 / 110","national":"5 / 7"},{"name":"Neighbourliness","regional":"91 / 110","national":"7 / 7"}],"overall":[{"name":"OVERALL RANK","regional":"92 / 110","national":"7 / 7"}]}, {"id":"40","uProperty":[{"name":"Décor","regional":"7 / 110","national":"2 / 7"},{"name":"Space","regional":"16 / 110","national":"3 / 7"},{"name":"Contentment","regional":"70 / 110","national":"3 / 7"},{"name":"Value","regional":"107 / 110","national":"7 / 7"}],"uHome":[{"name":"Investment","regional":"58 / 110","national":"5 / 7"},{"name":"Well-being","regional":"18 / 110","national":"1 / 7"},{"name":"Pride","regional":"23 / 110","national":"4 / 7"},{"name":"Costs","regional":"42 / 110","national":"4 / 7"}],"uCommunity":[{"name":"Safety","regional":"74 / 110","national":"6 / 7"},{"name":"Amenities","regional":"97 / 110","national":"7 / 7"},{"name":"Recreation","regional":"78 / 110","national":"6 / 7"},{"name":"Neighbourliness","regional":"31 / 110","national":"2 / 7"}],"overall":[{"name":"OVERALL RANK","regional":"63 / 110","national":"5 / 7"}]}, {"id":"41","uProperty":[{"name":"Décor","regional":"1 / 110","national":"1 / 7"},{"name":"Space","regional":"15 / 110","national":"2 / 7"},{"name":"Contentment","regional":"106 / 110","national":"7 / 7"},{"name":"Value","regional":"86 / 110","national":"6 / 7"}],"uHome":[{"name":"Investment","regional":"25 / 110","national":"1 / 7"},{"name":"Well-being","regional":"106 / 110","national":"7 / 7"},{"name":"Pride","regional":"98 / 110","national":"7 / 7"},{"name":"Costs","regional":"10 / 110","national":"1 / 7"}],"uCommunity":[{"name":"Safety","regional":"65 / 110","national":"3 / 7"},{"name":"Amenities","regional":"3 / 110","national":"1 / 7"},{"name":"Recreation","regional":"85 / 110","national":"7 / 7"},{"name":"Neighbourliness","regional":"86 / 110","national":"6 / 7"}],"overall":[{"name":"OVERALL RANK","regional":"64 / 110","national":"6 / 7"}]}, {"id":"42","uProperty":[{"name":"Décor","regional":"11 / 110","national":"3 / 7"},{"name":"Space","regional":"50 / 110","national":"5 / 7"},{"name":"Contentment","regional":"100 / 110","national":"6 / 7"},{"name":"Value","regional":"7 / 110","national":"1 / 7"}],"uHome":[{"name":"Investment","regional":"94 / 110","national":"7 / 7"},{"name":"Well-being","regional":"52 / 110","national":"4 / 7"},{"name":"Pride","regional":"7 / 110","national":"1 / 7"},{"name":"Costs","regional":"45 / 110","national":"5 / 7"}],"uCommunity":[{"name":"Safety","regional":"56 / 110","national":"2 / 7"},{"name":"Amenities","regional":"60 / 110","national":"3 / 7"},{"name":"Recreation","regional":"52 / 110","national":"3 / 7"},{"name":"Neighbourliness","regional":"52 / 110","national":"4 / 7"}],"overall":[{"name":"OVERALL RANK","regional":"44 / 110","national":"3 / 7"}]}, {"id":"43","uProperty":[{"name":"Décor","regional":"21 / 110","national":"5 / 7"},{"name":"Space","regional":"3 / 110","national":"1 / 7"},{"name":"Contentment","regional":"11 / 110","national":"1 / 7"},{"name":"Value","regional":"37 / 110","national":"5 / 7"}],"uHome":[{"name":"Investment","regional":"29 / 110","national":"2 / 7"},{"name":"Well-being","regional":"21 / 110","national":"2 / 7"},{"name":"Pride","regional":"27 / 110","national":"5 / 7"},{"name":"Costs","regional":"33 / 110","national":"2 / 7"}],"uCommunity":[{"name":"Safety","regional":"73 / 110","national":"5 / 7"},{"name":"Amenities","regional":"81 / 110","national":"5 / 7"},{"name":"Recreation","regional":"38 / 110","national":"1 / 7"},{"name":"Neighbourliness","regional":"21 / 110","national":"1 / 7"}],"overall":[{"name":"OVERALL RANK","regional":"20 / 110","national":"1 / 7"}]},
{"id":"44","uProperty":[{"name":"Décor","regional":"91 / 110","national":"14 / 14"},{"name":"Space","regional":"62 / 110","national":"9 / 14"},{"name":"Contentment","regional":"66 / 110","national":"6 / 14"},{"name":"Value","regional":"10 / 110","national":"2 / 14"}],"uHome":[{"name":"Investment","regional":"57 / 110","national":"8 / 14"},{"name":"Well-being","regional":"73 / 110","national":"10 / 14"},{"name":"Pride","regional":"62 / 110","national":"12 / 14"},{"name":"Costs","regional":"23 / 110","national":"6 / 14"}],"uCommunity":[{"name":"Safety","regional":"47 / 110","national":"7 / 14"},{"name":"Amenities","regional":"17 / 110","national":"4 / 14"},{"name":"Recreation","regional":"67 / 110","national":"10 / 14"},{"name":"Neighbourliness","regional":"35 / 110","national":"8 / 14"}],"overall":[{"name":"OVERALL RANK","regional":"43 / 110","national":"9 / 14"}]}, {"id":"45","uProperty":[{"name":"Décor","regional":"52 / 110","national":"10 / 14"},{"name":"Space","regional":"7 / 110","national":"1 / 14"},{"name":"Contentment","regional":"74 / 110","national":"10 / 14"},{"name":"Value","regional":"28 / 110","national":"6 / 14"}],"uHome":[{"name":"Investment","regional":"45 / 110","national":"6 / 14"},{"name":"Well-being","regional":"29 / 110","national":"4 / 14"},{"name":"Pride","regional":"13 / 110","national":"3 / 14"},{"name":"Costs","regional":"105 / 110","national":"14 / 14"}],"uCommunity":[{"name":"Safety","regional":"5 / 110","national":"1 / 14"},{"name":"Amenities","regional":"89 / 110","national":"12 / 14"},{"name":"Recreation","regional":"21 / 110","national":"3 / 14"},{"name":"Neighbourliness","regional":"5 / 110","national":"1 / 14"}],"overall":[{"name":"OVERALL RANK","regional":"19 / 110","national":"6 / 14"}]}, {"id":"46","uProperty":[{"name":"Décor","regional":"14 / 110","national":"4 / 14"},{"name":"Space","regional":"76 / 110","national":"12 / 14"},{"name":"Contentment","regional":"69 / 110","national":"9 / 14"},{"name":"Value","regional":"25 / 110","national":"4 / 14"}],"uHome":[{"name":"Investment","regional":"59 / 110","national":"9 / 14"},{"name":"Well-being","regional":"69 / 110","national":"9 / 14"},{"name":"Pride","regional":"32 / 110","national":"8 / 14"},{"name":"Costs","regional":"39 / 110","national":"7 / 14"}],"uCommunity":[{"name":"Safety","regional":"37 / 110","national":"6 / 14"},{"name":"Amenities","regional":"36 / 110","national":"6 / 14"},{"name":"Recreation","regional":"33 / 110","national":"5 / 14"},{"name":"Neighbourliness","regional":"30 / 110","national":"7 / 14"}],"overall":[{"name":"OVERALL RANK","regional":"32 / 110","national":"8 / 14"}]}, {"id":"47","uProperty":[{"name":"Décor","regional":"85 / 110","national":"13 / 14"},{"name":"Space","regional":"80 / 110","national":"13 / 14"},{"name":"Contentment","regional":"67 / 110","national":"7 / 14"},{"name":"Value","regional":"31 / 110","national":"7 / 14"}],"uHome":[{"name":"Investment","regional":"60 / 110","national":"10 / 14"},{"name":"Well-being","regional":"86 / 110","national":"13 / 14"},{"name":"Pride","regional":"81 / 110","national":"13 / 14"},{"name":"Costs","regional":"91 / 110","national":"11 / 14"}],"uCommunity":[{"name":"Safety","regional":"91 / 110","national":"13 / 14"},{"name":"Amenities","regional":"40 / 110","national":"8 / 14"},{"name":"Recreation","regional":"72 / 110","national":"11 / 14"},{"name":"Neighbourliness","regional":"77 / 110","national":"13 / 14"}],"overall":[{"name":"OVERALL RANK","regional":"83 / 110","national":"12 / 14"}]}, {"id":"48","uProperty":[{"name":"Décor","regional":"63 / 110","national":"12 / 14"},{"name":"Space","regional":"68 / 110","national":"10 / 14"},{"name":"Contentment","regional":"20 / 110","national":"1 / 14"},{"name":"Value","regional":"51 / 110","national":"12 / 14"}],"uHome":[{"name":"Investment","regional":"18 / 110","national":"3 / 14"},{"name":"Well-being","regional":"85 / 110","national":"12 / 14"},{"name":"Pride","regional":"45 / 110","national":"10 / 14"},{"name":"Costs","regional":"22 / 110","national":"5 / 14"}],"uCommunity":[{"name":"Safety","regional":"20 / 110","national":"3 / 14"},{"name":"Amenities","regional":"80 / 110","national":"11 / 14"},{"name":"Recreation","regional":"7 / 110","national":"1 / 14"},{"name":"Neighbourliness","regional":"18 / 110","national":"5 / 14"}],"overall":[{"name":"OVERALL RANK","regional":"27 / 110","national":"7 / 14"}]}, {"id":"49","uProperty":[{"name":"Décor","regional":"4 / 110","national":"2 / 14"},{"name":"Space","regional":"54 / 110","national":"8 / 14"},{"name":"Contentment","regional":"97 / 110","national":"13 / 14"},{"name":"Value","regional":"43 / 110","national":"10 / 14"}],"uHome":[{"name":"Investment","regional":"86 / 110","national":"14 / 14"},{"name":"Well-being","regional":"12 / 110","national":"3 / 14"},{"name":"Pride","regional":"35 / 110","national":"9 / 14"},{"name":"Costs","regional":"89 / 110","national":"10 / 14"}],"uCommunity":[{"name":"Safety","regional":"57 / 110","national":"9 / 14"},{"name":"Amenities","regional":"96 / 110","national":"13 / 14"},{"name":"Recreation","regional":"40 / 110","national":"6 / 14"},{"name":"Neighbourliness","regional":"11 / 110","national":"2 / 14"}],"overall":[{"name":"OVERALL RANK","regional":"59 / 110","national":"10 / 14"}]}, {"id":"50","uProperty":[{"name":"Décor","regional":"18 / 110","national":"5 / 14"},{"name":"Space","regional":"72 / 110","national":"11 / 14"},{"name":"Contentment","regional":"23 / 110","national":"2 / 14"},{"name":"Value","regional":"41 / 110","national":"9 / 14"}],"uHome":[{"name":"Investment","regional":"41 / 110","national":"4 / 14"},{"name":"Well-being","regional":"44 / 110","national":"7 / 14"},{"name":"Pride","regional":"20 / 110","national":"5 / 14"},{"name":"Costs","regional":"15 / 110","national":"4 / 14"}],"uCommunity":[{"name":"Safety","regional":"36 / 110","national":"5 / 14"},{"name":"Amenities","regional":"9 / 110","national":"2 / 14"},{"name":"Recreation","regional":"55 / 110","national":"7 / 14"},{"name":"Neighbourliness","regional":"39 / 110","national":"9 / 14"}],"overall":[{"name":"OVERALL RANK","regional":"18 / 110","national":"5 / 14"}]}, {"id":"51","uProperty":[{"name":"Décor","regional":"62 / 110","national":"11 / 14"},{"name":"Space","regional":"81 / 110","national":"14 / 14"},{"name":"Contentment","regional":"78 / 110","national":"11 / 14"},{"name":"Value","regional":"33 / 110","national":"8 / 14"}],"uHome":[{"name":"Investment","regional":"64 / 110","national":"11 / 14"},{"name":"Well-being","regional":"80 / 110","national":"11 / 14"},{"name":"Pride","regional":"15 / 110","national":"4 / 14"},{"name":"Costs","regional":"101 / 110","national":"13 / 14"}],"uCommunity":[{"name":"Safety","regional":"83 / 110","national":"11 / 14"},{"name":"Amenities","regional":"56 / 110","national":"9 / 14"},{"name":"Recreation","regional":"100 / 110","national":"14 / 14"},{"name":"Neighbourliness","regional":"93 / 110","national":"14 / 14"}],"overall":[{"name":"OVERALL RANK","regional":"89 / 110","national":"13 / 14"}]}, {"id":"52","uProperty":[{"name":"Décor","regional":"41 / 110","national":"9 / 14"},{"name":"Space","regional":"45 / 110","national":"7 / 14"},{"name":"Contentment","regional":"68 / 110","national":"8 / 14"},{"name":"Value","regional":"69 / 110","national":"14 / 14"}],"uHome":[{"name":"Investment","regional":"70 / 110","national":"12 / 14"},{"name":"Well-being","regional":"43 / 110","national":"6 / 14"},{"name":"Pride","regional":"47 / 110","national":"11 / 14"},{"name":"Costs","regional":"100 / 110","national":"12 / 14"}],"uCommunity":[{"name":"Safety","regional":"87 / 110","national":"12 / 14"},{"name":"Amenities","regional":"11 / 110","national":"3 / 14"},{"name":"Recreation","regional":"66 / 110","national":"9 / 14"},{"name":"Neighbourliness","regional":"66 / 110","national":"11 / 14"}],"overall":[{"name":"OVERALL RANK","regional":"67 / 110","national":"11 / 14"}]}, {"id":"53","uProperty":[{"name":"Décor","regional":"3 / 110","national":"1 / 14"},{"name":"Space","regional":"34 / 110","national":"6 / 14"},{"name":"Contentment","regional":"24 / 110","national":"3 / 14"},{"name":"Value","regional":"57 / 110","national":"13 / 14"}],"uHome":[{"name":"Investment","regional":"9 / 110","national":"2 / 14"},{"name":"Well-being","regional":"5 / 110","national":"2 / 14"},{"name":"Pride","regional":"3 / 110","national":"1 / 14"},{"name":"Costs","regional":"14 / 110","national":"3 / 14"}],"uCommunity":[{"name":"Safety","regional":"21 / 110","national":"4 / 14"},{"name":"Amenities","regional":"7 / 110","national":"1 / 14"},{"name":"Recreation","regional":"9 / 110","national":"2 / 14"},{"name":"Neighbourliness","regional":"15 / 110","national":"4 / 14"}],"overall":[{"name":"OVERALL RANK","regional":"2 / 110","national":"1 / 14"}]}, {"id":"54","uProperty":[{"name":"Décor","regional":"6 / 110","national":"3 / 14"},{"name":"Space","regional":"30 / 110","national":"5 / 14"},{"name":"Contentment","regional":"44 / 110","national":"5 / 14"},{"name":"Value","regional":"18 / 110","national":"3 / 14"}],"uHome":[{"name":"Investment","regional":"71 / 110","national":"13 / 14"},{"name":"Well-being","regional":"32 / 110","national":"5 / 14"},{"name":"Pride","regional":"28 / 110","national":"6 / 14"},{"name":"Costs","regional":"53 / 110","national":"8 / 14"}],"uCommunity":[{"name":"Safety","regional":"54 / 110","national":"8 / 14"},{"name":"Amenities","regional":"25 / 110","national":"5 / 14"},{"name":"Recreation","regional":"28 / 110","national":"4 / 14"},{"name":"Neighbourliness","regional":"22 / 110","national":"6 / 14"}],"overall":[{"name":"OVERALL RANK","regional":"13 / 110","national":"2 / 14"}]}, {"id":"55","uProperty":[{"name":"Décor","regional":"32 / 110","national":"7 / 14"},{"name":"Space","regional":"14 / 110","national":"3 / 14"},{"name":"Contentment","regional":"31 / 110","national":"4 / 14"},{"name":"Value","regional":"8 / 110","national":"1 / 14"}],"uHome":[{"name":"Investment","regional":"44 / 110","national":"5 / 14"},{"name":"Well-being","regional":"3 / 110","national":"1 / 14"},{"name":"Pride","regional":"11 / 110","national":"2 / 14"},{"name":"Costs","regional":"56 / 110","national":"9 / 14"}],"uCommunity":[{"name":"Safety","regional":"62 / 110","national":"10 / 14"},{"name":"Amenities","regional":"37 / 110","national":"7 / 14"},{"name":"Recreation","regional":"58 / 110","national":"8 / 14"},{"name":"Neighbourliness","regional":"14 / 110","national":"3 / 14"}],"overall":[{"name":"OVERALL RANK","regional":"14 / 110","national":"3 / 14"}]}, {"id":"56","uProperty":[{"name":"Décor","regional":"39 / 110","national":"8 / 14"},{"name":"Space","regional":"10 / 110","national":"2 / 14"},{"name":"Contentment","regional":"91 / 110","national":"12 / 14"},{"name":"Value","regional":"26 / 110","national":"5 / 14"}],"uHome":[{"name":"Investment","regional":"1 / 110","national":"1 / 14"},{"name":"Well-being","regional":"51 / 110","national":"8 / 14"},{"name":"Pride","regional":"29 / 110","national":"7 / 14"},{"name":"Costs","regional":"3 / 110","national":"1 / 14"}],"uCommunity":[{"name":"Safety","regional":"11 / 110","national":"2 / 14"},{"name":"Amenities","regional":"63 / 110","national":"10 / 14"},{"name":"Recreation","regional":"92 / 110","national":"12 / 14"},{"name":"Neighbourliness","regional":"46 / 110","national":"10 / 14"}],"overall":[{"name":"OVERALL RANK","regional":"16 / 110","national":"4 / 14"}]}, {"id":"57","uProperty":[{"name":"Décor","regional":"29 / 110","national":"6 / 14"},{"name":"Space","regional":"17 / 110","national":"4 / 14"},{"name":"Contentment","regional":"108 / 110","national":"14 / 14"},{"name":"Value","regional":"50 / 110","national":"11 / 14"}],"uHome":[{"name":"Investment","regional":"56 / 110","national":"7 / 14"},{"name":"Well-being","regional":"97 / 110","national":"14 / 14"},{"name":"Pride","regional":"91 / 110","national":"14 / 14"},{"name":"Costs","regional":"12 / 110","national":"2 / 14"}],"uCommunity":[{"name":"Safety","regional":"104 / 110","national":"14 / 14"},{"name":"Amenities","regional":"104 / 110","national":"14 / 14"},{"name":"Recreation","regional":"97 / 110","national":"13 / 14"},{"name":"Neighbourliness","regional":"71 / 110","national":"12 / 14"}],"overall":[{"name":"OVERALL RANK","regional":"95 / 110","national":"14 / 14"}]},
{"id":"58","uProperty":[{"name":"Décor","regional":"40 / 110","national":"3 / 7"},{"name":"Space","regional":"100 / 110","national":"7 / 7"},{"name":"Contentment","regional":"96 / 110","national":"6 / 7"},{"name":"Value","regional":"99 / 110","national":"6 / 7"}],"uHome":[{"name":"Investment","regional":"93 / 110","national":"5 / 7"},{"name":"Well-being","regional":"54 / 110","national":"5 / 7"},{"name":"Pride","regional":"17 / 110","national":"2 / 7"},{"name":"Costs","regional":"16 / 110","national":"3 / 7"}],"uCommunity":[{"name":"Safety","regional":"75 / 110","national":"5 / 7"},{"name":"Amenities","regional":"90 / 110","national":"5 / 7"},{"name":"Recreation","regional":"93 / 110","national":"5 / 7"},{"name":"Neighbourliness","regional":"44 / 110","national":"2 / 7"}],"overall":[{"name":"OVERALL RANK","regional":"90 / 110","national":"6 / 7"}]}, {"id":"59","uProperty":[{"name":"Décor","regional":"10 / 110","national":"2 / 7"},{"name":"Space","regional":"77 / 110","national":"6 / 7"},{"name":"Contentment","regional":"94 / 110","national":"5 / 7"},{"name":"Value","regional":"101 / 110","national":"7 / 7"}],"uHome":[{"name":"Investment","regional":"79 / 110","national":"2 / 7"},{"name":"Well-being","regional":"20 / 110","national":"3 / 7"},{"name":"Pride","regional":"31 / 110","national":"4 / 7"},{"name":"Costs","regional":"30 / 110","national":"4 / 7"}],"uCommunity":[{"name":"Safety","regional":"70 / 110","national":"4 / 7"},{"name":"Amenities","regional":"43 / 110","national":"2 / 7"},{"name":"Recreation","regional":"81 / 110","national":"3 / 7"},{"name":"Neighbourliness","regional":"59 / 110","national":"3 / 7"}],"overall":[{"name":"OVERALL RANK","regional":"73 / 110","national":"3 / 7"}]}, {"id":"60","uProperty":[{"name":"Décor","regional":"68 / 110","national":"5 / 7"},{"name":"Space","regional":"63 / 110","national":"4 / 7"},{"name":"Contentment","regional":"16 / 110","national":"1 / 7"},{"name":"Value","regional":"54 / 110","national":"3 / 7"}],"uHome":[{"name":"Investment","regional":"97 / 110","national":"6 / 7"},{"name":"Well-being","regional":"89 / 110","national":"7 / 7"},{"name":"Pride","regional":"87 / 110","national":"6 / 7"},{"name":"Costs","regional":"72 / 110","national":"6 / 7"}],"uCommunity":[{"name":"Safety","regional":"79 / 110","national":"6 / 7"},{"name":"Amenities","regional":"50 / 110","national":"3 / 7"},{"name":"Recreation","regional":"80 / 110","national":"2 / 7"},{"name":"Neighbourliness","regional":"83 / 110","national":"6 / 7"}],"overall":[{"name":"OVERALL RANK","regional":"81 / 110","national":"4 / 7"}]}, {"id":"61","uProperty":[{"name":"Décor","regional":"8 / 110","national":"1 / 7"},{"name":"Space","regional":"4 / 110","national":"2 / 7"},{"name":"Contentment","regional":"86 / 110","national":"4 / 7"},{"name":"Value","regional":"64 / 110","national":"4 / 7"}],"uHome":[{"name":"Investment","regional":"83 / 110","national":"3 / 7"},{"name":"Well-being","regional":"10 / 110","national":"2 / 7"},{"name":"Pride","regional":"25 / 110","national":"3 / 7"},{"name":"Costs","regional":"107 / 110","national":"7 / 7"}],"uCommunity":[{"name":"Safety","regional":"3 / 110","national":"1 / 7"},{"name":"Amenities","regional":"110 / 110","national":"7 / 7"},{"name":"Recreation","regional":"17 / 110","national":"1 / 7"},{"name":"Neighbourliness","regional":"41 / 110","national":"1 / 7"}],"overall":[{"name":"OVERALL RANK","regional":"46 / 110","national":"2 / 7"}]}, {"id":"62","uProperty":[{"name":"Décor","regional":"60 / 110","national":"4 / 7"},{"name":"Space","regional":"33 / 110","national":"3 / 7"},{"name":"Contentment","regional":"47 / 110","national":"2 / 7"},{"name":"Value","regional":"39 / 110","national":"1 / 7"}],"uHome":[{"name":"Investment","regional":"101 / 110","national":"7 / 7"},{"name":"Well-being","regional":"88 / 110","national":"6 / 7"},{"name":"Pride","regional":"10 / 110","national":"1 / 7"},{"name":"Costs","regional":"7 / 110","national":"2 / 7"}],"uCommunity":[{"name":"Safety","regional":"95 / 110","national":"7 / 7"},{"name":"Amenities","regional":"103 / 110","national":"6 / 7"},{"name":"Recreation","regional":"102 / 110","national":"6 / 7"},{"name":"Neighbourliness","regional":"70 / 110","national":"5 / 7"}],"overall":[{"name":"OVERALL RANK","regional":"85 / 110","national":"5 / 7"}]}, {"id":"63","uProperty":[{"name":"Décor","regional":"92 / 110","national":"7 / 7"},{"name":"Space","regional":"71 / 110","national":"5 / 7"},{"name":"Contentment","regional":"109 / 110","national":"7 / 7"},{"name":"Value","regional":"79 / 110","national":"5 / 7"}],"uHome":[{"name":"Investment","regional":"90 / 110","national":"4 / 7"},{"name":"Well-being","regional":"53 / 110","national":"4 / 7"},{"name":"Pride","regional":"99 / 110","national":"7 / 7"},{"name":"Costs","regional":"67 / 110","national":"5 / 7"}],"uCommunity":[{"name":"Safety","regional":"48 / 110","national":"3 / 7"},{"name":"Amenities","regional":"72 / 110","national":"4 / 7"},{"name":"Recreation","regional":"105 / 110","national":"7 / 7"},{"name":"Neighbourliness","regional":"60 / 110","national":"4 / 7"}],"overall":[{"name":"OVERALL RANK","regional":"94 / 110","national":"7 / 7"}]}, {"id":"64","uProperty":[{"name":"Décor","regional":"77 / 110","national":"6 / 7"},{"name":"Space","regional":"1 / 110","national":"1 / 7"},{"name":"Contentment","regional":"77 / 110","national":"3 / 7"},{"name":"Value","regional":"47 / 110","national":"2 / 7"}],"uHome":[{"name":"Investment","regional":"54 / 110","national":"1 / 7"},{"name":"Well-being","regional":"2 / 110","national":"1 / 7"},{"name":"Pride","regional":"41 / 110","national":"5 / 7"},{"name":"Costs","regional":"1 / 110","national":"1 / 7"}],"uCommunity":[{"name":"Safety","regional":"7 / 110","national":"2 / 7"},{"name":"Amenities","regional":"42 / 110","national":"1 / 7"},{"name":"Recreation","regional":"84 / 110","national":"4 / 7"},{"name":"Neighbourliness","regional":"87 / 110","national":"7 / 7"}],"overall":[{"name":"OVERALL RANK","regional":"17 / 110","national":"1 / 7"}]},
{"id":"65","uProperty":[{"name":"Décor","regional":"64 / 110","national":"8 / 20"},{"name":"Space","regional":"65 / 110","national":"10 / 20"},{"name":"Contentment","regional":"43 / 110","national":"12 / 20"},{"name":"Value","regional":"75 / 110","national":"11 / 20"}],"uHome":[{"name":"Investment","regional":"33 / 110","national":"9 / 20"},{"name":"Well-being","regional":"64 / 110","national":"17 / 20"},{"name":"Pride","regional":"56 / 110","national":"8 / 20"},{"name":"Costs","regional":"57 / 110","national":"9 / 20"}],"uCommunity":[{"name":"Safety","regional":"24 / 110","national":"4 / 20"},{"name":"Amenities","regional":"76 / 110","national":"18 / 20"},{"name":"Recreation","regional":"53 / 110","national":"13 / 20"},{"name":"Neighbourliness","regional":"64 / 110","national":"13 / 20"}],"overall":[{"name":"OVERALL RANK","regional":"56 / 110","national":"12 / 20"}]}, {"id":"66","uProperty":[{"name":"Décor","regional":"95 / 110","national":"20 / 20"},{"name":"Space","regional":"91 / 110","national":"17 / 20"},{"name":"Contentment","regional":"53 / 110","national":"15 / 20"},{"name":"Value","regional":"94 / 110","national":"15 / 20"}],"uHome":[{"name":"Investment","regional":"67 / 110","national":"14 / 20"},{"name":"Well-being","regional":"76 / 110","national":"18 / 20"},{"name":"Pride","regional":"69 / 110","national":"14 / 20"},{"name":"Costs","regional":"102 / 110","national":"17 / 20"}],"uCommunity":[{"name":"Safety","regional":"60 / 110","national":"14 / 20"},{"name":"Amenities","regional":"15 / 110","national":"4 / 20"},{"name":"Recreation","regional":"39 / 110","national":"9 / 20"},{"name":"Neighbourliness","regional":"74 / 110","national":"15 / 20"}],"overall":[{"name":"OVERALL RANK","regional":"77 / 110","national":"18 / 20"}]}, {"id":"67","uProperty":[{"name":"Décor","regional":"79 / 110","national":"14 / 20"},{"name":"Space","regional":"87 / 110","national":"16 / 20"},{"name":"Contentment","regional":"50 / 110","national":"13 / 20"},{"name":"Value","regional":"66 / 110","national":"7 / 20"}],"uHome":[{"name":"Investment","regional":"72 / 110","national":"16 / 20"},{"name":"Well-being","regional":"24 / 110","national":"7 / 20"},{"name":"Pride","regional":"66 / 110","national":"12 / 20"},{"name":"Costs","regional":"47 / 110","national":"7 / 20"}],"uCommunity":[{"name":"Safety","regional":"55 / 110","national":"13 / 20"},{"name":"Amenities","regional":"14 / 110","national":"3 / 20"},{"name":"Recreation","regional":"35 / 110","national":"8 / 20"},{"name":"Neighbourliness","regional":"47 / 110","national":"7 / 20"}],"overall":[{"name":"OVERALL RANK","regional":"51 / 110","national":"8 / 20"}]}, {"id":"68","uProperty":[{"name":"Décor","regional":"43 / 110","national":"4 / 20"},{"name":"Space","regional":"41 / 110","national":"3 / 20"},{"name":"Contentment","regional":"22 / 110","national":"6 / 20"},{"name":"Value","regional":"56 / 110","national":"6 / 20"}],"uHome":[{"name":"Investment","regional":"23 / 110","national":"6 / 20"},{"name":"Well-being","regional":"27 / 110","national":"9 / 20"},{"name":"Pride","regional":"67 / 110","national":"13 / 20"},{"name":"Costs","regional":"103 / 110","national":"18 / 20"}],"uCommunity":[{"name":"Safety","regional":"50 / 110","national":"11 / 20"},{"name":"Amenities","regional":"20 / 110","national":"6 / 20"},{"name":"Recreation","regional":"12 / 110","national":"2 / 20"},{"name":"Neighbourliness","regional":"20 / 110","national":"2 / 20"}],"overall":[{"name":"OVERALL RANK","regional":"29 / 110","national":"5 / 20"}]}, {"id":"69","uProperty":[{"name":"Décor","regional":"67 / 110","national":"9 / 20"},{"name":"Space","regional":"95 / 110","national":"20 / 20"},{"name":"Contentment","regional":"61 / 110","national":"18 / 20"},{"name":"Value","regional":"96 / 110","national":"16 / 20"}],"uHome":[{"name":"Investment","regional":"102 / 110","national":"20 / 20"},{"name":"Well-being","regional":"22 / 110","national":"6 / 20"},{"name":"Pride","regional":"50 / 110","national":"7 / 20"},{"name":"Costs","regional":"106 / 110","national":"20 / 20"}],"uCommunity":[{"name":"Safety","regional":"86 / 110","national":"19 / 20"},{"name":"Amenities","regional":"75 / 110","national":"17 / 20"},{"name":"Recreation","regional":"74 / 110","national":"17 / 20"},{"name":"Neighbourliness","regional":"88 / 110","national":"17 / 20"}],"overall":[{"name":"OVERALL RANK","regional":"93 / 110","national":"19 / 20"}]}, {"id":"70","uProperty":[{"name":"Décor","regional":"89 / 110","national":"18 / 20"},{"name":"Space","regional":"82 / 110","national":"14 / 20"},{"name":"Contentment","regional":"14 / 110","national":"5 / 20"},{"name":"Value","regional":"38 / 110","national":"4 / 20"}],"uHome":[{"name":"Investment","regional":"69 / 110","national":"15 / 20"},{"name":"Well-being","regional":"58 / 110","national":"16 / 20"},{"name":"Pride","regional":"88 / 110","national":"20 / 20"},{"name":"Costs","regional":"75 / 110","national":"13 / 20"}],"uCommunity":[{"name":"Safety","regional":"29 / 110","national":"7 / 20"},{"name":"Amenities","regional":"48 / 110","national":"13 / 20"},{"name":"Recreation","regional":"42 / 110","national":"10 / 20"},{"name":"Neighbourliness","regional":"51 / 110","national":"11 / 20"}],"overall":[{"name":"OVERALL RANK","regional":"55 / 110","national":"11 / 20"}]}, {"id":"71","uProperty":[{"name":"Décor","regional":"56 / 110","national":"7 / 20"},{"name":"Space","regional":"59 / 110","national":"7 / 20"},{"name":"Contentment","regional":"30 / 110","national":"8 / 20"},{"name":"Value","regional":"71 / 110","national":"9 / 20"}],"uHome":[{"name":"Investment","regional":"65 / 110","national":"13 / 20"},{"name":"Well-being","regional":"37 / 110","national":"11 / 20"},{"name":"Pride","regional":"79 / 110","national":"17 / 20"},{"name":"Costs","regional":"19 / 110","national":"4 / 20"}],"uCommunity":[{"name":"Safety","regional":"31 / 110","national":"8 / 20"},{"name":"Amenities","regional":"33 / 110","national":"11 / 20"},{"name":"Recreation","regional":"27 / 110","national":"7 / 20"},{"name":"Neighbourliness","regional":"49 / 110","national":"9 / 20"}],"overall":[{"name":"OVERALL RANK","regional":"37 / 110","national":"6 / 20"}]}, {"id":"72","uProperty":[{"name":"Décor","regional":"50 / 110","national":"6 / 20"},{"name":"Space","regional":"56 / 110","national":"6 / 20"},{"name":"Contentment","regional":"38 / 110","national":"11 / 20"},{"name":"Value","regional":"92 / 110","national":"14 / 20"}],"uHome":[{"name":"Investment","regional":"15 / 110","national":"3 / 20"},{"name":"Well-being","regional":"35 / 110","national":"10 / 20"},{"name":"Pride","regional":"39 / 110","national":"4 / 20"},{"name":"Costs","regional":"61 / 110","national":"10 / 20"}],"uCommunity":[{"name":"Safety","regional":"52 / 110","national":"12 / 20"},{"name":"Amenities","regional":"67 / 110","national":"16 / 20"},{"name":"Recreation","regional":"44 / 110","national":"11 / 20"},{"name":"Neighbourliness","regional":"78 / 110","national":"16 / 20"}],"overall":[{"name":"OVERALL RANK","regional":"52 / 110","national":"9 / 20"}]}, {"id":"73","uProperty":[{"name":"Décor","regional":"87 / 110","national":"16 / 20"},{"name":"Space","regional":"67 / 110","national":"11 / 20"},{"name":"Contentment","regional":"2 / 110","national":"1 / 20"},{"name":"Value","regional":"40 / 110","national":"5 / 20"}],"uHome":[{"name":"Investment","regional":"5 / 110","national":"1 / 20"},{"name":"Well-being","regional":"7 / 110","national":"2 / 20"},{"name":"Pride","regional":"42 / 110","national":"5 / 20"},{"name":"Costs","regional":"6 / 110","national":"3 / 20"}],"uCommunity":[{"name":"Safety","regional":"13 / 110","national":"1 / 20"},{"name":"Amenities","regional":"4 / 110","national":"1 / 20"},{"name":"Recreation","regional":"15 / 110","national":"3 / 20"},{"name":"Neighbourliness","regional":"48 / 110","national":"8 / 20"}],"overall":[{"name":"OVERALL RANK","regional":"5 / 110","national":"1 / 20"}]}, {"id":"74","uProperty":[{"name":"Décor","regional":"74 / 110","national":"13 / 20"},{"name":"Space","regional":"69 / 110","national":"12 / 20"},{"name":"Contentment","regional":"7 / 110","national":"3 / 20"},{"name":"Value","regional":"73 / 110","national":"10 / 20"}],"uHome":[{"name":"Investment","regional":"22 / 110","national":"5 / 20"},{"name":"Well-being","regional":"17 / 110","national":"5 / 20"},{"name":"Pride","regional":"59 / 110","national":"9 / 20"},{"name":"Costs","regional":"38 / 110","national":"6 / 20"}],"uCommunity":[{"name":"Safety","regional":"19 / 110","national":"3 / 20"},{"name":"Amenities","regional":"13 / 110","national":"2 / 20"},{"name":"Recreation","regional":"6 / 110","national":"1 / 20"},{"name":"Neighbourliness","regional":"16 / 110","national":"1 / 20"}],"overall":[{"name":"OVERALL RANK","regional":"12 / 110","national":"2 / 20"}]}, {"id":"75","uProperty":[{"name":"Décor","regional":"69 / 110","national":"10 / 20"},{"name":"Space","regional":"78 / 110","national":"13 / 20"},{"name":"Contentment","regional":"55 / 110","national":"17 / 20"},{"name":"Value","regional":"82 / 110","national":"12 / 20"}],"uHome":[{"name":"Investment","regional":"24 / 110","national":"7 / 20"},{"name":"Well-being","regional":"11 / 110","national":"3 / 20"},{"name":"Pride","regional":"14 / 110","national":"1 / 20"},{"name":"Costs","regional":"4 / 110","national":"1 / 20"}],"uCommunity":[{"name":"Safety","regional":"82 / 110","national":"18 / 20"},{"name":"Amenities","regional":"52 / 110","national":"14 / 20"},{"name":"Recreation","regional":"82 / 110","national":"18 / 20"},{"name":"Neighbourliness","regional":"92 / 110","national":"19 / 20"}],"overall":[{"name":"OVERALL RANK","regional":"65 / 110","national":"15 / 20"}]}, {"id":"76","uProperty":[{"name":"Décor","regional":"20 / 110","national":"1 / 20"},{"name":"Space","regional":"60 / 110","national":"8 / 20"},{"name":"Contentment","regional":"3 / 110","national":"2 / 20"},{"name":"Value","regional":"104 / 110","national":"19 / 20"}],"uHome":[{"name":"Investment","regional":"21 / 110","national":"4 / 20"},{"name":"Well-being","regional":"25 / 110","national":"8 / 20"},{"name":"Pride","regional":"30 / 110","national":"2 / 20"},{"name":"Costs","regional":"97 / 110","national":"16 / 20"}],"uCommunity":[{"name":"Safety","regional":"14 / 110","national":"2 / 20"},{"name":"Amenities","regional":"39 / 110","national":"12 / 20"},{"name":"Recreation","regional":"24 / 110","national":"5 / 20"},{"name":"Neighbourliness","regional":"34 / 110","national":"5 / 20"}],"overall":[{"name":"OVERALL RANK","regional":"25 / 110","national":"3 / 20"}]}, {"id":"77","uProperty":[{"name":"Décor","regional":"80 / 110","national":"15 / 20"},{"name":"Space","regional":"83 / 110","national":"15 / 20"},{"name":"Contentment","regional":"29 / 110","national":"7 / 20"},{"name":"Value","regional":"110 / 110","national":"20 / 20"}],"uHome":[{"name":"Investment","regional":"39 / 110","national":"11 / 20"},{"name":"Well-being","regional":"98 / 110","national":"20 / 20"},{"name":"Pride","regional":"77 / 110","national":"16 / 20"},{"name":"Costs","regional":"5 / 110","national":"2 / 20"}],"uCommunity":[{"name":"Safety","regional":"39 / 110","national":"10 / 20"},{"name":"Amenities","regional":"16 / 110","national":"5 / 20"},{"name":"Recreation","regional":"54 / 110","national":"14 / 20"},{"name":"Neighbourliness","regional":"54 / 110","national":"12 / 20"}],"overall":[{"name":"OVERALL RANK","regional":"61 / 110","national":"13 / 20"}]}, {"id":"78","uProperty":[{"name":"Décor","regional":"33 / 110","national":"2 / 20"},{"name":"Space","regional":"37 / 110","national":"1 / 20"},{"name":"Contentment","regional":"34 / 110","national":"10 / 20"},{"name":"Value","regional":"22 / 110","national":"3 / 20"}],"uHome":[{"name":"Investment","regional":"92 / 110","national":"18 / 20"},{"name":"Well-being","regional":"14 / 110","national":"4 / 20"},{"name":"Pride","regional":"37 / 110","national":"3 / 20"},{"name":"Costs","regional":"66 / 110","national":"11 / 20"}],"uCommunity":[{"name":"Safety","regional":"89 / 110","national":"20 / 20"},{"name":"Amenities","regional":"85 / 110","national":"20 / 20"},{"name":"Recreation","regional":"89 / 110","national":"19 / 20"},{"name":"Neighbourliness","regional":"89 / 110","national":"18 / 20"}],"overall":[{"name":"OVERALL RANK","regional":"76 / 110","national":"17 / 20"}]}, {"id":"79","uProperty":[{"name":"Décor","regional":"71 / 110","national":"11 / 20"},{"name":"Space","regional":"39 / 110","national":"2 / 20"},{"name":"Contentment","regional":"13 / 110","national":"4 / 20"},{"name":"Value","regional":"87 / 110","national":"13 / 20"}],"uHome":[{"name":"Investment","regional":"13 / 110","national":"2 / 20"},{"name":"Well-being","regional":"45 / 110","national":"13 / 20"},{"name":"Pride","regional":"83 / 110","national":"19 / 20"},{"name":"Costs","regional":"54 / 110","national":"8 / 20"}],"uCommunity":[{"name":"Safety","regional":"35 / 110","national":"9 / 20"},{"name":"Amenities","regional":"28 / 110","national":"7 / 20"},{"name":"Recreation","regional":"20 / 110","national":"4 / 20"},{"name":"Neighbourliness","regional":"26 / 110","national":"3 / 20"}],"overall":[{"name":"OVERALL RANK","regional":"28 / 110","national":"4 / 20"}]}, {"id":"80","uProperty":[{"name":"Décor","regional":"36 / 110","national":"3 / 20"},{"name":"Space","regional":"48 / 110","national":"4 / 20"},{"name":"Contentment","regional":"54 / 110","national":"16 / 20"},{"name":"Value","regional":"97 / 110","national":"17 / 20"}],"uHome":[{"name":"Investment","regional":"31 / 110","national":"8 / 20"},{"name":"Well-being","regional":"50 / 110","national":"15 / 20"},{"name":"Pride","regional":"44 / 110","national":"6 / 20"},{"name":"Costs","regional":"94 / 110","national":"15 / 20"}],"uCommunity":[{"name":"Safety","regional":"69 / 110","national":"15 / 20"},{"name":"Amenities","regional":"30 / 110","national":"9 / 20"},{"name":"Recreation","regional":"64 / 110","national":"15 / 20"},{"name":"Neighbourliness","regional":"73 / 110","national":"14 / 20"}],"overall":[{"name":"OVERALL RANK","regional":"62 / 110","national":"14 / 20"}]}, {"id":"81","uProperty":[{"name":"Décor","regional":"93 / 110","national":"19 / 20"},{"name":"Space","regional":"93 / 110","national":"19 / 20"},{"name":"Contentment","regional":"51 / 110","national":"14 / 20"},{"name":"Value","regional":"70 / 110","national":"8 / 20"}],"uHome":[{"name":"Investment","regional":"43 / 110","national":"12 / 20"},{"name":"Well-being","regional":"48 / 110","national":"14 / 20"},{"name":"Pride","regional":"80 / 110","national":"18 / 20"},{"name":"Costs","regional":"104 / 110","national":"19 / 20"}],"uCommunity":[{"name":"Safety","regional":"28 / 110","national":"6 / 20"},{"name":"Amenities","regional":"29 / 110","national":"8 / 20"},{"name":"Recreation","regional":"68 / 110","national":"16 / 20"},{"name":"Neighbourliness","regional":"50 / 110","national":"10 / 20"}],"overall":[{"name":"OVERALL RANK","regional":"71 / 110","national":"16 / 20"}]}, {"id":"82","uProperty":[{"name":"Décor","regional":"47 / 110","national":"5 / 20"},{"name":"Space","regional":"49 / 110","national":"5 / 20"},{"name":"Contentment","regional":"33 / 110","national":"9 / 20"},{"name":"Value","regional":"16 / 110","national":"2 / 20"}],"uHome":[{"name":"Investment","regional":"85 / 110","national":"17 / 20"},{"name":"Well-being","regional":"39 / 110","national":"12 / 20"},{"name":"Pride","regional":"61 / 110","national":"10 / 20"},{"name":"Costs","regional":"71 / 110","national":"12 / 20"}],"uCommunity":[{"name":"Safety","regional":"27 / 110","national":"5 / 20"},{"name":"Amenities","regional":"61 / 110","national":"15 / 20"},{"name":"Recreation","regional":"49 / 110","national":"12 / 20"},{"name":"Neighbourliness","regional":"27 / 110","national":"4 / 20"}],"overall":[{"name":"OVERALL RANK","regional":"39 / 110","national":"7 / 20"}]}, {"id":"83","uProperty":[{"name":"Décor","regional":"88 / 110","national":"17 / 20"},{"name":"Space","regional":"92 / 110","national":"18 / 20"},{"name":"Contentment","regional":"89 / 110","national":"20 / 20"},{"name":"Value","regional":"103 / 110","national":"18 / 20"}],"uHome":[{"name":"Investment","regional":"35 / 110","national":"10 / 20"},{"name":"Well-being","regional":"83 / 110","national":"19 / 20"},{"name":"Pride","regional":"71 / 110","national":"15 / 20"},{"name":"Costs","regional":"21 / 110","national":"5 / 20"}],"uCommunity":[{"name":"Safety","regional":"72 / 110","national":"16 / 20"},{"name":"Amenities","regional":"82 / 110","national":"19 / 20"},{"name":"Recreation","regional":"104 / 110","national":"20 / 20"},{"name":"Neighbourliness","regional":"100 / 110","national":"20 / 20"}],"overall":[{"name":"OVERALL RANK","regional":"96 / 110","national":"20 / 20"}]}, {"id":"84","uProperty":[{"name":"Décor","regional":"72 / 110","national":"12 / 20"},{"name":"Space","regional":"64 / 110","national":"9 / 20"},{"name":"Contentment","regional":"64 / 110","national":"19 / 20"},{"name":"Value","regional":"5 / 110","national":"1 / 20"}],"uHome":[{"name":"Investment","regional":"98 / 110","national":"19 / 20"},{"name":"Well-being","regional":"6 / 110","national":"1 / 20"},{"name":"Pride","regional":"65 / 110","national":"11 / 20"},{"name":"Costs","regional":"84 / 110","national":"14 / 20"}],"uCommunity":[{"name":"Safety","regional":"80 / 110","national":"17 / 20"},{"name":"Amenities","regional":"31 / 110","national":"10 / 20"},{"name":"Recreation","regional":"25 / 110","national":"6 / 20"},{"name":"Neighbourliness","regional":"37 / 110","national":"6 / 20"}],"overall":[{"name":"OVERALL RANK","regional":"53 / 110","national":"10 / 20"}]},
{"id":"85","uProperty":[{"name":"Décor","regional":"53 / 110","national":"6 / 12"},{"name":"Space","regional":"36 / 110","national":"6 / 12"},{"name":"Contentment","regional":"15 / 110","national":"3 / 12"},{"name":"Value","regional":"91 / 110","national":"9 / 12"}],"uHome":[{"name":"Investment","regional":"38 / 110","national":"8 / 12"},{"name":"Well-being","regional":"28 / 110","national":"3 / 12"},{"name":"Pride","regional":"36 / 110","national":"3 / 12"},{"name":"Costs","regional":"29 / 110","national":"3 / 12"}],"uCommunity":[{"name":"Safety","regional":"4 / 110","national":"1 / 12"},{"name":"Amenities","regional":"24 / 110","national":"2 / 12"},{"name":"Recreation","regional":"26 / 110","national":"7 / 12"},{"name":"Neighbourliness","regional":"2 / 110","national":"2 / 12"}],"overall":[{"name":"OVERALL RANK","regional":"7 / 110","national":"2 / 12"}]}, {"id":"86","uProperty":[{"name":"Décor","regional":"24 / 110","national":"3 / 12"},{"name":"Space","regional":"29 / 110","national":"5 / 12"},{"name":"Contentment","regional":"52 / 110","national":"8 / 12"},{"name":"Value","regional":"84 / 110","national":"7 / 12"}],"uHome":[{"name":"Investment","regional":"28 / 110","national":"5 / 12"},{"name":"Well-being","regional":"57 / 110","national":"7 / 12"},{"name":"Pride","regional":"57 / 110","national":"5 / 12"},{"name":"Costs","regional":"31 / 110","national":"4 / 12"}],"uCommunity":[{"name":"Safety","regional":"26 / 110","national":"8 / 12"},{"name":"Amenities","regional":"64 / 110","national":"6 / 12"},{"name":"Recreation","regional":"31 / 110","national":"8 / 12"},{"name":"Neighbourliness","regional":"9 / 110","national":"5 / 12"}],"overall":[{"name":"OVERALL RANK","regional":"30 / 110","national":"6 / 12"}]}, {"id":"87","uProperty":[{"name":"Décor","regional":"73 / 110","national":"8 / 12"},{"name":"Space","regional":"90 / 110","national":"12 / 12"},{"name":"Contentment","regional":"73 / 110","national":"11 / 12"},{"name":"Value","regional":"95 / 110","national":"10 / 12"}],"uHome":[{"name":"Investment","regional":"62 / 110","national":"9 / 12"},{"name":"Well-being","regional":"13 / 110","national":"1 / 12"},{"name":"Pride","regional":"43 / 110","national":"4 / 12"},{"name":"Costs","regional":"18 / 110","national":"2 / 12"}],"uCommunity":[{"name":"Safety","regional":"22 / 110","national":"6 / 12"},{"name":"Amenities","regional":"47 / 110","national":"5 / 12"},{"name":"Recreation","regional":"41 / 110","national":"11 / 12"},{"name":"Neighbourliness","regional":"65 / 110","national":"10 / 12"}],"overall":[{"name":"OVERALL RANK","regional":"58 / 110","national":"10 / 12"}]}, {"id":"88","uProperty":[{"name":"Décor","regional":"59 / 110","national":"7 / 12"},{"name":"Space","regional":"75 / 110","national":"10 / 12"},{"name":"Contentment","regional":"40 / 110","national":"6 / 12"},{"name":"Value","regional":"77 / 110","national":"6 / 12"}],"uHome":[{"name":"Investment","regional":"91 / 110","national":"12 / 12"},{"name":"Well-being","regional":"15 / 110","national":"2 / 12"},{"name":"Pride","regional":"33 / 110","national":"2 / 12"},{"name":"Costs","regional":"37 / 110","national":"5 / 12"}],"uCommunity":[{"name":"Safety","regional":"46 / 110","national":"11 / 12"},{"name":"Amenities","regional":"6 / 110","national":"1 / 12"},{"name":"Recreation","regional":"5 / 110","national":"2 / 12"},{"name":"Neighbourliness","regional":"19 / 110","national":"7 / 12"}],"overall":[{"name":"OVERALL RANK","regional":"21 / 110","national":"4 / 12"}]}, {"id":"89","uProperty":[{"name":"Décor","regional":"48 / 110","national":"5 / 12"},{"name":"Space","regional":"23 / 110","national":"2 / 12"},{"name":"Contentment","regional":"12 / 110","national":"2 / 12"},{"name":"Value","regional":"15 / 110","national":"2 / 12"}],"uHome":[{"name":"Investment","regional":"34 / 110","national":"7 / 12"},{"name":"Well-being","regional":"49 / 110","national":"5 / 12"},{"name":"Pride","regional":"58 / 110","national":"6 / 12"},{"name":"Costs","regional":"98 / 110","national":"11 / 12"}],"uCommunity":[{"name":"Safety","regional":"9 / 110","national":"4 / 12"},{"name":"Amenities","regional":"79 / 110","national":"10 / 12"},{"name":"Recreation","regional":"8 / 110","national":"3 / 12"},{"name":"Neighbourliness","regional":"4 / 110","national":"3 / 12"}],"overall":[{"name":"OVERALL RANK","regional":"10 / 110","national":"3 / 12"}]}, {"id":"90","uProperty":[{"name":"Décor","regional":"94 / 110","national":"12 / 12"},{"name":"Space","regional":"74 / 110","national":"9 / 12"},{"name":"Contentment","regional":"32 / 110","national":"5 / 12"},{"name":"Value","regional":"100 / 110","national":"11 / 12"}],"uHome":[{"name":"Investment","regional":"73 / 110","national":"10 / 12"},{"name":"Well-being","regional":"91 / 110","national":"12 / 12"},{"name":"Pride","regional":"95 / 110","national":"12 / 12"},{"name":"Costs","regional":"62 / 110","national":"8 / 12"}],"uCommunity":[{"name":"Safety","regional":"66 / 110","national":"12 / 12"},{"name":"Amenities","regional":"41 / 110","national":"3 / 12"},{"name":"Recreation","regional":"37 / 110","national":"10 / 12"},{"name":"Neighbourliness","regional":"57 / 110","national":"9 / 12"}],"overall":[{"name":"OVERALL RANK","regional":"78 / 110","national":"11 / 12"}]}, {"id":"91","uProperty":[{"name":"Décor","regional":"82 / 110","national":"10 / 12"},{"name":"Space","regional":"9 / 110","national":"1 / 12"},{"name":"Contentment","regional":"8 / 110","national":"1 / 12"},{"name":"Value","regional":"74 / 110","national":"5 / 12"}],"uHome":[{"name":"Investment","regional":"30 / 110","national":"6 / 12"},{"name":"Well-being","regional":"67 / 110","national":"9 / 12"},{"name":"Pride","regional":"74 / 110","national":"8 / 12"},{"name":"Costs","regional":"8 / 110","national":"1 / 12"}],"uCommunity":[{"name":"Safety","regional":"23 / 110","national":"7 / 12"},{"name":"Amenities","regional":"93 / 110","national":"11 / 12"},{"name":"Recreation","regional":"13 / 110","national":"4 / 12"},{"name":"Neighbourliness","regional":"10 / 110","national":"6 / 12"}],"overall":[{"name":"OVERALL RANK","regional":"23 / 110","national":"5 / 12"}]}, {"id":"92","uProperty":[{"name":"Décor","regional":"81 / 110","national":"9 / 12"},{"name":"Space","regional":"27 / 110","national":"4 / 12"},{"name":"Contentment","regional":"62 / 110","national":"10 / 12"},{"name":"Value","regional":"59 / 110","national":"4 / 12"}],"uHome":[{"name":"Investment","regional":"26 / 110","national":"4 / 12"},{"name":"Well-being","regional":"74 / 110","national":"10 / 12"},{"name":"Pride","regional":"64 / 110","national":"7 / 12"},{"name":"Costs","regional":"64 / 110","national":"9 / 12"}],"uCommunity":[{"name":"Safety","regional":"18 / 110","national":"5 / 12"},{"name":"Amenities","regional":"46 / 110","national":"4 / 12"},{"name":"Recreation","regional":"51 / 110","national":"12 / 12"},{"name":"Neighbourliness","regional":"81 / 110","national":"12 / 12"}],"overall":[{"name":"OVERALL RANK","regional":"49 / 110","national":"9 / 12"}]}, {"id":"93","uProperty":[{"name":"Décor","regional":"16 / 110","national":"2 / 12"},{"name":"Space","regional":"24 / 110","national":"3 / 12"},{"name":"Contentment","regional":"28 / 110","national":"4 / 12"},{"name":"Value","regional":"85 / 110","national":"8 / 12"}],"uHome":[{"name":"Investment","regional":"8 / 110","national":"1 / 12"},{"name":"Well-being","regional":"30 / 110","national":"4 / 12"},{"name":"Pride","regional":"9 / 110","national":"1 / 12"},{"name":"Costs","regional":"48 / 110","national":"6 / 12"}],"uCommunity":[{"name":"Safety","regional":"6 / 110","national":"2 / 12"},{"name":"Amenities","regional":"70 / 110","national":"8 / 12"},{"name":"Recreation","regional":"4 / 110","national":"1 / 12"},{"name":"Neighbourliness","regional":"1 / 110","national":"1 / 12"}],"overall":[{"name":"OVERALL RANK","regional":"4 / 110","national":"1 / 12"}]}, {"id":"94","uProperty":[{"name":"Décor","regional":"84 / 110","national":"11 / 12"},{"name":"Space","regional":"70 / 110","national":"7 / 12"},{"name":"Contentment","regional":"49 / 110","national":"7 / 12"},{"name":"Value","regional":"4 / 110","national":"1 / 12"}],"uHome":[{"name":"Investment","regional":"82 / 110","national":"11 / 12"},{"name":"Well-being","regional":"55 / 110","national":"6 / 12"},{"name":"Pride","regional":"90 / 110","national":"10 / 12"},{"name":"Costs","regional":"60 / 110","national":"7 / 12"}],"uCommunity":[{"name":"Safety","regional":"8 / 110","national":"3 / 12"},{"name":"Amenities","regional":"78 / 110","national":"9 / 12"},{"name":"Recreation","regional":"23 / 110","national":"6 / 12"},{"name":"Neighbourliness","regional":"56 / 110","national":"8 / 12"}],"overall":[{"name":"OVERALL RANK","regional":"40 / 110","national":"7 / 12"}]}, {"id":"95","uProperty":[{"name":"Décor","regional":"46 / 110","national":"4 / 12"},{"name":"Space","regional":"73 / 110","national":"8 / 12"},{"name":"Contentment","regional":"58 / 110","national":"9 / 12"},{"name":"Value","regional":"35 / 110","national":"3 / 12"}],"uHome":[{"name":"Investment","regional":"11 / 110","national":"2 / 12"},{"name":"Well-being","regional":"66 / 110","national":"8 / 12"},{"name":"Pride","regional":"75 / 110","national":"9 / 12"},{"name":"Costs","regional":"74 / 110","national":"10 / 12"}],"uCommunity":[{"name":"Safety","regional":"38 / 110","national":"10 / 12"},{"name":"Amenities","regional":"101 / 110","national":"12 / 12"},{"name":"Recreation","regional":"19 / 110","national":"5 / 12"},{"name":"Neighbourliness","regional":"8 / 110","national":"4 / 12"}],"overall":[{"name":"OVERALL RANK","regional":"41 / 110","national":"8 / 12"}]}, {"id":"96","uProperty":[{"name":"Décor","regional":"9 / 110","national":"1 / 12"},{"name":"Space","regional":"86 / 110","national":"11 / 12"},{"name":"Contentment","regional":"98 / 110","national":"12 / 12"},{"name":"Value","regional":"109 / 110","national":"12 / 12"}],"uHome":[{"name":"Investment","regional":"20 / 110","national":"3 / 12"},{"name":"Well-being","regional":"82 / 110","national":"11 / 12"},{"name":"Pride","regional":"94 / 110","national":"11 / 12"},{"name":"Costs","regional":"109 / 110","national":"12 / 12"}],"uCommunity":[{"name":"Safety","regional":"34 / 110","national":"9 / 12"},{"name":"Amenities","regional":"69 / 110","national":"7 / 12"},{"name":"Recreation","regional":"36 / 110","national":"9 / 12"},{"name":"Neighbourliness","regional":"79 / 110","national":"11 / 12"}],"overall":[{"name":"OVERALL RANK","regional":"87 / 110","national":"12 / 12"}]},
{"id":"97","uProperty":[{"name":"Décor","regional":"75 / 110","national":"4 / 4"},{"name":"Space","regional":"46 / 110","national":"4 / 4"},{"name":"Contentment","regional":"84 / 110","national":"3 / 4"},{"name":"Value","regional":"65 / 110","national":"4 / 4"}],"uHome":[{"name":"Investment","regional":"87 / 110","national":"3 / 4"},{"name":"Well-being","regional":"63 / 110","national":"2 / 4"},{"name":"Pride","regional":"78 / 110","national":"4 / 4"},{"name":"Costs","regional":"27 / 110","national":"1 / 4"}],"uCommunity":[{"name":"Safety","regional":"51 / 110","national":"3 / 4"},{"name":"Amenities","regional":"35 / 110","national":"1 / 4"},{"name":"Recreation","regional":"62 / 110","national":"4 / 4"},{"name":"Neighbourliness","regional":"55 / 110","national":"3 / 4"}],"overall":[{"name":"OVERALL RANK","regional":"69 / 110","national":"4 / 4"}]}, {"id":"98","uProperty":[{"name":"Décor","regional":"42 / 110","national":"2 / 4"},{"name":"Space","regional":"21 / 110","national":"3 / 4"},{"name":"Contentment","regional":"85 / 110","national":"4 / 4"},{"name":"Value","regional":"17 / 110","national":"1 / 4"}],"uHome":[{"name":"Investment","regional":"12 / 110","national":"1 / 4"},{"name":"Well-being","regional":"72 / 110","national":"3 / 4"},{"name":"Pride","regional":"63 / 110","national":"3 / 4"},{"name":"Costs","regional":"50 / 110","national":"2 / 4"}],"uCommunity":[{"name":"Safety","regional":"58 / 110","national":"4 / 4"},{"name":"Amenities","regional":"91 / 110","national":"2 / 4"},{"name":"Recreation","regional":"57 / 110","national":"3 / 4"},{"name":"Neighbourliness","regional":"29 / 110","national":"1 / 4"}],"overall":[{"name":"OVERALL RANK","regional":"48 / 110","national":"3 / 4"}]}, {"id":"99","uProperty":[{"name":"Décor","regional":"49 / 110","national":"3 / 4"},{"name":"Space","regional":"6 / 110","national":"2 / 4"},{"name":"Contentment","regional":"45 / 110","national":"1 / 4"},{"name":"Value","regional":"27 / 110","national":"2 / 4"}],"uHome":[{"name":"Investment","regional":"88 / 110","national":"4 / 4"},{"name":"Well-being","regional":"81 / 110","national":"4 / 4"},{"name":"Pride","regional":"49 / 110","national":"2 / 4"},{"name":"Costs","regional":"80 / 110","national":"3 / 4"}],"uCommunity":[{"name":"Safety","regional":"43 / 110","national":"2 / 4"},{"name":"Amenities","regional":"94 / 110","national":"4 / 4"},{"name":"Recreation","regional":"30 / 110","national":"2 / 4"},{"name":"Neighbourliness","regional":"62 / 110","national":"4 / 4"}],"overall":[{"name":"OVERALL RANK","regional":"47 / 110","national":"2 / 4"}]}, {"id":"100","uProperty":[{"name":"Décor","regional":"2 / 110","national":"1 / 4"},{"name":"Space","regional":"2 / 110","national":"1 / 4"},{"name":"Contentment","regional":"81 / 110","national":"2 / 4"},{"name":"Value","regional":"29 / 110","national":"3 / 4"}],"uHome":[{"name":"Investment","regional":"50 / 110","national":"2 / 4"},{"name":"Well-being","regional":"46 / 110","national":"1 / 4"},{"name":"Pride","regional":"4 / 110","national":"1 / 4"},{"name":"Costs","regional":"85 / 110","national":"4 / 4"}],"uCommunity":[{"name":"Safety","regional":"12 / 110","national":"1 / 4"},{"name":"Amenities","regional":"92 / 110","national":"3 / 4"},{"name":"Recreation","regional":"29 / 110","national":"1 / 4"},{"name":"Neighbourliness","regional":"43 / 110","national":"2 / 4"}],"overall":[{"name":"OVERALL RANK","regional":"22 / 110","national":"1 / 4"}]},
{"id":"101","uProperty":[{"name":"Décor","regional":"76 / 110","national":"7 / 11"},{"name":"Space","regional":"85 / 110","national":"9 / 11"},{"name":"Contentment","regional":"82 / 110","national":"9 / 11"},{"name":"Value","regional":"23 / 110","national":"3 / 11"}],"uHome":[{"name":"Investment","regional":"96 / 110","national":"10 / 11"},{"name":"Well-being","regional":"93 / 110","national":"5 / 11"},{"name":"Pride","regional":"92 / 110","national":"8 / 11"},{"name":"Costs","regional":"68 / 110","national":"9 / 11"}],"uCommunity":[{"name":"Safety","regional":"63 / 110","national":"7 / 11"},{"name":"Amenities","regional":"62 / 110","national":"5 / 11"},{"name":"Recreation","regional":"75 / 110","national":"7 / 11"},{"name":"Neighbourliness","regional":"63 / 110","national":"5 / 11"}],"overall":[{"name":"OVERALL RANK","regional":"82 / 110","national":"8 / 11"}]}, {"id":"102","uProperty":[{"name":"Décor","regional":"83 / 110","national":"8 / 11"},{"name":"Space","regional":"84 / 110","national":"8 / 11"},{"name":"Contentment","regional":"79 / 110","national":"8 / 11"},{"name":"Value","regional":"21 / 110","national":"2 / 11"}],"uHome":[{"name":"Investment","regional":"99 / 110","national":"11 / 11"},{"name":"Well-being","regional":"71 / 110","national":"3 / 11"},{"name":"Pride","regional":"76 / 110","national":"7 / 11"},{"name":"Costs","regional":"24 / 110","national":"4 / 11"}],"uCommunity":[{"name":"Safety","regional":"88 / 110","national":"9 / 11"},{"name":"Amenities","regional":"32 / 110","national":"3 / 11"},{"name":"Recreation","regional":"88 / 110","national":"9 / 11"},{"name":"Neighbourliness","regional":"90 / 110","national":"9 / 11"}],"overall":[{"name":"OVERALL RANK","regional":"86 / 110","national":"9 / 11"}]}, {"id":"103","uProperty":[{"name":"Décor","regional":"27 / 110","national":"4 / 11"},{"name":"Space","regional":"19 / 110","national":"3 / 11"},{"name":"Contentment","regional":"4 / 110","national":"1 / 11"},{"name":"Value","regional":"46 / 110","national":"4 / 11"}],"uHome":[{"name":"Investment","regional":"7 / 110","national":"3 / 11"},{"name":"Well-being","regional":"109 / 110","national":"10 / 11"},{"name":"Pride","regional":"68 / 110","national":"6 / 11"},{"name":"Costs","regional":"13 / 110","national":"3 / 11"}],"uCommunity":[{"name":"Safety","regional":"42 / 110","national":"6 / 11"},{"name":"Amenities","regional":"95 / 110","national":"10 / 11"},{"name":"Recreation","regional":"34 / 110","national":"2 / 11"},{"name":"Neighbourliness","regional":"6 / 110","national":"1 / 11"}],"overall":[{"name":"OVERALL RANK","regional":"26 / 110","national":"2 / 11"}]}, {"id":"104","uProperty":[{"name":"Décor","regional":"15 / 110","national":"1 / 11"},{"name":"Space","regional":"42 / 110","national":"6 / 11"},{"name":"Contentment","regional":"39 / 110","national":"4 / 11"},{"name":"Value","regional":"83 / 110","national":"6 / 11"}],"uHome":[{"name":"Investment","regional":"3 / 110","national":"1 / 11"},{"name":"Well-being","regional":"33 / 110","national":"1 / 11"},{"name":"Pride","regional":"18 / 110","national":"1 / 11"},{"name":"Costs","regional":"55 / 110","national":"8 / 11"}],"uCommunity":[{"name":"Safety","regional":"10 / 110","national":"2 / 11"},{"name":"Amenities","regional":"38 / 110","national":"4 / 11"},{"name":"Recreation","regional":"18 / 110","national":"1 / 11"},{"name":"Neighbourliness","regional":"17 / 110","national":"3 / 11"}],"overall":[{"name":"OVERALL RANK","regional":"8 / 110","national":"1 / 11"}]}, {"id":"105","uProperty":[{"name":"Décor","regional":"54 / 110","national":"5 / 11"},{"name":"Space","regional":"11 / 110","national":"2 / 11"},{"name":"Contentment","regional":"10 / 110","national":"2 / 11"},{"name":"Value","regional":"58 / 110","national":"5 / 11"}],"uHome":[{"name":"Investment","regional":"14 / 110","national":"5 / 11"},{"name":"Well-being","regional":"62 / 110","national":"2 / 11"},{"name":"Pride","regional":"24 / 110","national":"2 / 11"},{"name":"Costs","regional":"43 / 110","national":"6 / 11"}],"uCommunity":[{"name":"Safety","regional":"77 / 110","national":"8 / 11"},{"name":"Amenities","regional":"21 / 110","national":"2 / 11"},{"name":"Recreation","regional":"71 / 110","national":"6 / 11"},{"name":"Neighbourliness","regional":"85 / 110","national":"8 / 11"}],"overall":[{"name":"OVERALL RANK","regional":"36 / 110","national":"4 / 11"}]}, {"id":"106","uProperty":[{"name":"Décor","regional":"61 / 110","national":"6 / 11"},{"name":"Space","regional":"5 / 110","national":"1 / 11"},{"name":"Contentment","regional":"101 / 110","national":"10 / 11"},{"name":"Value","regional":"98 / 110","national":"8 / 11"}],"uHome":[{"name":"Investment","regional":"42 / 110","national":"8 / 11"},{"name":"Well-being","regional":"75 / 110","national":"4 / 11"},{"name":"Pride","regional":"54 / 110","national":"4 / 11"},{"name":"Costs","regional":"81 / 110","national":"10 / 11"}],"uCommunity":[{"name":"Safety","regional":"41 / 110","national":"5 / 11"},{"name":"Amenities","regional":"84 / 110","national":"8 / 11"},{"name":"Recreation","regional":"79 / 110","national":"8 / 11"},{"name":"Neighbourliness","regional":"40 / 110","national":"4 / 11"}],"overall":[{"name":"OVERALL RANK","regional":"72 / 110","national":"6 / 11"}]}, {"id":"107","uProperty":[{"name":"Décor","regional":"101 / 110","national":"11 / 11"},{"name":"Space","regional":"88 / 110","national":"10 / 11"},{"name":"Contentment","regional":"60 / 110","national":"6 / 11"},{"name":"Value","regional":"105 / 110","national":"10 / 11"}],"uHome":[{"name":"Investment","regional":"74 / 110","national":"9 / 11"},{"name":"Well-being","regional":"94 / 110","national":"6 / 11"},{"name":"Pride","regional":"93 / 110","national":"9 / 11"},{"name":"Costs","regional":"35 / 110","national":"5 / 11"}],"uCommunity":[{"name":"Safety","regional":"40 / 110","national":"4 / 11"},{"name":"Amenities","regional":"12 / 110","national":"1 / 11"},{"name":"Recreation","regional":"60 / 110","national":"4 / 11"},{"name":"Neighbourliness","regional":"67 / 110","national":"6 / 11"}],"overall":[{"name":"OVERALL RANK","regional":"80 / 110","national":"7 / 11"}]}, {"id":"108","uProperty":[{"name":"Décor","regional":"97 / 110","national":"10 / 11"},{"name":"Space","regional":"32 / 110","national":"5 / 11"},{"name":"Contentment","regional":"19 / 110","national":"3 / 11"},{"name":"Value","regional":"106 / 110","national":"11 / 11"}],"uHome":[{"name":"Investment","regional":"36 / 110","national":"7 / 11"},{"name":"Well-being","regional":"104 / 110","national":"8 / 11"},{"name":"Pride","regional":"104 / 110","national":"10 / 11"},{"name":"Costs","regional":"44 / 110","national":"7 / 11"}],"uCommunity":[{"name":"Safety","regional":"1 / 110","national":"1 / 11"},{"name":"Amenities","regional":"86 / 110","national":"9 / 11"},{"name":"Recreation","regional":"61 / 110","national":"5 / 11"},{"name":"Neighbourliness","regional":"80 / 110","national":"7 / 11"}],"overall":[{"name":"OVERALL RANK","regional":"68 / 110","national":"5 / 11"}]}, {"id":"109","uProperty":[{"name":"Décor","regional":"86 / 110","national":"9 / 11"},{"name":"Space","regional":"96 / 110","national":"11 / 11"},{"name":"Contentment","regional":"103 / 110","national":"11 / 11"},{"name":"Value","regional":"11 / 110","national":"1 / 11"}],"uHome":[{"name":"Investment","regional":"10 / 110","national":"4 / 11"},{"name":"Well-being","regional":"110 / 110","national":"11 / 11"},{"name":"Pride","regional":"110 / 110","national":"11 / 11"},{"name":"Costs","regional":"9 / 110","national":"2 / 11"}],"uCommunity":[{"name":"Safety","regional":"102 / 110","national":"11 / 11"},{"name":"Amenities","regional":"68 / 110","national":"6 / 11"},{"name":"Recreation","regional":"109 / 110","national":"11 / 11"},{"name":"Neighbourliness","regional":"95 / 110","national":"11 / 11"}],"overall":[{"name":"OVERALL RANK","regional":"102 / 110","national":"11 / 11"}]}, {"id":"110","uProperty":[{"name":"Décor","regional":"26 / 110","national":"3 / 11"},{"name":"Space","regional":"26 / 110","national":"4 / 11"},{"name":"Contentment","regional":"72 / 110","national":"7 / 11"},{"name":"Value","regional":"102 / 110","national":"9 / 11"}],"uHome":[{"name":"Investment","regional":"17 / 110","national":"6 / 11"},{"name":"Well-being","regional":"105 / 110","national":"9 / 11"},{"name":"Pride","regional":"38 / 110","national":"3 / 11"},{"name":"Costs","regional":"2 / 110","national":"1 / 11"}],"uCommunity":[{"name":"Safety","regional":"15 / 110","national":"3 / 11"},{"name":"Amenities","regional":"74 / 110","national":"7 / 11"},{"name":"Recreation","regional":"59 / 110","national":"3 / 11"},{"name":"Neighbourliness","regional":"7 / 110","national":"2 / 11"}],"overall":[{"name":"OVERALL RANK","regional":"33 / 110","national":"3 / 11"}]}, {"id":"111","uProperty":[{"name":"Décor","regional":"23 / 110","national":"2 / 11"},{"name":"Space","regional":"52 / 110","national":"7 / 11"},{"name":"Contentment","regional":"57 / 110","national":"5 / 11"},{"name":"Value","regional":"89 / 110","national":"7 / 11"}],"uHome":[{"name":"Investment","regional":"4 / 110","national":"2 / 11"},{"name":"Well-being","regional":"100 / 110","national":"7 / 11"},{"name":"Pride","regional":"60 / 110","national":"5 / 11"},{"name":"Costs","regional":"87 / 110","national":"11 / 11"}],"uCommunity":[{"name":"Safety","regional":"92 / 110","national":"10 / 11"},{"name":"Amenities","regional":"102 / 110","national":"11 / 11"},{"name":"Recreation","regional":"98 / 110","national":"10 / 11"},{"name":"Neighbourliness","regional":"94 / 110","national":"10 / 11"}],"overall":[{"name":"OVERALL RANK","regional":"91 / 110","national":"10 / 11"}]},
{"id":"112","uProperty":[{"name":"Décor","regional":"22 / 110","national":"2 / 9"},{"name":"Space","regional":"31 / 110","national":"4 / 9"},{"name":"Contentment","regional":"41 / 110","national":"2 / 9"},{"name":"Value","regional":"30 / 110","national":"5 / 9"}],"uHome":[{"name":"Investment","regional":"6 / 110","national":"1 / 9"},{"name":"Well-being","regional":"79 / 110","national":"7 / 9"},{"name":"Pride","regional":"19 / 110","national":"2 / 9"},{"name":"Costs","regional":"79 / 110","national":"8 / 9"}],"uCommunity":[{"name":"Safety","regional":"2 / 110","national":"1 / 9"},{"name":"Amenities","regional":"27 / 110","national":"3 / 9"},{"name":"Recreation","regional":"2 / 110","national":"1 / 9"},{"name":"Neighbourliness","regional":"3 / 110","national":"1 / 9"}],"overall":[{"name":"OVERALL RANK","regional":"1 / 110","national":"1 / 9"}]}, {"id":"113","uProperty":[{"name":"Décor","regional":"44 / 110","national":"7 / 9"},{"name":"Space","regional":"43 / 110","national":"6 / 9"},{"name":"Contentment","regional":"56 / 110","national":"3 / 9"},{"name":"Value","regional":"48 / 110","national":"7 / 9"}],"uHome":[{"name":"Investment","regional":"52 / 110","national":"4 / 9"},{"name":"Well-being","regional":"40 / 110","national":"3 / 9"},{"name":"Pride","regional":"40 / 110","national":"4 / 9"},{"name":"Costs","regional":"86 / 110","national":"9 / 9"}],"uCommunity":[{"name":"Safety","regional":"71 / 110","national":"5 / 9"},{"name":"Amenities","regional":"23 / 110","national":"2 / 9"},{"name":"Recreation","regional":"65 / 110","national":"4 / 9"},{"name":"Neighbourliness","regional":"69 / 110","national":"6 / 9"}],"overall":[{"name":"OVERALL RANK","regional":"57 / 110","national":"5 / 9"}]}, {"id":"114","uProperty":[{"name":"Décor","regional":"17 / 110","national":"1 / 9"},{"name":"Space","regional":"8 / 110","national":"1 / 9"},{"name":"Contentment","regional":"37 / 110","national":"1 / 9"},{"name":"Value","regional":"45 / 110","national":"6 / 9"}],"uHome":[{"name":"Investment","regional":"55 / 110","national":"5 / 9"},{"name":"Well-being","regional":"47 / 110","national":"5 / 9"},{"name":"Pride","regional":"5 / 110","national":"1 / 9"},{"name":"Costs","regional":"49 / 110","national":"2 / 9"}],"uCommunity":[{"name":"Safety","regional":"101 / 110","national":"9 / 9"},{"name":"Amenities","regional":"98 / 110","national":"9 / 9"},{"name":"Recreation","regional":"95 / 110","national":"9 / 9"},{"name":"Neighbourliness","regional":"72 / 110","national":"7 / 9"}],"overall":[{"name":"OVERALL RANK","regional":"70 / 110","national":"7 / 9"}]}, {"id":"115","uProperty":[{"name":"Décor","regional":"28 / 110","national":"4 / 9"},{"name":"Space","regional":"25 / 110","national":"3 / 9"},{"name":"Contentment","regional":"71 / 110","national":"6 / 9"},{"name":"Value","regional":"6 / 110","national":"1 / 9"}],"uHome":[{"name":"Investment","regional":"78 / 110","national":"8 / 9"},{"name":"Well-being","regional":"56 / 110","national":"6 / 9"},{"name":"Pride","regional":"34 / 110","national":"3 / 9"},{"name":"Costs","regional":"76 / 110","national":"5 / 9"}],"uCommunity":[{"name":"Safety","regional":"32 / 110","national":"3 / 9"},{"name":"Amenities","regional":"55 / 110","national":"6 / 9"},{"name":"Recreation","regional":"90 / 110","national":"7 / 9"},{"name":"Neighbourliness","regional":"42 / 110","national":"3 / 9"}],"overall":[{"name":"OVERALL RANK","regional":"42 / 110","national":"3 / 9"}]}, {"id":"116","uProperty":[{"name":"Décor","regional":"25 / 110","national":"3 / 9"},{"name":"Space","regional":"61 / 110","national":"9 / 9"},{"name":"Contentment","regional":"88 / 110","national":"9 / 9"},{"name":"Value","regional":"68 / 110","national":"8 / 9"}],"uHome":[{"name":"Investment","regional":"63 / 110","national":"6 / 9"},{"name":"Well-being","regional":"41 / 110","national":"4 / 9"},{"name":"Pride","regional":"46 / 110","national":"5 / 9"},{"name":"Costs","regional":"77 / 110","national":"6 / 9"}],"uCommunity":[{"name":"Safety","regional":"25 / 110","national":"2 / 9"},{"name":"Amenities","regional":"87 / 110","national":"8 / 9"},{"name":"Recreation","regional":"22 / 110","national":"2 / 9"},{"name":"Neighbourliness","regional":"28 / 110","national":"2 / 9"}],"overall":[{"name":"OVERALL RANK","regional":"54 / 110","national":"4 / 9"}]}, {"id":"117","uProperty":[{"name":"Décor","regional":"34 / 110","national":"6 / 9"},{"name":"Space","regional":"12 / 110","national":"2 / 9"},{"name":"Contentment","regional":"59 / 110","national":"4 / 9"},{"name":"Value","regional":"93 / 110","national":"9 / 9"}],"uHome":[{"name":"Investment","regional":"40 / 110","national":"2 / 9"},{"name":"Well-being","regional":"38 / 110","national":"2 / 9"},{"name":"Pride","regional":"48 / 110","national":"6 / 9"},{"name":"Costs","regional":"65 / 110","national":"3 / 9"}],"uCommunity":[{"name":"Safety","regional":"78 / 110","national":"7 / 9"},{"name":"Amenities","regional":"65 / 110","national":"7 / 9"},{"name":"Recreation","regional":"86 / 110","national":"5 / 9"},{"name":"Neighbourliness","regional":"68 / 110","national":"5 / 9"}],"overall":[{"name":"OVERALL RANK","regional":"66 / 110","national":"6 / 9"}]}, {"id":"118","uProperty":[{"name":"Décor","regional":"55 / 110","national":"8 / 9"},{"name":"Space","regional":"51 / 110","national":"7 / 9"},{"name":"Contentment","regional":"63 / 110","national":"5 / 9"},{"name":"Value","regional":"9 / 110","national":"2 / 9"}],"uHome":[{"name":"Investment","regional":"47 / 110","national":"3 / 9"},{"name":"Well-being","regional":"103 / 110","national":"9 / 9"},{"name":"Pride","regional":"89 / 110","national":"9 / 9"},{"name":"Costs","regional":"25 / 110","national":"1 / 9"}],"uCommunity":[{"name":"Safety","regional":"76 / 110","national":"6 / 9"},{"name":"Amenities","regional":"54 / 110","national":"5 / 9"},{"name":"Recreation","regional":"87 / 110","national":"6 / 9"},{"name":"Neighbourliness","regional":"84 / 110","national":"9 / 9"}],"overall":[{"name":"OVERALL RANK","regional":"75 / 110","national":"8 / 9"}]}, {"id":"119","uProperty":[{"name":"Décor","regional":"30 / 110","national":"5 / 9"},{"name":"Space","regional":"38 / 110","national":"5 / 9"},{"name":"Contentment","regional":"87 / 110","national":"8 / 9"},{"name":"Value","regional":"13 / 110","national":"4 / 9"}],"uHome":[{"name":"Investment","regional":"80 / 110","national":"9 / 9"},{"name":"Well-being","regional":"4 / 110","national":"1 / 9"},{"name":"Pride","regional":"52 / 110","national":"7 / 9"},{"name":"Costs","regional":"78 / 110","national":"7 / 9"}],"uCommunity":[{"name":"Safety","regional":"64 / 110","national":"4 / 9"},{"name":"Amenities","regional":"10 / 110","national":"1 / 9"},{"name":"Recreation","regional":"43 / 110","national":"3 / 9"},{"name":"Neighbourliness","regional":"53 / 110","national":"4 / 9"}],"overall":[{"name":"OVERALL RANK","regional":"38 / 110","national":"2 / 9"}]}, {"id":"120","uProperty":[{"name":"Décor","regional":"57 / 110","national":"9 / 9"},{"name":"Space","regional":"53 / 110","national":"8 / 9"},{"name":"Contentment","regional":"80 / 110","national":"7 / 9"},{"name":"Value","regional":"12 / 110","national":"3 / 9"}],"uHome":[{"name":"Investment","regional":"76 / 110","national":"7 / 9"},{"name":"Well-being","regional":"101 / 110","national":"8 / 9"},{"name":"Pride","regional":"72 / 110","national":"8 / 9"},{"name":"Costs","regional":"70 / 110","national":"4 / 9"}],"uCommunity":[{"name":"Safety","regional":"90 / 110","national":"8 / 9"},{"name":"Amenities","regional":"45 / 110","national":"4 / 9"},{"name":"Recreation","regional":"91 / 110","national":"8 / 9"},{"name":"Neighbourliness","regional":"82 / 110","national":"8 / 9"}],"overall":[{"name":"OVERALL RANK","regional":"84 / 110","national":"9 / 9"}]}
] ; function init() { jQuery(function () { function printRow(values, rowString) { var valueRow, valueChild; for (valueRow in values) { valueChild = values[valueRow]; rowString = rowString.concat('
' + valueChild.name + '
' + valueChild.national + '
' + valueChild.regional + '
'); } return rowString; }
var reg, region, regionTmp, zones; for (regionTmp in regions) { zones = regions[regionTmp]; var liString = '
' + zones.name + '
' for (region in zones.values) { reg = zones.values[region]; var ulString = '

'; liString = liString.concat(ulString); } liString = liString.concat('
'); jQuery('.sidemenu').append(liString); }
var obj, object, nameRegion; for (object in tables) { obj = tables[object];
for (regionTmp in regions) { zones = regions[regionTmp]; for (region in zones.values) { reg = zones.values[region]; if(reg.id == obj.id) { nameRegion = reg.name; } } }
var tableString = '
Rankings for '+nameRegion+'
RANKING
Factor
Regional
National
' var rowsString = ''; rowsString = rowsString.concat('
YOUR PROPERTY

'); rowsString = printRow(obj.uProperty, rowsString); rowsString = rowsString.concat('

YOUR HOME

'); rowsString = printRow(obj.uHome, rowsString); rowsString = rowsString.concat('

YOUR COMMUNITY

'); rowsString = printRow(obj.uCommunity, rowsString); rowsString = printRow(obj.overall, rowsString);

var valueString = rowsString.concat('
'); tableString = tableString.concat(valueString); jQuery("#table").append(jQuery(tableString)); } //IE < 9 doesn't works css selector by last-child $(".tableData tr:last-child").addClass("last-child"); jQuery(".link").click(function () { jQuery(".link").removeClass("active"); jQuery(this).addClass("active"); jQuery(".housePriceDiv").hide(); jQuery("#housePriceDiv" + parseInt(this.id)).show(); return false; }); jQuery('.sidemenu').accordion({ active:false, collapsible:true, heightStyle:"content" }); }); } ;