Harrogate is the UK's happiest place to call home
Residents in the Yorkshire town of Harrogate are the happiest in the UK and people living in the North are overall happier than those in the South, according to Rightmove's 'Happy At Home Index' for 2013.
Rightmove's index uses 12 distinct factors to measure how the British public feels about where they live, covering feelings towards our 'property', our 'home' and our 'community'. The result is a unique, nationwide insight into the emotive relationship we have with the place we call home. The survey results also highlight a wealth of fascinating quirks and characteristics about towns, cities and regions up and down the UK; from the fact that people in Lincoln are the most house-proud in the country, to those in Hereford feeling the safest about where they live, and Swansea and Aberdeen being the happiest places to be in Wales and Scotland respectively.

How did your town rank? Check out our interactive tool now.
Rightmove director Miles Shipside comments:


"Rightmove's Happy At Home Index looks to capture how the British public truly feels about 'home' and gives us a view of the happiest places in the UK as rated by those who know best – the people who live there."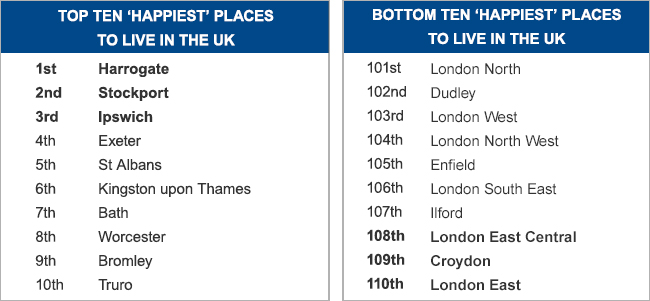 Harrogate comes out on top in the Happy At Home Index for 2013 by virtue of its residents feeling 'happy' across a broad range of factors. Although the town did not rank highest on any single measure, it featured in the top 10 on four of the 12 measures, namely; investment (how much residents choose to spend on their home), safety (how safe people feel in their home and local community), recreation (the extent to which people enjoy spending time in the local area) and neighbourliness (how friendly and polite respondents consider their neighbours).

Shipside adds:


"Harrogate's position at the top of our Happy At Home Index demonstrates the complex web of factors that makes for a happy place to live. The top-ranked places in our survey reflect the fact that we need a healthy balance of not only confidence in the value of our homes and pride in where we live, but also all-round enjoyment of the things to do and in our area and sense of well-being in the local community."

Find out how we conducted the survey and how your town or city ranked regionally and nationally using our interactive Happy At Home Index tool.