House prices close to all-time high – will 'granlords' drive them higher?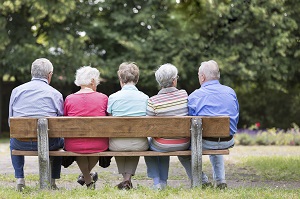 Price of property coming to market up by 1.0% (+£2,748), a more muted rise at this time of year for three years suggesting pre-election slowdown
Average new seller asking price just £30 below June 2014 record as high demand reduces the impact of tighter lending controls introduced in the April 2014 Mortgage Market Review
Buy-to-let investors cashing in their pension pots to raise larger deposits may drive prices up further at the low end of the market – agents are reporting uplift in interest ahead of new pension rules
Number of newly-listed properties up by 3.2% compared to last month, though first-time buyer properties which are likely 'granlord' investor targets have seen the lowest increase in supply (+2.6%) and are the sector seeing the highest annual price rise (+7.6%)

With the distraction of the looming election and one year on from the introduction of tighter lending criteria, this month's 1.0% (+£2,748) rise in the price of property coming to market is more muted than that seen in the strong rebound market of March 2014, and the lowest seen at this time of year for three years. This has resulted in a reduction of the year-on-year rate of increase to 5.4%. However, with prices just £30 below the all-time high of £281,782 set in June 2014, the national average is within a whisker of a new record. It appears that high demand and larger buyer deposits are reducing the impact of the new restrictions on mortgage lending introduced in the Mortgage Market Review (MMR).


Miles Shipside, Rightmove director and housing market analyst comments:

"The distraction and uncertainty of an election typically force sellers to price more keenly, though this is often short-lived. The MMR introduced in April 2014 laid out a much needed longer-term framework for responsible lending, but within a year its dampening effects have been muted by high demand outstripping supply in many locations, and by buyers putting down larger deposits. The price of property coming to market is now just £30 off the record set nine months ago. The MMR has been a positive restraint on what buyers can afford to pay and has assisted in lessening the price rise pace. However, with new-build levels remaining low and only a small increase in properties coming to market compared to last month, the supply side is still a critical but missing part of the jigsaw if pent-up demand is to be satisfied."


The 1.0% increase in the price of property marketed this month compares with a 2.1% rise in March 2014, as the slowing pace of price rises from the highs of last year continues. Yet interest in property searching is at an all-time high, with a record eight million enquiries sent to Rightmove agents in the first two months of 2015, and Rightmove's busiest ever day for activity being recorded towards the end of February.


Shipside adds:

"There is still high demand for the right property at the right price with agents reporting that quality stock is selling well despite some election jitters. Rightmove recording nearly 59 million page views in one day suggests that home-movers have a confident outlook, while remaining choosy about what they will buy. Stunningly attractive long fixed-term mortgage rates are obviously another great boost to positive sentiment."


While some of the heat has been taken out of the market by limiting loan criteria and size through the MMR and the subsequent actions of the Bank of England's Prudential Regulation Authority, controls limiting buyer affordability appear not to be restraining the more cash-rich buy-to-let sector. This active area of the market, with mortgage loan numbers up by 23% in 2014 compared to 20131, is set to receive a further injection of investment as the new pension rules come into force next month.


Shipside says:

"Agents report a high level of interest from new landlords, or 'granlords', who are typically first time, retirement age, buy-to-let investors. With the highest returns for the lowest investment being at the lower end of the market, the first-time buyer property sector will be the greatest recipient of any increase in demand from investors with substantial pension pots. Unfortunately flats and terraced houses with two bedrooms or fewer are coming to the market in smaller numbers than the middle and upper tier sectors, so are the least prepared for an up-surge in demand."

The first-time buyer sector seems to be showing the effects of the growing imbalance between supply and demand with prices up 7.6% compared to last year, and the number of properties coming to market in this sector is up by a modest 2.6% this month compared to last. In contrast, the second-stepper sector has seen an increase of 5.3% in fresh stock and a 7.0% year-on-year price rise, with the top of the ladder sector stock up by 5.4%, and a 4.0% annual price change.

Shipside observes:

"The lower-end properties favoured by first-time buyers and investors are in short supply in many locations due to increased competition among mortgage lenders, who are also chasing landlords with offers of low rates for lower risk. Some cash-rich pension pot buy-to-let investors will also be tempted by those tax-deductible mortgage rates, creating further upwards price pressure in a market sector that is already out-stripping the higher-priced ones. While many pension pots may not fund a sufficiently large tax-free lump sum to facilitate a property purchase, for some it will provide enough for a mortgage deposit and others may feel it worth paying some income tax now to release more money. For example, someone aged over 55 with £120,000 in their pension pot and £10,000 in an ISA can raise up to £40,000 tax free for a buy-to-let mortgage deposit, which can be topped up further if required by paying their marginal rate of tax on a larger withdrawal from their pension. When the realities of the possible tax penalties on larger withdrawals are better understood by aspiring new landlords, their appetite for buy-to-let may diminish and anticipated demand may be less than speculated. It's a hard one to call."


David Blythman, Managing Director of Scottfraser in Oxfordshire says:
"Since the beginning of the year there has been no let-up in demand for properties across Oxfordshire and our investment search division are now receiving a significant uplift in enquiries including many from 'granlords' – first time, retirement age, buy-to-let investors diversifying their pension investments. We foresee these buyers having a positive impact on the quality of the private rental sector as they have no intention of squandering their hard earned funds on anything other than the best properties."