Living in World War One Britain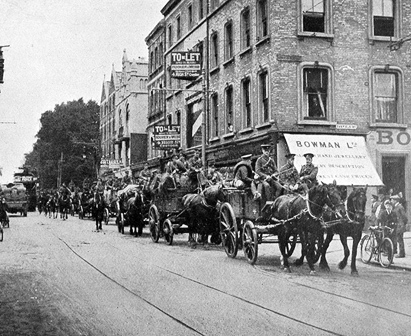 In 1911, there are a total of 7 million houses in Britain
In many homes, the front room is only used on Sundays or for entertaining guests
During the winter months, families spent most of their time in the back room (or living room) because, in many cases, this is the only room which was heated
Many working-class properties have outside toilets and no bathrooms
This month marks the 100 year anniversary of the start of World War One, a conflict which would last for four years, claim more than nine million lives and change the face of Britain forever.


To commemorate the event, Rightmove takes a look at what it would have been like to live in Edwardian Britain at the outbreak of war…


The houses

Although King Edward VII died in 1910, the Edwardian architectural style continued through to 1918. Compared to earlier Victorian housing, new Edwardian properties were usually less ornate and built to be fresh, light and uncluttered.


Building standards had also been radically improved in the late 19th and early 20th centuries, leading many to consider Edwardian properties as some of the best quality housing ever built.


Décor

The Edwardian era also brought about a significant change in home décor. The introduction of electric lights, for example, meant that home owners no longer needed to use dark paint to disguise soot build-up on their walls. Cream, magnolia and shades of white suddenly become in vogue!


There was also a marked shift towards homes with less clutter, plain wallpaper and clean surfaces. Carpets were also falling out of fashion in some areas, with a preference towards wooden and parquet floors with Persian rugs.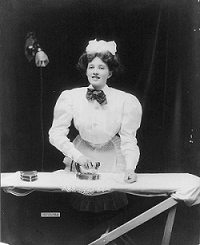 The class system

In 1914 Britain, the class system was still very much alive and well. The upper classes would tend to own both a country retreat as well as a townhouse, and would have had a number of servants to look after their every whim. In cities such as London, many of these servants would live in mews situated behind their employers' townhouse, with the ground floor being used as a carriage house and stables and the upper floors providing living quarters.


Servants were not just the reserve of the upper classes though. Even a middle-class bank manager, broker or journalist, earning £600-£900 a year, could afford themselves a couple of retainers. The lower middle classes earning less than £500 a year wouldn't be able to afford live-in help, but would often employ a maid-of-all-work instead.


The working classes, accounting for some 80% of the population, wouldn't have been so lucky. Earning less than £100 a year meant that families would have lived in basic cottages or terraced houses with no indoor toilets. With some professions working up to 18 hours a day, life expectancy was understandably low; miners and steel workers, for example, were lucky to live beyond 35.


Poor working-class living conditions would later lead to the Housing and Town Planning Act of 1919, an act created in response to the shocking lack of fitness amongst many recruits during World War One. This bill is often seen as one of the first steps towards large scale state housing in Britain.


The streets

Over 5,000 bombs were dropped on England during World War One, most of which from the infamous Zeppelin airships. As well as killing over 500 people, the damage also caused over £1.5 million in damage to Britain's streets.


To show how World War One impacted Britain's streets and buildings, Rightmove have created Then & Now. This interactive journey combines archive photography with the latest Google Streetview technology to show how the home front has changed over the past 100 years.


Written by Ben Johnson.