NewBuy – helping home-movers bridge the gap
Last year saw the launch of NewBuy, a government-backed scheme to help home-hunters step on or move up the property ladder. The initiative helps home-movers to secure a 95% mortgage on new build properties in the UK.
The NewBuy scheme now includes part exchange meaning that homeowners will be able to trade their existing property for a new home, meaning that it's easier than ever to move up the housing ladder.


Find out more information about NewBuy now.


Here are a few examples of how the scheme has been helping home-hunters all over the country to move into their dream home…


NewBuy and Part Exchange: The perfect combination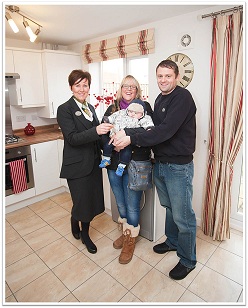 Claire, a trainee paramedic, said: "We already own a two bedroom, mid-terrace home in Oswaldtwistle, but with a growing family we realised we needed to look at buying somewhere bigger. We decided on a brand new home, and with family close to Chorley it made sense for us to visit Barratt's Eccleston Park development. We loved the design of the homes there, and Chorley has such a good reputation for schools. We made our minds up quite quickly that this was the right place for us.


"We were considering how we could get the deposit together as our money is all tied up in our current house, when Debbie, the sales advisor at Eccleston Park, explained to us that we could combine two schemes together in order to make the move happen. With Debbie's help we were able to combine part exchange with NewBuy, and with everything completed we are now looking forward to moving into our brand new home in April."


The money Claire, 38, and Wayne, 34, will receive from the sale of their old home meant they could take advantage of the pioneering NewBuy scheme, which offers Government-backed 95 per cent mortgages. The remaining five per cent forms the deposit, which in this case was covered by the proceeds from the part exchange.


"It was so easy and pressure-free for us," said Claire; "At every stage of the process, from the valuation to the survey, Barratt were extremely honest and fair about the value they could give us on our existing home. Barratt has given us every opportunity to get as much as possible for our current home – we were even advised we could put our house on the market with an estate agent, to try and get the best possible deal."


"It's worked out really well for us," said Claire; "We're so happy with Barratt and all the help they gave us throughout the process. We always felt like Barratt were genuinely trying to help, not just with the part exchange, but with all the support and advice we've had along the way to enable us to make the right decision. We're now looking forward to enrolling our children in school and putting down some roots in Chorley."



Lovell and NewBuy help 'squeezed middle' couple buy central London home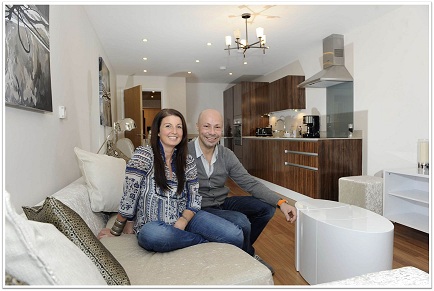 First-time buyers Nancy and David Marazzi have moved into a brand-new two-bedroom apartment in award-winning developer Lovell's luxury Mildmay N1 development in Islington, North London, with the help of the Government's NewBuy 95 per cent mortgage scheme.


The scheme enabled them to buy with a five per cent deposit and saved them from being 'squeezed' out of the market, as City worker Nancy, explains:


"We both have good careers but it was virtually impossible for us to buy somewhere in central London and the reason was the deposit. We would have needed to save between £75,000 and £90,000 for a 15 per cent deposit and when you are already paying a central London rent, that's not easy.


"David was born and bred in Bloomsbury and when I moved to London I was keen to live in the centre, not the suburbs, but it didn't seem likely we would be able to get somewhere of our own.


The Government has various schemes for first-time buyers but we weren't eligible because our income was too high. People talk about the 'squeezed middle' – that was us.


"When I found out that Lovell was offering NewBuy at Mildmay it was perfect. The location is amazing but it was also important to us that we found the right property: we didn't want to compromise on our home when we were spending so much money.  We thought the specification was excellent and when we looked round, the fittings and the finishing were done really well. We love the flat – there's so much space, including a balcony, so we don't feel we'll outgrow it too quickly, and plenty of storage.


Nancy says that before finding out about NewBuy at Mildmay N1, she and David, who owns a bar and restaurant in Islington, had given up on the idea of buying somewhere. "Before NewBuy came along, we had resigned ourselves to renting. NewBuy has been perfect for us, and to find it being offered on a central London development was fantastic."