NewBuy's first purchaser gets ready to move in
NewBuy, the Government-backed home purchasing scheme, has seen its first completion. Heena Rai became the first person in the UK to buy a property using the scheme last month when she purchased from Bovis Homes in Peterborough.


NewBuy was launched in March and allows purchasers to acquire a new-build property with just a 5% deposit.
Heena said:

"I was really shocked that we managed to get it all done so quickly. I still need to get my stuff moved in but I couldn't be happier. I was done with renting and living with other people and felt it was time to do things on my own and stand on my own two feet. This is my first place and it really feels like a new chapter of my life – it's great to be spending money on my own mortgage rather than someone else's. Only needing a 5% deposit made a real difference and the initial monthly payments were manageable – and here I am! The fact that I'm the first person in the country to have a NewBuy mortgage is a bit crazy!"


Rightmove have backed the NewBuy scheme with a landing page for home-hunters seeking information about the new scheme. Research by Rightmove prior to the launch of NewBuy found that around 2 in 5 first-time buyers felt they would be more likely to get on the property ladder once the scheme launched. Interest is certain to be high judging by the success of Rightmove's FirstBuy homepage which has seen over 1 million page views since being launched last year.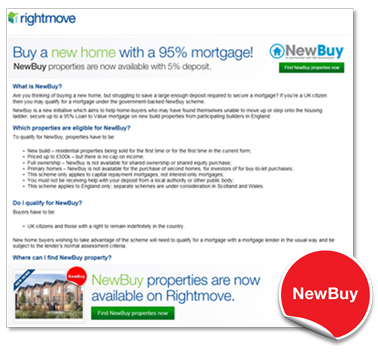 Bovis Homes Central Region Sales Director Alison Tindle comments:

"We're proud at Bovis Homes Central Region to have her on board as the first NewBuy customer in the whole country and I am sure she will realise the benefits of taking up this excellent product. Higher deposits have hindered first time buyers and movers alike and this new 5% deposit requirement promises to unlock the market for a number of homebuyers."

For more information about NewBuy and to find properties in the scheme visit Rightmove's NewBuy landing page now – https://www.rightmove.co.uk/newbuy