Cornwall is the top spot as lockdowns change what home-movers look for
More homebuyers look to escape to countryside and coastal areas as Cornwall replaces London as the most searched for place to live in Britain
This week is exactly one year since the first government 'stay at home' restrictions were announced, so we've had a look back at what has changed most for home-movers since then.
If, like us, you've been trying to find a suitable area of your home to work from and you now realise you need more space, then it may have made you reprioritise what you're looking for from your next property.
You may also be able to consider making a move to a totally different location now if you won't be  working from an office as much as you were before.
Here are some of the key changes we have seen following a year of lockdown periods and big lifestyle shifts.
Cornwall replaces London as the most searched for place to live for home-movers
The stand-out difference comparing this year with last year before the pandemic is that the county of Cornwall has now overtaken London as the most searched for place on Rightmove for buyers. We think that's pretty incredible when you think that there are over eight million people living in London, and only about half a million people living in Cornwall.
There were more than five million searches on Rightmove in February 2021 as the number of home buyers looking for a dream home in Cornish towns and villages soared.
And what's not to love? Cornwall boasts long stretches of sprawling coastline, top beaches and beautiful countryside.
Our property expert Tim Bannister says that 'the huge population of London means that traditionally it's the most searched for location on Rightmove, but the appeal of the coast and the countryside has seen Cornwall crowned the new capital this year.'
The county of Dorset, also in the South West, has jumped up from position 20 to position 10 in the most searched for list, while Cornwall's nearest neighbour, Devon, came in third place after London.
Here is the full list when looking at January and February of this year compared to January and February in 2020: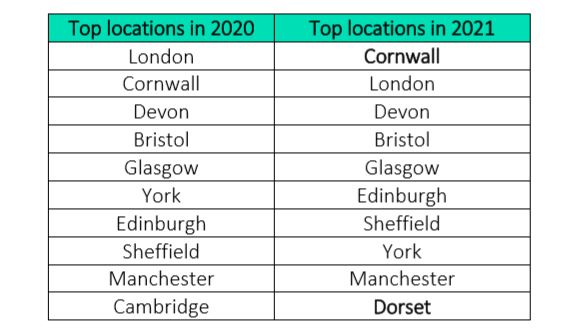 More homebuyers are looking to escape to the country
In the second half of 2020, we also spotted a 69% rise in the number of home sales agreed in rural areas, compared to 49% in urban areas.
So we have also taken a look at which locations have seen the biggest increase in searches from buyers this year when compared to the same period last year, prior to the pandemic.
The lure of the countryside has in fact led to six of the top ten places being located in Cornwall and Devon. Searches for the village of Stithians in Cornwall are up by a massive 224% on this time last year, with the village of Polperro, near Looe in south-east Cornwall, also seeing a huge increase of 203%.
Emma Ward, Director at Goundrys Estate Agents in Cornwall said: "It's been an incredibly busy year as people rethink the types of homes they want to buy and where they want to live. Some are moving here to be closer to family while others are looking for a complete change in lifestyle. Detached homes, which are around the £500k-£700k mark here, have been flying off the shelves, we've none left. We need more sellers to come to market as there is such strong buyer demand for places with garages, gardens, office space and more."
The dream of a detached home
The 'stay at home' effect has also made many of us reassess our living spaces – inside and out. The number of people looking for properties with a garden has actually hit a record as having access to our own outdoor space becomes more important than ever.
You might now want an extra room to turn into a dedicated home office, and homes with a garage have also been popular.
So, as home buyers prioritise space and the temporary stamp duty holiday offers savings of £15,000 on large, expensive homes, we have seen a jump of 38% in sales agreed on five-bedroom detached houses in a year, followed by four-bedroom properties, which are also up by 26%.
Our property expert Tim Bannister says that "demand for more space has always been the most common reason for people moving home, but the evolution for many from balancing their laptop on the end of a bed last March to making an office a permanent addition to a home, whether that's by converting a bedroom, garage or garden shed, has led to a need for even bigger homes than before.
"This is evident with five-bed detached homes seeing the biggest growth in sales, and two-bed homes becoming the most sought-after for people renting."
Renters are also trading up for more space
A year ago the most sought-after property type for tenants was a two-bedroom flat. Now, as renters search for more space and prioritise having a garden, two-bedroom semi-detached houses are now the most popular type of rental properties.
The average cost of renting has varied dramatically in the past 12 month in different locations as working from home has meant many renters can be more flexible in where the can live. In some parts of London, for example, asking rents have dropped by more than 10 per cent in a year as less people need to commute to an office.
Search for properties for sale in Cornwall here
READ MORE: Stamp duty holiday deadline extended
To read our March 2021 report on house prices, click here
The header image for this article comes was taken by Jon Cooney Photography and has been provided courtesy of Scott Parry Associates, Cornwall