Rightmove Places – UK's Top 10 places for Parks & Outdoors
This week sees the full launch of Rightmove Places, Rightmove's new community website which gives you the chance to share and discover things about your place and get involved in the local community.
As part of sharing and discovering information about a place, Rightmove Places allows users to rate each location on a variety topics. Rightmove recently asked over 25,000 people to tell us how their local place rated on some these topics, and to celebrate the launch of Rightmove Places we'll be revealing the results throughout this week.
Today we reveal the UK's Top 10 places for Parks & Outdoors…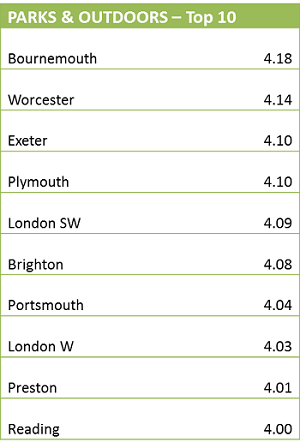 And the winner is… Bournemouth!
When it comes to Parks & Outdoors, Bournemouth has sandy beaches, proximity to the New Forest and large parks such as Dean Park and Meyrick Park, all of which no doubt helped the Dorset town come out on top in our survey. Bournemouth just pips Worcester to the number one spot, and was one of five south coast locations to make the top 10 alongside Exeter, Plymouth, Brighton and Portsmouth.
If you're a home-hunter looking to take advantage of Bournemouth's number of spot, you might like this
2 bedroom flat located in the heart of Talbot Woods or this
5 bedroom property with a huge garden on the edge of Queens Park
Agree or disagree with Bournemouth being the number one location in the UK for Parks & Outdoors? Why not tell people on www.rightmoveplaces.co.uk/bournemouth or search for your own local area and let people know how it rates – www.rightmoveplaces.co.uk.
How did we compile the rankings?
As part of Rightmove's quarterly Consumer Confidence Survey, we asked over 25,000 people rate their nearest town or city on a variety topics such as Parks & Outdoors, Character, Shopping, Nightlife and Safety. Ratings were given on a scale of 1-5 and we averaged out the ratings by number of respondents in each location (places with a sample size of less than 100 respondents were left out) to give a league table of scores for each category. To celebrate the launch of Rightmove Places we'll be revealing the winning locations in some of these categories over the course of the week. Find out which location was rated number one for Character in tomorrow's blog.
Don't forget to check out Rightmove Places to get involved in your local community and tell people what you think about your place!