Rightmove Places – UK's Top 10 places for Safety
This week sees the full launch of Rightmove Places, Rightmove's new community website which gives you the chance to share and discover things about your place and get involved in the local community.
As part of sharing and discovering information about a place, Rightmove Places allows users to rate each location on a variety topics. Rightmove recently asked over 25,000 people to tell us how their local place rated on some these topics, and to celebrate the launch of Rightmove Places we'll be revealing the results throughout this week.
Today we reveal the UK's Top 10 places for Safety…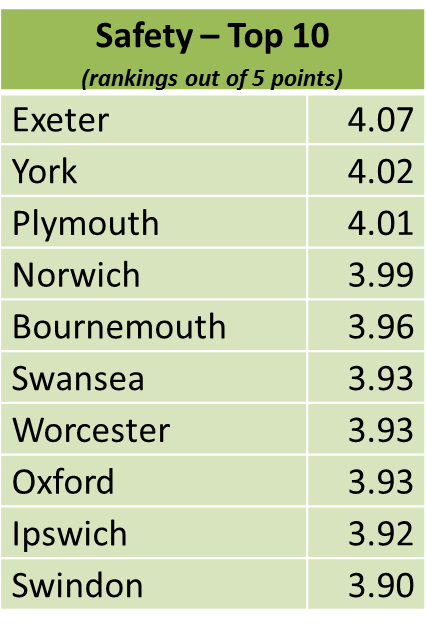 And the winner is… Exeter!
Residents of Exeter enjoy low crime levels where neighbourhoods and public spaces tend to be clean, safe and green, with minimal litter and graffiti. The design of buildings and public spaces in the historic city help to reduce crime and make people feel safer. Plymouth came in third place showing that Devon is commonly believed to be a safe place to live.
Who doesn't like to feel safe in their local area? Check out this stunning family home in the heart of Exeter that is sure to make you feel safe and sound!
Disagree with the findings? Search and rate your local area now – www.rightmoveplaces.co.uk.
How did we compile the rankings?
As part of Rightmove's quarterly Consumer Confidence Survey, we asked over 25,000 people rate their nearest town or city on a variety topics such as Parks & Outdoors, Character, Shopping, Nightlife and Safety. Ratings were given on a scale of 1-5 and we averaged out the ratings by number of respondents in each location (places with a sample size of less than 100 respondents were left out) to give a league table of scores for each category. To celebrate the launch of Rightmove Places we'll be revealing the winning locations in some of these categories over the course of the week. Be sure to check out the previous entries to see how if your local area appears in any of our top 10 charts.
Don't forget to check out Rightmove Places to get involved in your local community and tell people what you think about your place!