Rightmove Places – UK's Top 10 places for Shopping
This week sees the full launch of Rightmove Places, Rightmove's new community website which gives you the chance to share and discover things about your place and get involved in the local community.
As part of sharing and discovering information about a place, Rightmove Places allows users to rate each location on a variety topics. Rightmove recently asked over 25,000 people to tell us how their local place rated on some these topics, and to celebrate the launch of Rightmove Places we'll be revealing the results throughout this week.
Today we reveal the UK's Top 10 places for Shopping…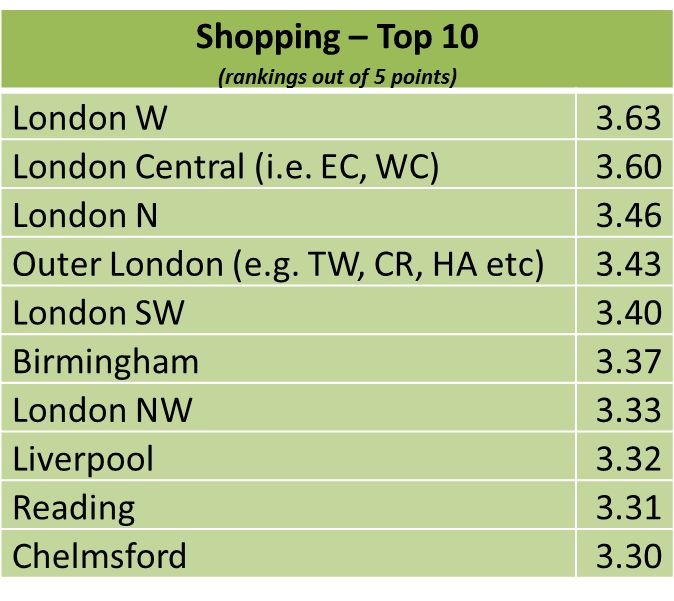 And the winner is… London!
It's not surprising that when it comes to your first choice for shopping, London takes first place!  Taking six spots on our top 10 list, the wide selection and diverse ranges that are found in London are clearly a fashion favourite! From the bustling (often ridiculously busy) vibe of Oxford Street, the luxurious stores in Knightsbridge and the kooky markets on Portobello Road, London proves why it is known as one of the fashion capitals of the world.
If you're a bit of a shopaholic and want to take advantage of the endless array of boutiques and shops that London has to offer then you might fancy this bijoux apartment just off Oxford Street.
Do you agree with our findings when it comes to shopping or do you prefer somewhere to spend your cash elsewhere? Search for your own local area to rate it now – www.rightmoveplaces.co.uk.
How did we compile the rankings?
As part of Rightmove's quarterly Consumer Confidence Survey, we asked over 25,000 people rate their nearest town or city on a variety topics such as Parks & Outdoors, Character, Shopping, Nightlife and Safety. Ratings were given on a scale of 1-5 and we averaged out the ratings by number of respondents in each location (places with a sample size of less than 100 respondents were left out) to give a league table of scores for each category. To celebrate the launch of Rightmove Places we'll be revealing the winning locations in some of these categories over the course of the week. Find out which location was rated number one for Drinking & Nightlife in tomorrow's blog.
Don't forget to check out Rightmove Places to get involved in your local community and tell people what you think about your place!