RightmovePlaces – What are your neighbours talking about?
We are really excited to announce the launch of neighbourhood website RightmovePlaces, a new free community-building service for local people – It's all about helping neighbours connect.

What can you do on RightmovePlaces?
Follow your home area or favourite places
Follow neighbours or local people in your home town
Add whatever you like – see what people have posted, ask your neighbours a question, and answer one of theirs.
It's quick, easy and local


The new RightmovePlaces (RMP) website is only two weeks old (we launched a basic version a few months ago) but there are already hundreds of neighbourhoods and groups being set up and thousands of members.


People use it for the simplest things – finding lost cats, asking questions about schools or the local area, recommending plumbers, sharing photos of their dog, debating local politics, etc.


It's all done with clearly identified neighbours and areas, and has the magical effect of turning familiar strangers into real neighbours and gets people more engaged in local goings-on.


Our mission at RightmovePlaces (RMP) is to connect neighbours and we're excited to find growing interest in turning online words into offline local actions.


To learn more, go to www.rightmoveplaces.co.uk

We spoke to the founder of RightmovePlaces, Marianina Manning, to find out more about it:


"My husband and I moved to Hertford from the big city (London) in 2009 looking for a small town with a great sense of community. We landed in a neighbourhood known for just that kind of thing. But in 2010, after a year, we still had yet to connect with the neighbours.


One evening at supper, we wondered "whatever happened to neighbours welcoming new people with a plate of freshly baked cupcakes or biscuits?" One year and still no cakes (or biscuits)."


My husband is an accountant and very get-up and go, so he helped me bake some cakes and we took them over to several neighbours, and, at my genius suggestion, we used china plates instead of paper so when they returned the plates, we could interact again (maybe they'd even bring over more cakes!).


Well… we never saw the plates again. Not entirely true… we found one at a boot sale a few months later. At 25 pence it was a bargain. Now these neighbours were not — are not — bad people. It's just that everyone was so busy and cultural expectations have shifted in this generation. We were just strangers who lived next door. There's no social contract there.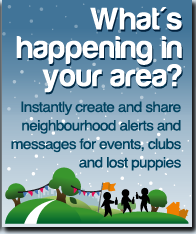 So, when I went back to Rightmove after being on maternity leave I went for a second attempt at connecting with neighbours by creating an online neighbour website – RightmovePlaces".

Do you love where you live? Why not enter our "My Winning Place!" competition?
Create your RightmovePlaces account now to post your most enchanting photos or interesting messages on your place for your chance to win £500.