Top 5 tips for spring cleaning before moving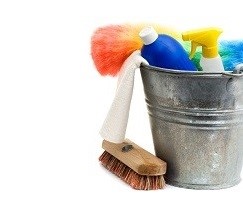 Written by Rightmove's Head of Removals, Mark Bailey
By performing a big spring clean and sorting your stuff out before you plan to sell and move, you'll not only save time and money but also your sanity!
This guide will help you to make the most of your motivation to complete a thorough spring clean, before the big move day.


1. Now is the perfect time of year for a spring clean

Spring and Summer are prime moving seasons. With the days getting longer and people getting more jobs done (jobs that accumulated over the long and dark winter), we start to set our sights on the coming months. The housing market now springs into action; reducing the clutter in your home can help you focus on your plans for moving. Having an untidy house can be distracting and the constant need to tidy can get in the way of productivity. A great big spring clean could be your answer!


2. Don't leave it until the last minute, plan your cleaning in advance

If you are thinking of putting your house on the market or you have already sold and are about to move out, it's time to have a good tidy up and sort out your belongings. Tidying early on could really help reduce stress on the day of your big move day. Planning is key; don't leave the sorting out and packing for the day before you move, try and start a few weeks earlier. Ensure that you have the correct tools and cleaning products before starting. Ask yourself, do you have plenty of bin bags and multi-purpose cleaning products as well as enough dusters?


Finding a professional mover is also key to having an organised move. Have a look at our article providing a guide to picking a removals company.


3. De-clutter, don't waste time and money

Firstly, go through your house and try to work out what you don't want to take with you to your new home. Don't be tempted to just stuff your belongings into boxes and worry about sorting it out the other end; you will waste both time and money on packing it up and moving or storing it.


4. The big clean

Once you have sold, stored or thrown away all the clutter, it's time to do the big clean! Ensure you have already bought all the products and tools you will need for the spring clean, such as: bin bags, furniture polish, dusters, sugar soap spray, clothes, sponges, stain remover, hover and a mop and broom (and the list goes on…). If you have sensitive skin you might want consider wrapping up your hands in some good quality rubber cleaning gloves.


Just as cleaning your old house before selling is important, it's also worth thinking about arranging for your new property to have a thorough clean, before you move in. It might be the last thing on your mind, but once you are in, you will be busy with unpacking and arranging your belongings. To have time to clean the carpets will be hard to do properly without emptying the rooms again. Some removals firms could even arrange this for you. To find a professional mover in your area use Rightmove's free removals quote service.


5. Don't forget…
Don't throw away old bed linens and towels – save them for when you move. They could be used as dust sheets, protective wrappings for furniture or covering the carpets if you need to do any painting.
Don't throw it all away –  many of your old belongings will still have a good sale value. Consider a garage sale, taking them to a car boot sale or using a good online marketplace to advertise them.
Ventilate – when spring cleaning remember to work in well-ventilated rooms while using any cleaning chemicals and wear protective clothing where needed.