Why are rents falling in London?
London is, by far, the most expensive city in Great Britain to live in. However, if you're looking to rent a new home in some of London's most popular areas, we might just have some good news.
We've compared the average cost of renting in every London neighbourhood now to how much it would have cost five years ago, and our findings show that asking rents have dropped in two thirds (65%) of areas.
Following a year of lockdown periods and more of us working from home, many renters are no longer tied to a regular commute to a city-centre office, so they've decided to move out of the city, either temporarily or long term.
In fact, the number of homes available to rent in London has increased by 19% compared to this time in 2019, which was a year before the first stay-at-home restrictions were introduced.
Where have rents in London fallen the most?
Our five-year study, which was based on the average asking rents of 900,000 rental properties, found the fall in rental costs is biggest in the most central parts of London, which means some of the most sought-after places to live could now be more affordable.
The biggest drop is in Finsbury, a central area on the edge of the City of London financial district, which takes in Liverpool Street, Clerkenwell and Farringdon. The average cost of rent is now £670 per month (24%) cheaper than five years ago, reducing from £2,818 per calendar month (pcm) to £2,147.
The number of rental properties in Finsbury on Rightmove has also jumped by 76% compared to a year ago, so it's worth taking a look to see if there are more options open to you now in this central London location.
Rents have also fallen in Barnes, in south-west London's travel Zone 3. It's a sought-after area, but it is expensive. It is often referred to as a London 'village', with its local pond, wetland reserve, independent cafés and restaurants – with outdoor spaces. And who doesn't love a waterside pub or three? The train links to central London are pretty good, too.
Renting a home here five years ago was about £4,140 pcm on average, which has now dropped by £817 (20%) to £3,323.
The biggest decline is in Knightsbridge where monthly rents are £1,246 lower than five years ago, although they are still a hefty £6,221 pcm.
Where rents have fallen most in London over the past five years
London estate agents don't expect these price drops to last long.
Richard Davies, Head of Lettings at Chestertons in London says: "Prices are the lowest we have seen for several years and represent incredibly good value for those tenants thinking beyond lockdown and looking to lock-in to a good deal. As the country starts to open again, we expect growing numbers of tenants to return to the more central areas and anticipate that rents will quickly start to recover."
You can search for properties to rent in London here.
So what's happening to rental costs outside of London?
Across the rest of Great Britain, we are seeing huge demand for rental homes in this exceptionally busy spring housing market. The cost of renting has fallen in just a small percentage (4%) of areas. Compared to five years ago, there are half as many (54%) rental homes available to choose from.
Nationally, asking rents outside London keep rising and have hit another record high, at £982 pcm, which is the highest annual rise since 2015.
The time it is taking to let a property is at its fastest pace ever in seven regions, with the South West being quickest at an average of just 14 days to agree a tenancy.
Our property expert Tim Bannister said: "Our data shows a stark contrast between the rental market in central areas of London and the market across the rest of Great Britain. Agents are telling me that they don't have enough rental stock to meet the demand from tenants in many areas, while in London there will be some tenants who have a lot more stock to choose from."
Where rents have fallen most outside of London in the past five years

East Midlands has seen the biggest increase over the past five years of 19.3%, rising from £733 to £875 pcm. It has also seen the largest growth over the past year, with the avearge cost of renting up by 7.5%.
Outside London there are only seven locations in the study with asking rents lower than five years ago, three in Surrey (Woking, Walton-on-Thames and Weybridge), two city centres of Southampton and Birmingham, along with Leamington Spa and Chigwell.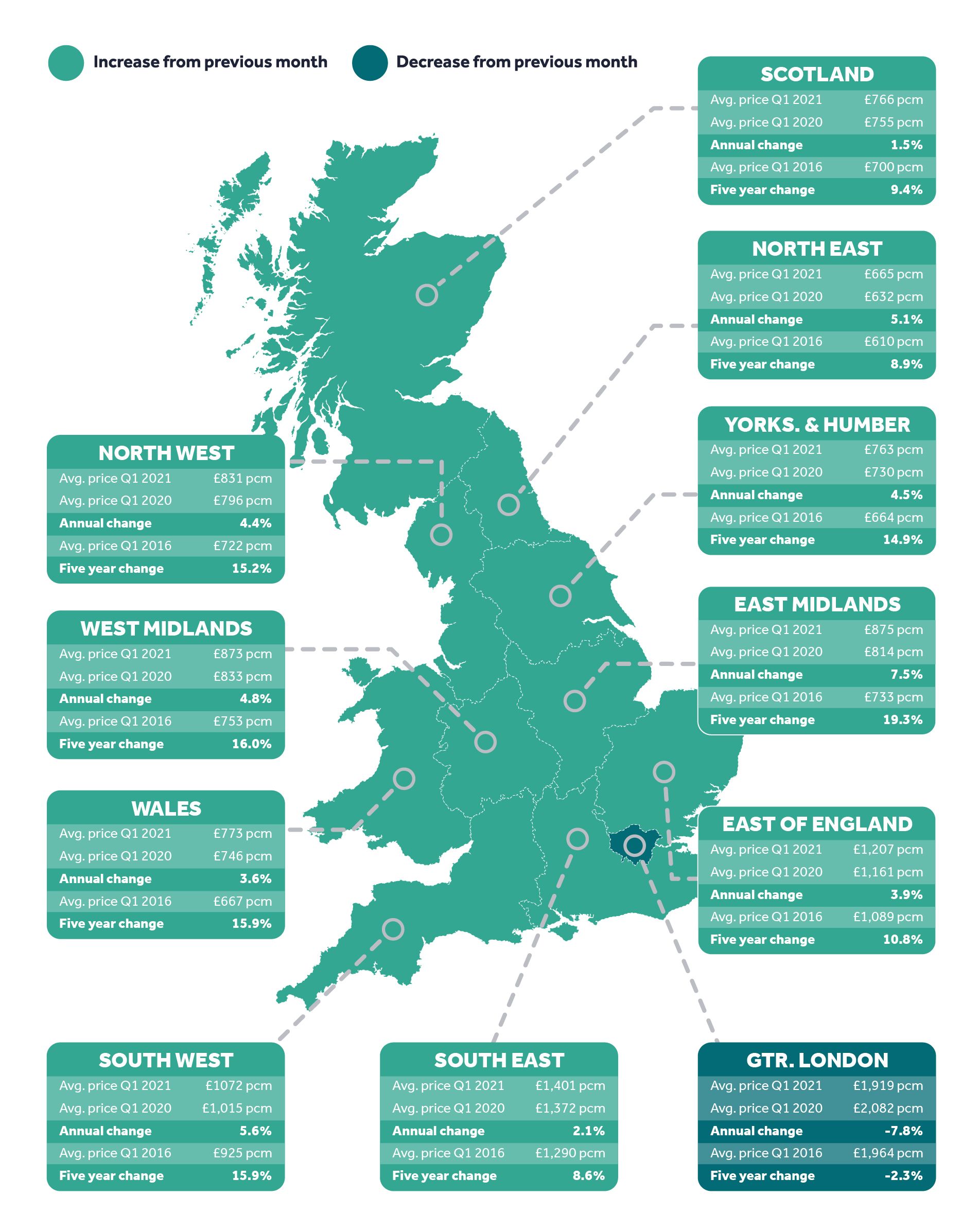 The header image for this article is provided courtesy of Sceon + Berne, London
READ MORE: Find out how the mortgage guarantee scheme works for buyers with 5% deposits