Salary secrets of UK's lovebirds revealed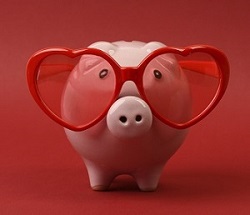 How honest are you about your finances with your partner? The answer may not be as flattering as hoped according to research from the Money Advice Service.
In fact, the research showed an astonishing 45% of people in relationships don't always tell the truth to their partner about their finances.
Here, the Money Advice Service talks about the most common financial fibs, and why it pays to talk, especially if you are considering a significant commitment such as moving in together or buying a house.
Salary secrets
Nearly one in five of those surveyed (18%) say they have previously lied to a partner about how much they earn. Men lead the pack, with 22% admitting having done so.
But if you think this is a case of people overstating their income, you would be mistaken. In fact, we are twice as likely to understate the amount of money we earn.
Many people who lie about their earnings say they do so to protect the feelings of their other half, with 31% of those understating their income doing so because they know their partner earns less than them.
Sly about spending?
What about when it comes to splashing the cash? Not everyone is honest when it comes to their spending either.
Almost a quarter of respondents (24%) admit to lying about their spending.
There's a difference between the sexes here too. Women are most likely to tell fashion-related fibs – 66% have lied about their spending on clothes and 41% have lied about spending on shoes. In contrast, men are most likely to lie about spending on nights out (39%), holidays (28%), and gadgets and technology (27%).
Secret escape funds
Our previous research also revealed one in ten (9%) married adults in the UK admitted they currently have an escape fund, while an additional 14% said they'd had one previously.
The average amount was around £7,500.
Is it time you talked to your partner?
Before you begin to worry about your own relationship, don't throw it all in yet. As long as you are honest, most problems can be fixed.
If you are planning to make a commitment to live together, some simple steps can make sure you sidestep any problems in the future. Make sure you both put aside time to talk about money, and don't avoid talking about it until it's too late.
Subjects like debt and salaries can be difficult to talk about, but that doesn't mean you shouldn't. See the Money Advice Service guide on talking about money with your partner.
It is also key to keep your conversation practical, rather than personal.
---
All information accurate at time of publication
This article is provided by the Money Advice Service.