The advantages of renting through a reputable agent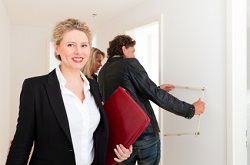 This article is written by Lauren Sutton on behalf of Leaders.
If you are looking for property to rent, you may be wondering what agency you should go with. There are so many out there to choose from, that you can easily feel lost and confused as to which is the right one to go for.
However, there are some reputable agents and some not so reputable ones so it's important to take your time to find the right one.
Individual landlords
There can be some benefits to opting for an individual landlord over an agency but you should also be aware of the risks. Sometimes the rent can be cheaper and you may also get things thrown in like broadband or paid television subscriptions. However, you should also be aware that you don't have the same fall back as you would have with an agency.
A private, individual landlord may not be available to deal with any problems or issues that might arise along the way. If you need a workman for something, an individual landlord may have to try and find one themselves and this could take a considerable amount of time. If you are renting through an agency, they are likely to have a list of workmen on their books that can come round and fix the problem a lot quicker.
Agency benefits
If you go with an agency, one of the key things that you will find to be a benefit is their previous experience. As a letting agent, they will have dealt with several rentals in the past, giving them knowledge on the variety of different issues that can arise along the way. This is an aspect that a private landlord may not be able to offer.
If you are new to the renting game, this can be a huge help as you may not be aware of various rules and regulations. The tenancy deposit protection scheme, for example, is something that agencies will be well aware of but a private landlord may not even realise is in place.
Good reputation
Another benefit that you get with going for a reputable agency is that they can give you advice on the location of your property. If they have built up a good reputation for themselves, it can mean that their previous and current customers are happy with the service that they are getting. This can put your mind at rest but also help you to feel like you can get the right information from the agency.
Ultimately, while there are some benefits to renting a property with a private landlord, you can often find that using a reputable agency will be more beneficial to you. As well as often being able to give you a variety of properties to choose from, the agencies will also be able to provide you with advice on the area and with any extra assistance that you may need along the way. You will be speaking to experienced agents with local knowledge and a realistic idea of the rental market, giving you the peace of mind that you are dealing with experts in the field.